Don't you feel just happy when it is springtime? For me I am so excited, with all the beautiful, fun and vibrant colours from nature, I get an opportunity to wear lots of beautiful dresses. All the floral, stripes and colourful dresses that brands make. So here are 22 Cute Spring Dresses You Have To Get Immediately to make your spring fun and colourful.
I did pick dresses for different body sizes from petite to plus size women. Also, there are maxis, minis, midis and different prints and patterns.

22 Cute Spring Dresses You Have To Get Immediately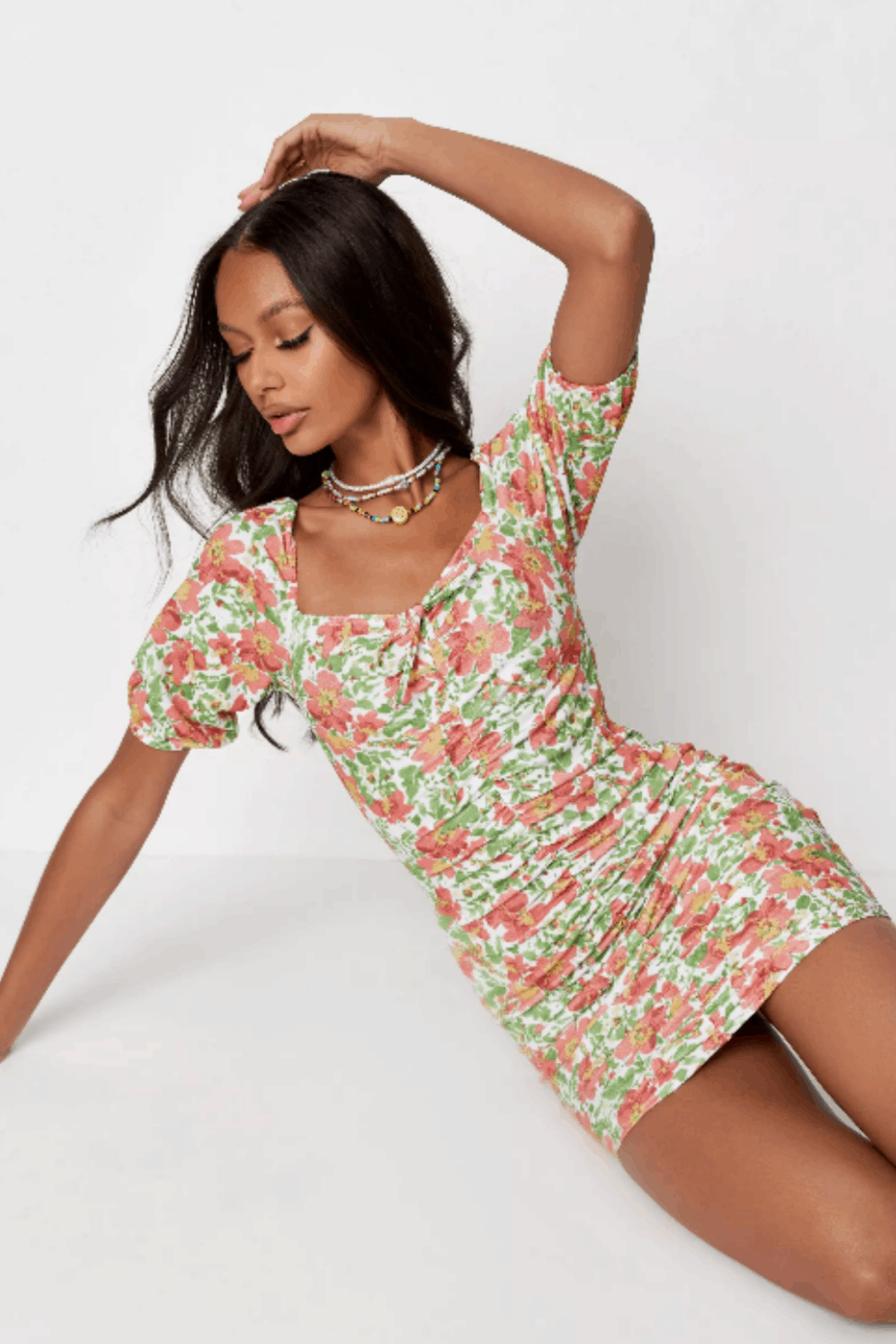 This puff sleeve floral mini dress with a tie front and ruched detail are what you need this spring and summer. The print is so beautiful and the ruching will hide any tummy problem. So you need to add this to your wardrobe.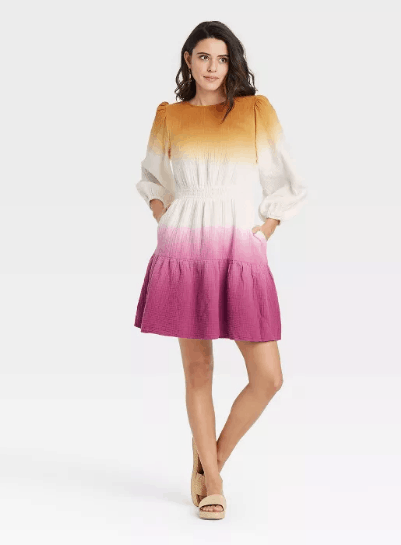 So with tie-dye clothing trending, this dress is a cute piece to have, it is very flattering and comfortable, This mini dress has a smocked waist with a tiered bodice for a flattering fit, while the back button closure makes for easy wear.
Keep things easygoing by wearing them with your favourite sneakers, and then amp them up with a jacket and boots.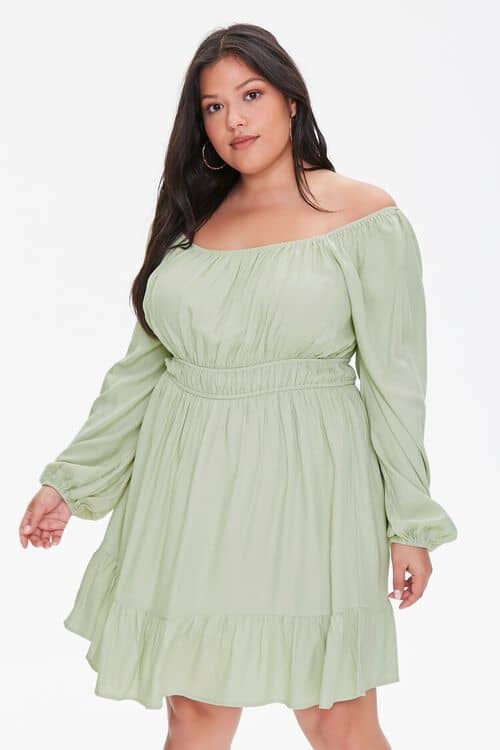 If you following the fashion trend you will know his sage colour is also trending, so when I saw it in this cute, airy and flowy silhouette I had to add it to this list. I love how the dress fits, the square-cut neckline and back, plus the long peasant sleeves.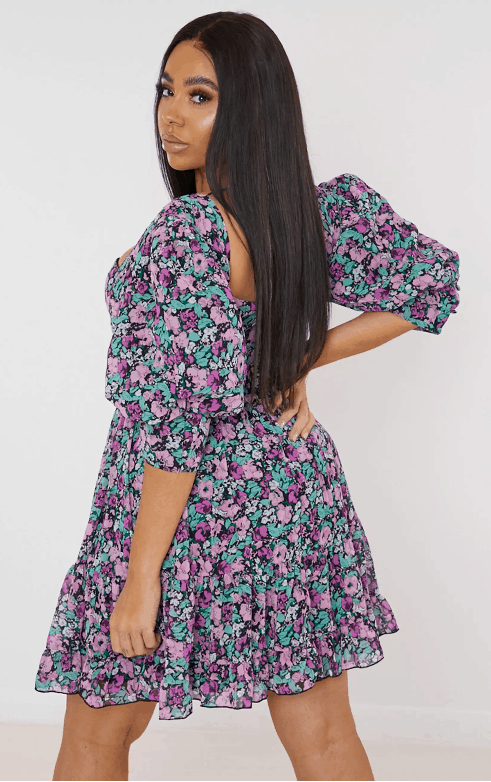 Honestly for me when I hear spring I think of airy, flowy and floral dresses and that is what this dress is giving to me. It has a sweetheart neckline and padded bust cups. You can dress it up with heels or casual with sneakers.
5. Women's Slip Dress – A New Day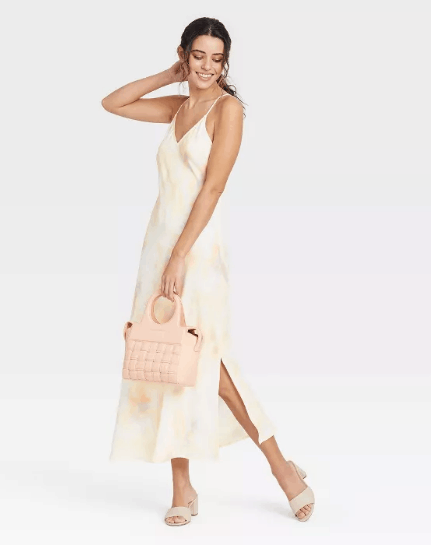 A sleeveless slip dress is a great addition to your sunny-day wardrobe, it has V-neckline with adjustable straps for a sleek fit.
This print is subtle and I like it, it also comes in different colours and sizes so my plus size ladies are not left out from having this cute slip dress. You can style it up with heels or throw on sandals for a casual look.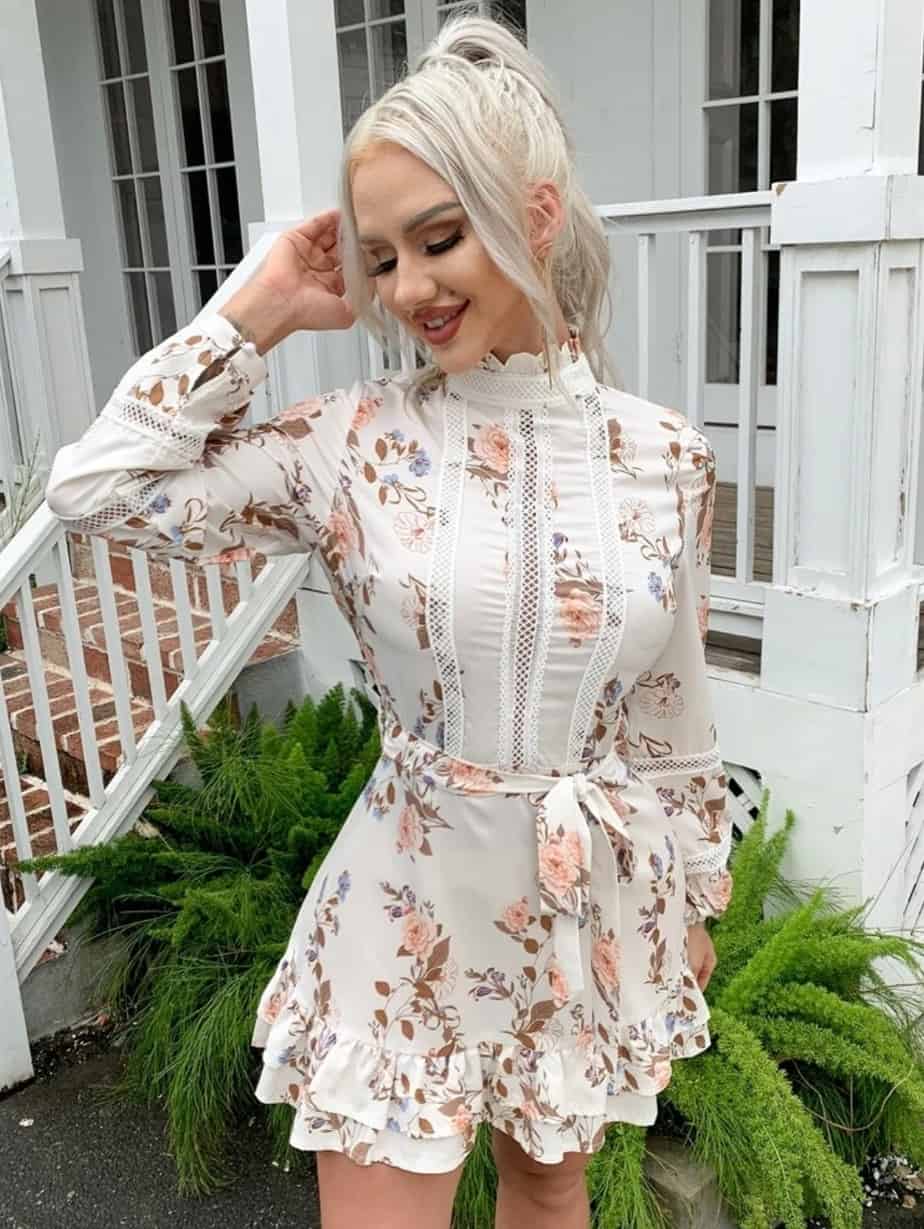 There is a lot I love about this dress, first the floral print with the long bishop sleeve. Secondly, the contract lace detail on the dress plus the ruffle layers on the bottom and finally a waist belt.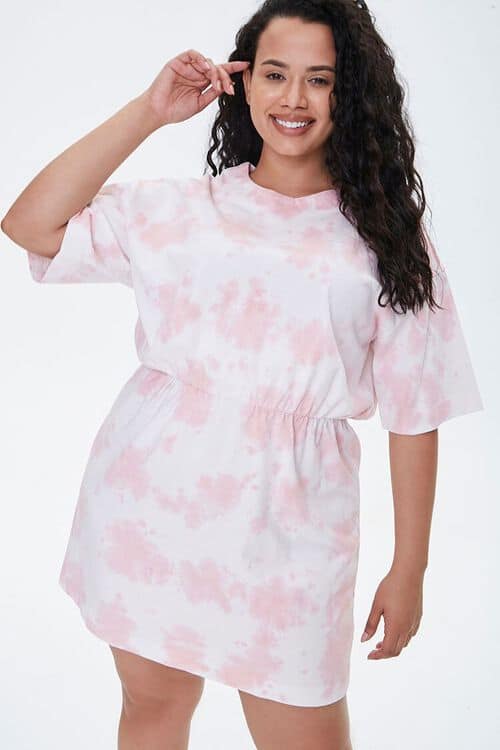 Yes, another tie-dye for a casual day, just throw on this dress and sneakers and you will be looking like a snack. I love the elastic waistband to keep your waist cinch.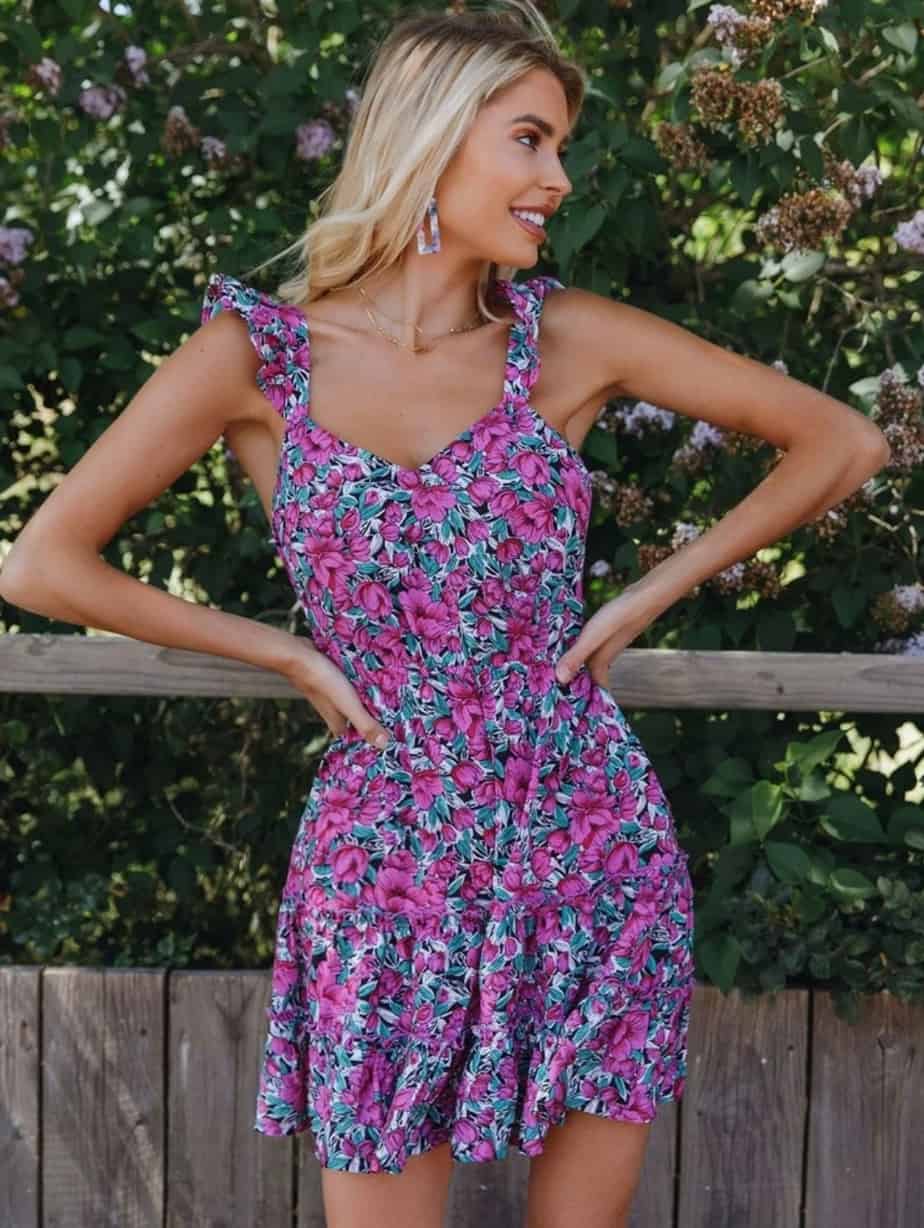 This purple floral print dress is really beautiful, I love the ruffled shoulder straps. However the back takes this dress to another level, it has a cutout back below a self-tie closure. This dress is just so cute.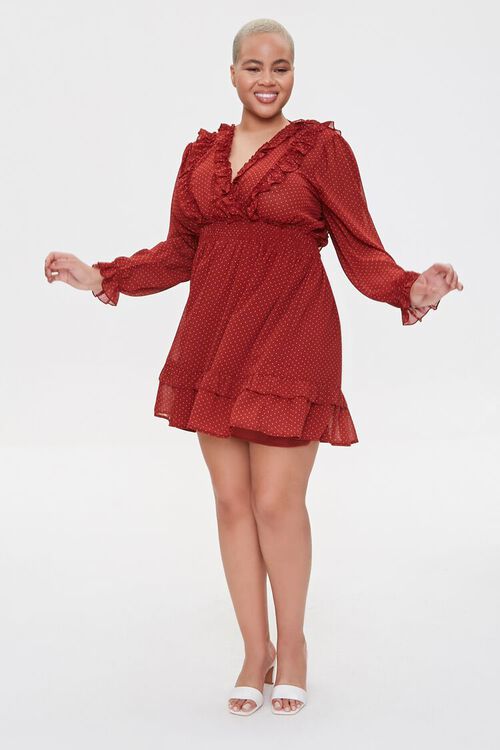 A pin dot dress with a flattering silhouette, I love the ruffle trim. So it has a plunging V-back with a self-tie support strap and long trumpet sleeves. Your perfect brunch dress for plus size women.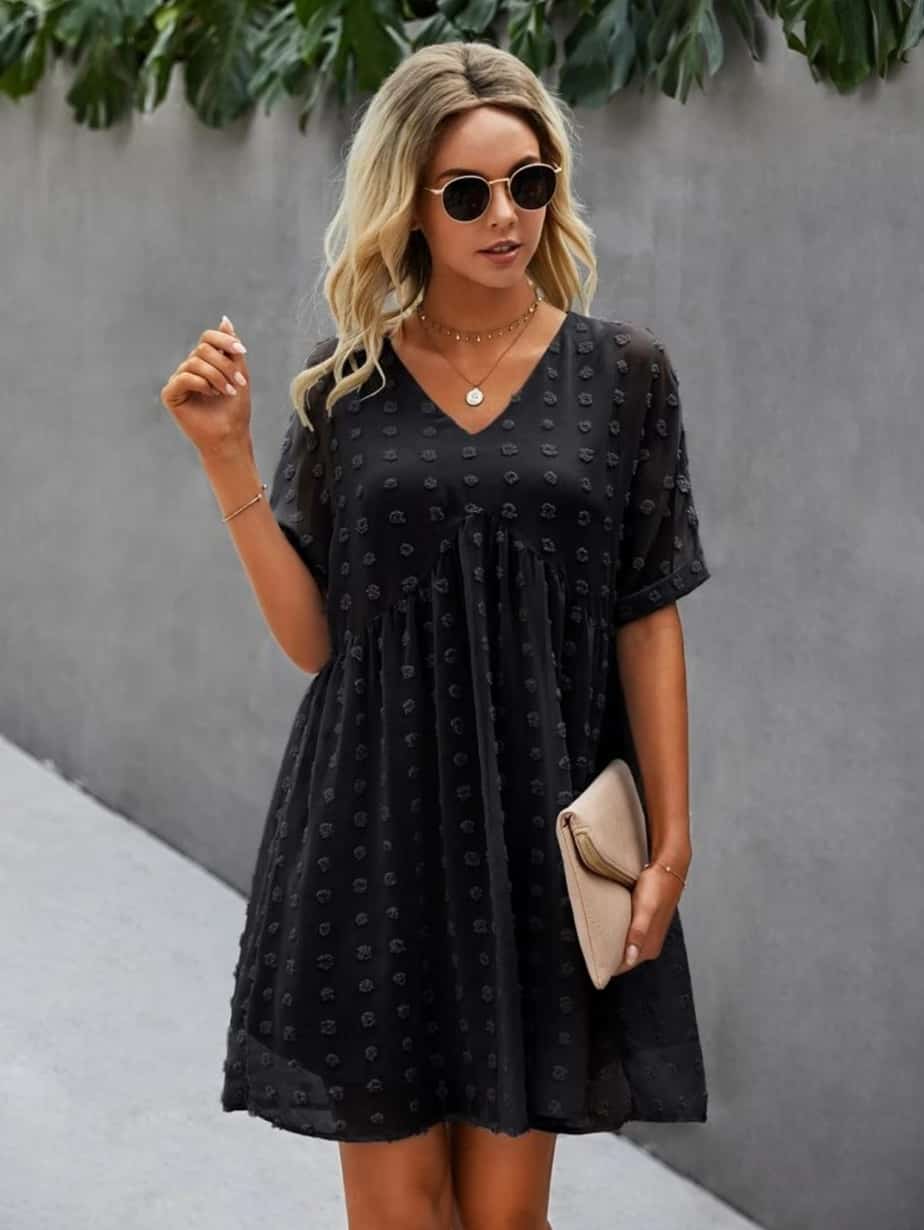 This dress is simple and cute, it also comes in different spring colours if you don't want black for spring. So for days, you want something stress free to throw on this dress can be your go-to.
RELATED POST: Eloquii Elements Spring Collection 2021 Outfits That Are Cute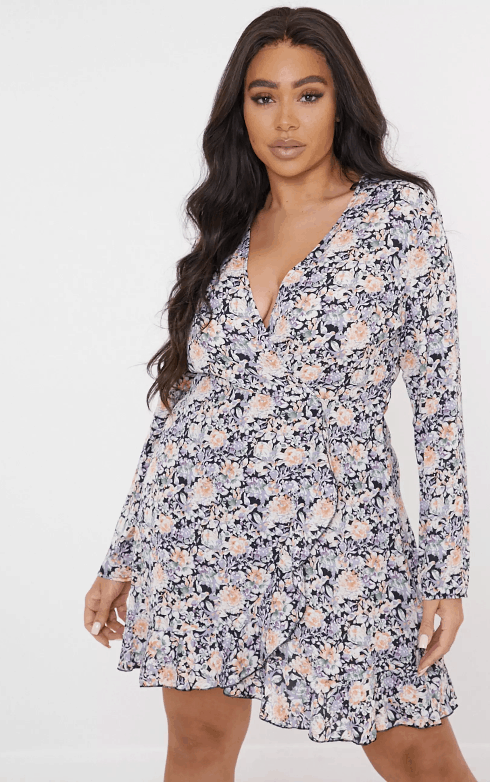 Wrap dresses are flattering most times on plus size women and I really love them. This dress is beautiful, in addition, it has long sleeves and a belted waist.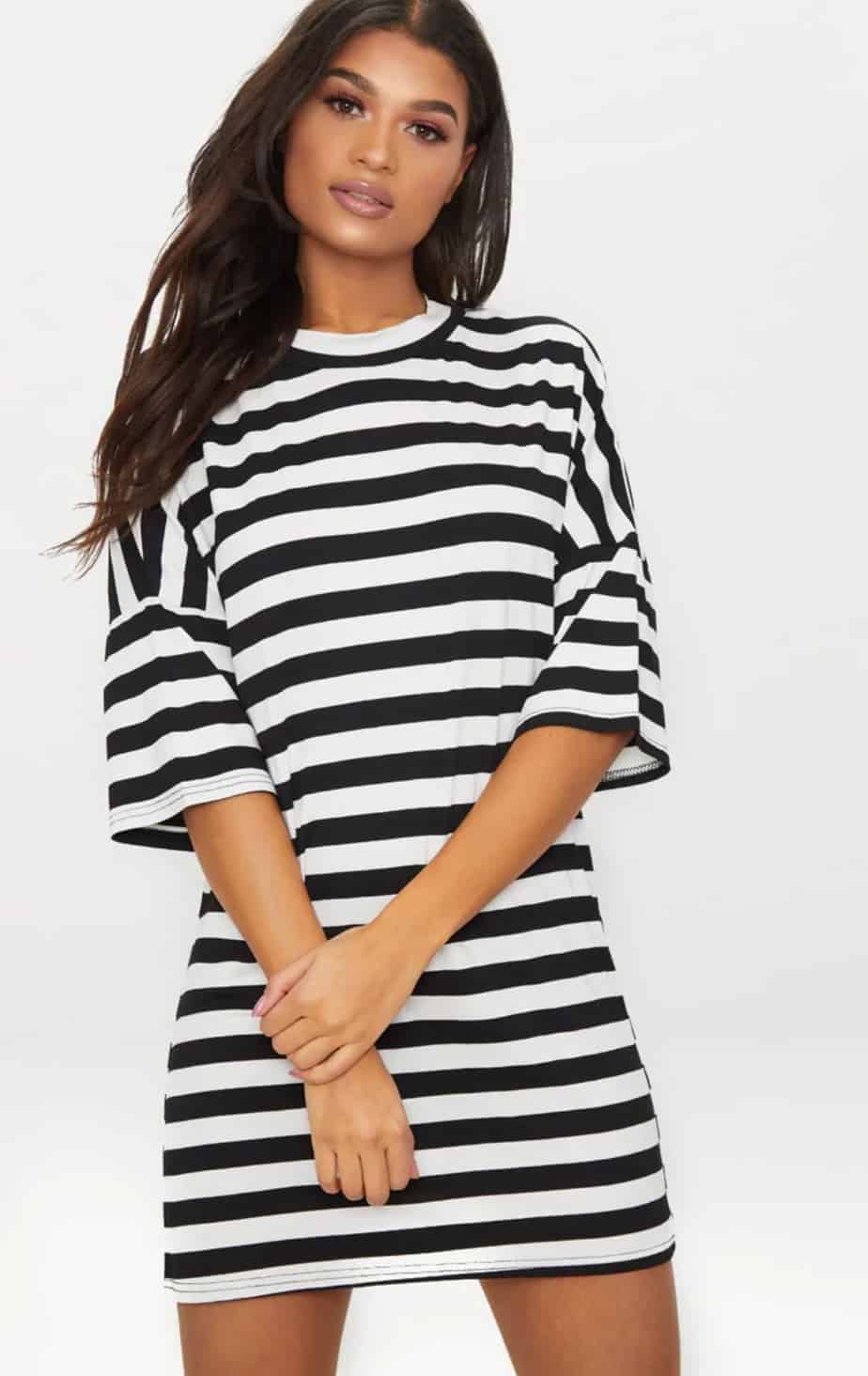 A simple t-shirt dress is essential in any wardrobe and I am liking this monochrome style. You can style it with an oversized denim jacket for a chilled but chic look.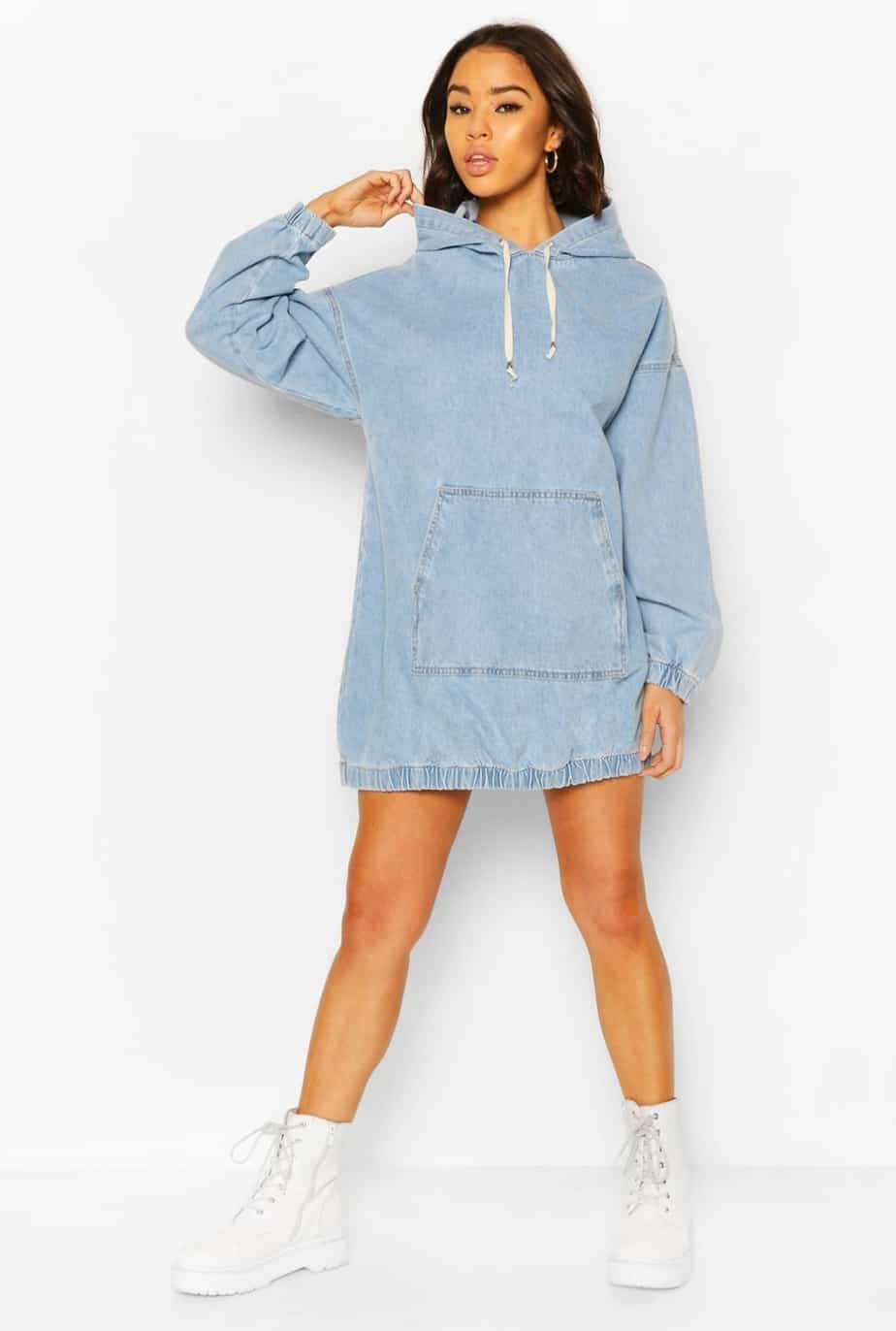 For those days that feel a bit chilly this spring, this dress is a good fit to help keep you warm. I love the fact it is has a hoodie plus pockets. So you can style it with biker shorts and a sneaker or boots.
14. Plus White Shirred Bardot Long Sleeve Dress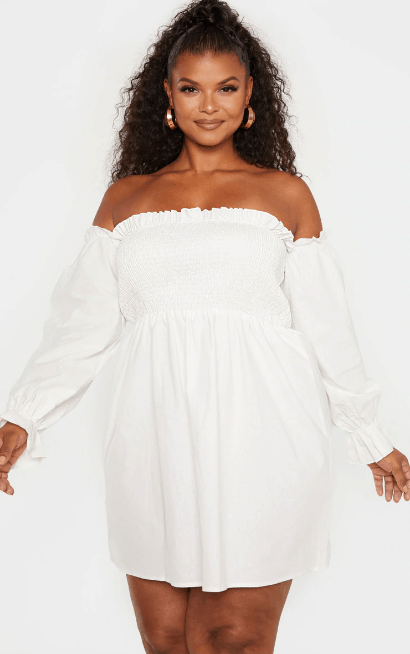 This simple spring/summer dress is perfect for any day-to-night antics. It has a Bardot neckline, long sleeves and shirred detailing, so pair this dress with strappy heels for a look that everyone will be obsessing over.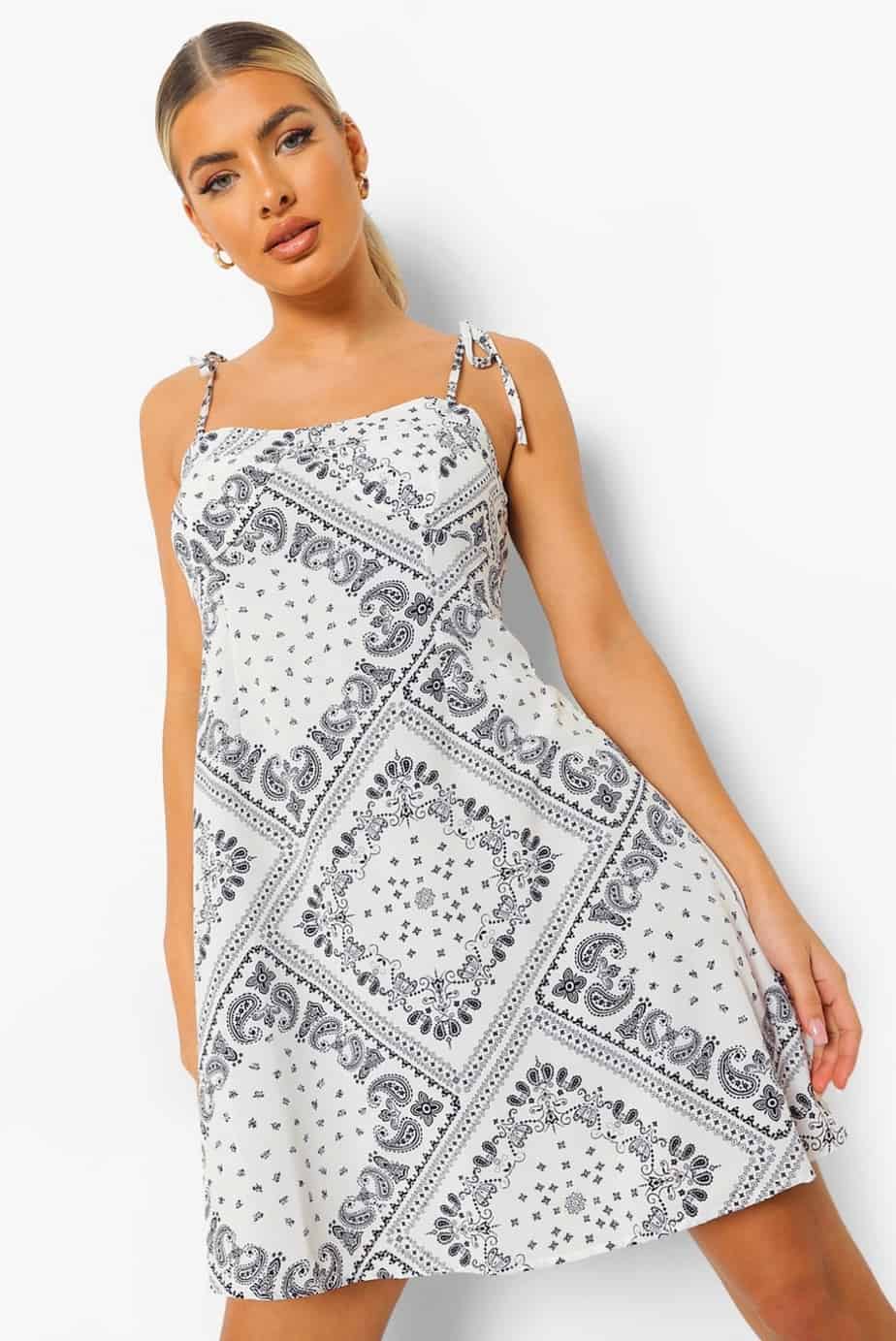 Bandana tops are trending so I get why they have made a bandana print dress. So this dress is just sweet, you can add a jacket for more cover-up.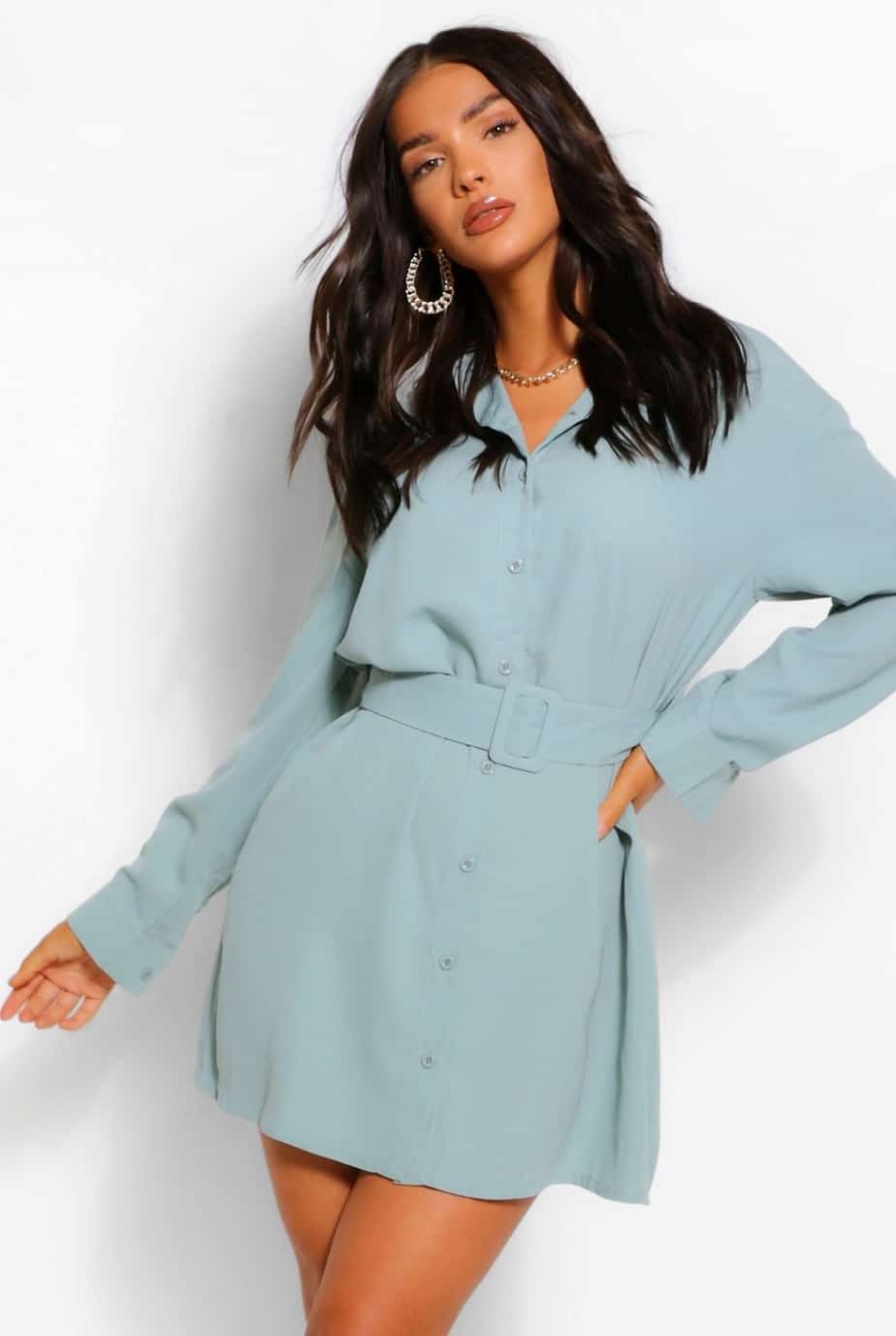 This dress just has a cute chic look and I am loving every bit of it. Also, I like the colour and the waist belt, you can style it with heels and some cute gold accessories, you will be looking classy.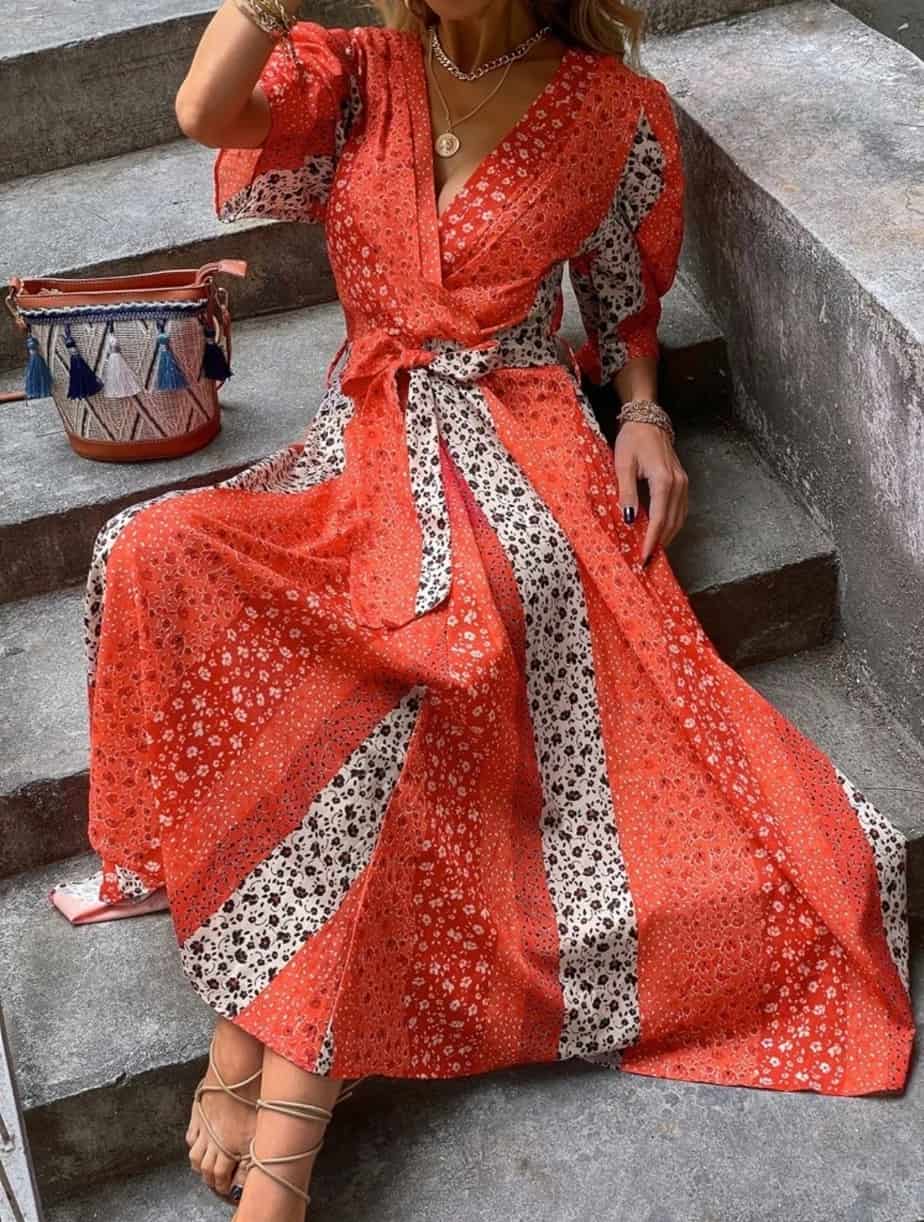 When I saw this dress my jaw drop, it has this boho vibe, the colour blocking just blends perfectly. Secondly, it has puff sleeves and a waist tie. This dress certainly screams spring with the beautiful colour block print, you can rock this for your dates, brunches and even to the beach.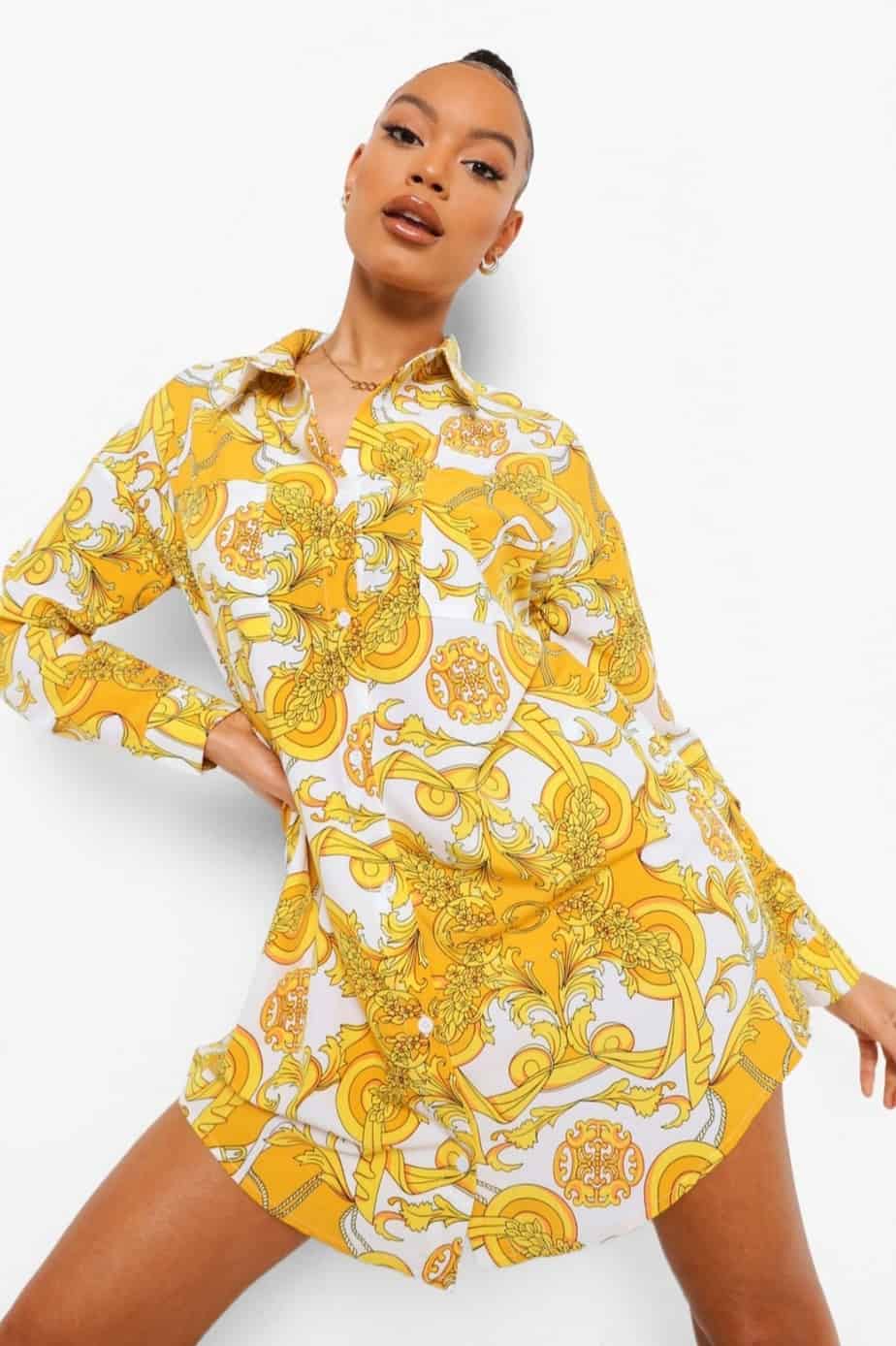 Another cute shirt dress with scarf print, I like this yellow colour. With this dress, you can go casual with sneakers or go chic with a waist belt and strappy heels.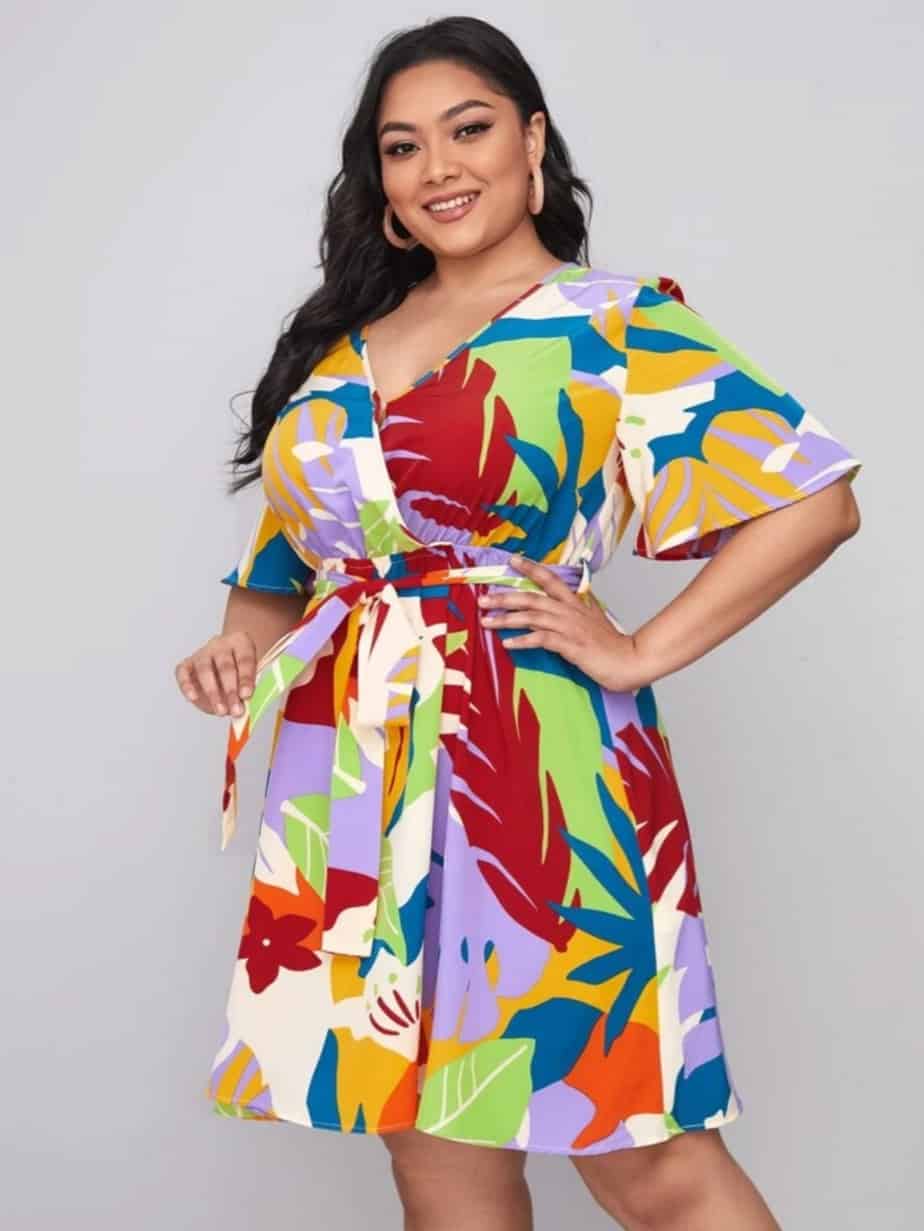 OMG!! That's what I thought when I saw this dress print. It is so pretty and I love it, it looks very ladylike and it has a waist belt to keep your shape poping.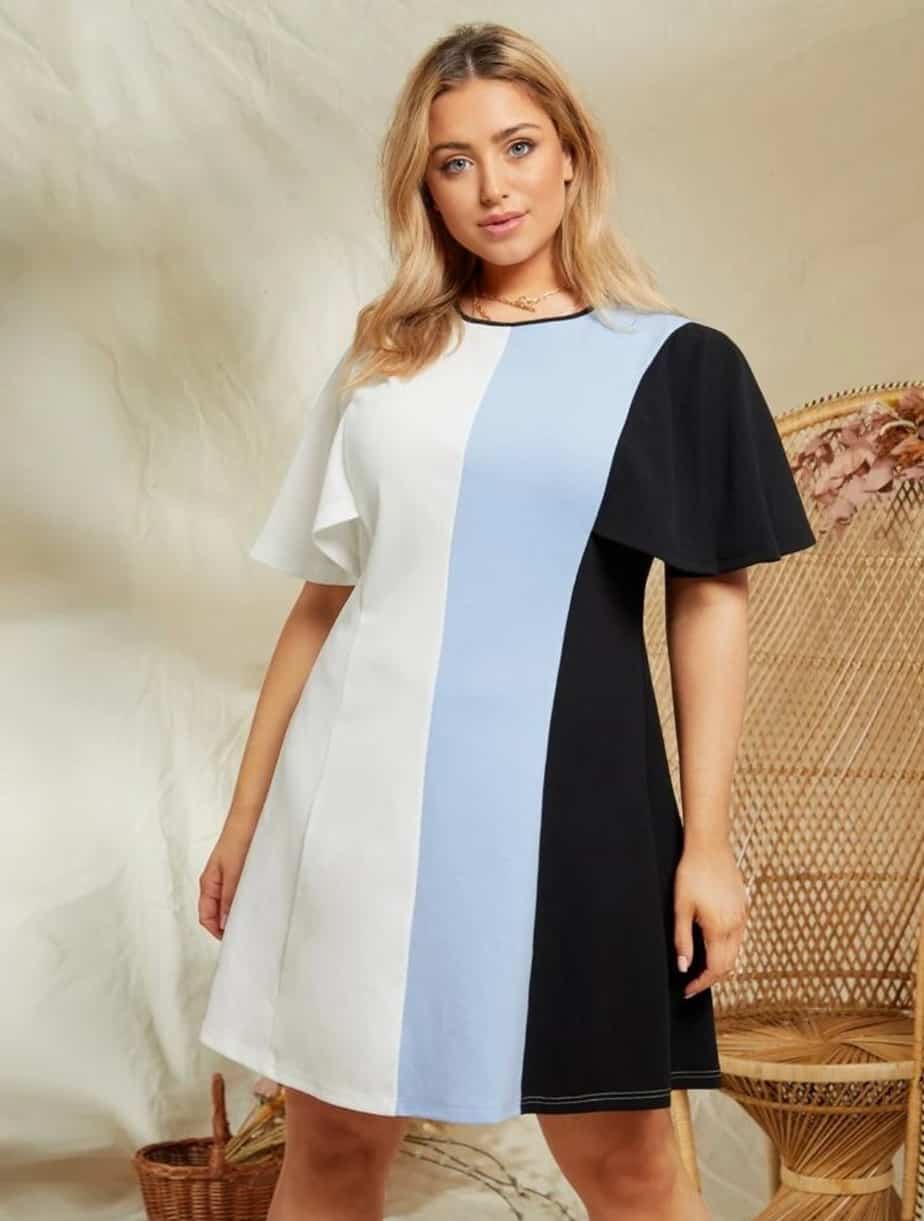 I don't know but this dress gives me boss lady casual vibes, I just love the colour block and the way the dress is styled.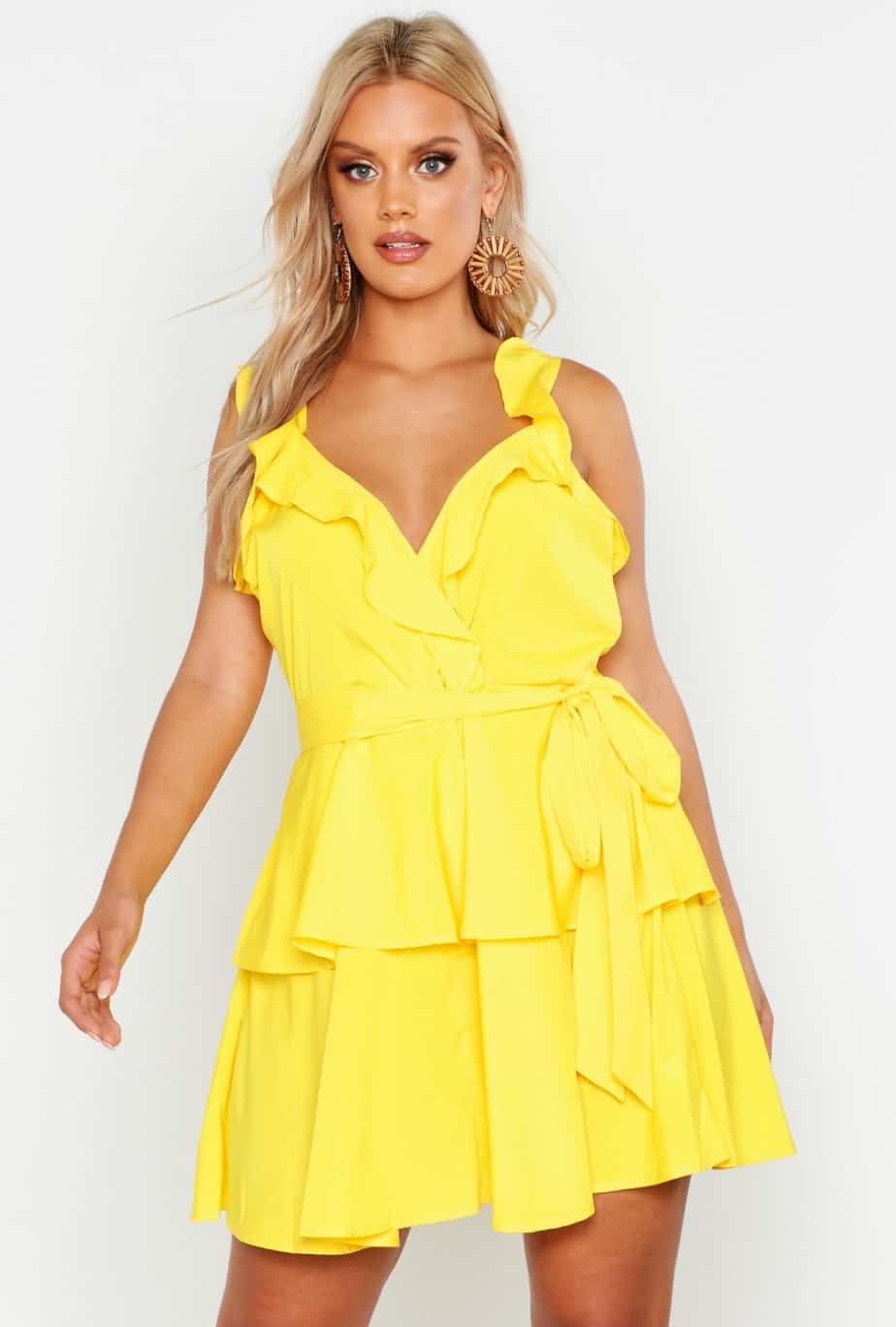 Bright colours just have a way of making you happy and this skater dress is no exception, you will be shining like the sun. I am loving the ruffle detail, the waist belt and the layered hem, you can style with heels or espadrilles for a chic look.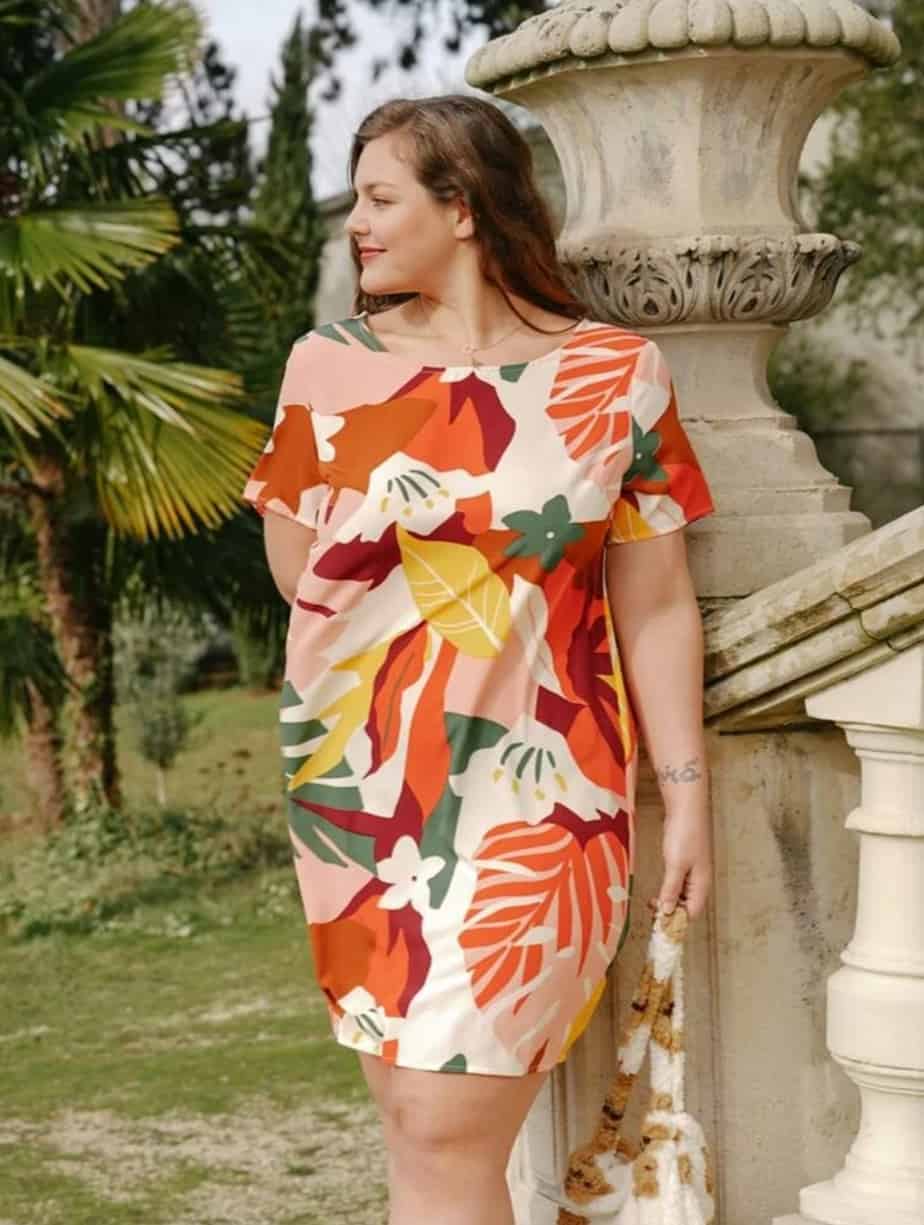 This dress has similar prints to one of the prints above. However, it is a more simple and cute dress you should add to your wardrobe for the spring/ summer season. With this dress, you can wear it with heels or mules.
Hope this post on 22 Cute Spring Dresses You Have To Get Immediately to rock this season and look fabulous is helpful and has given you some ideas?
WHICH OF THESE DRESSES DO YOU, LOVE, TELL ME IN THE COMMENTS SECTION.