Halloween! the spookiest night in a year, where everyone is excited to play dress-up and party all night long. So while you are trying to figure out what you will be dressing as, you will also need your nails to match your outfit. If you don't have any nail ideas don't worry I got you. Here are 30+ Halloween nails designs you can copy from and look your best.
I wouldn't want to waste your time so let us go.
30+ Halloween Nails Designs That Are Cute And Spooky To Copy From
1. Pumpkin Cat Nails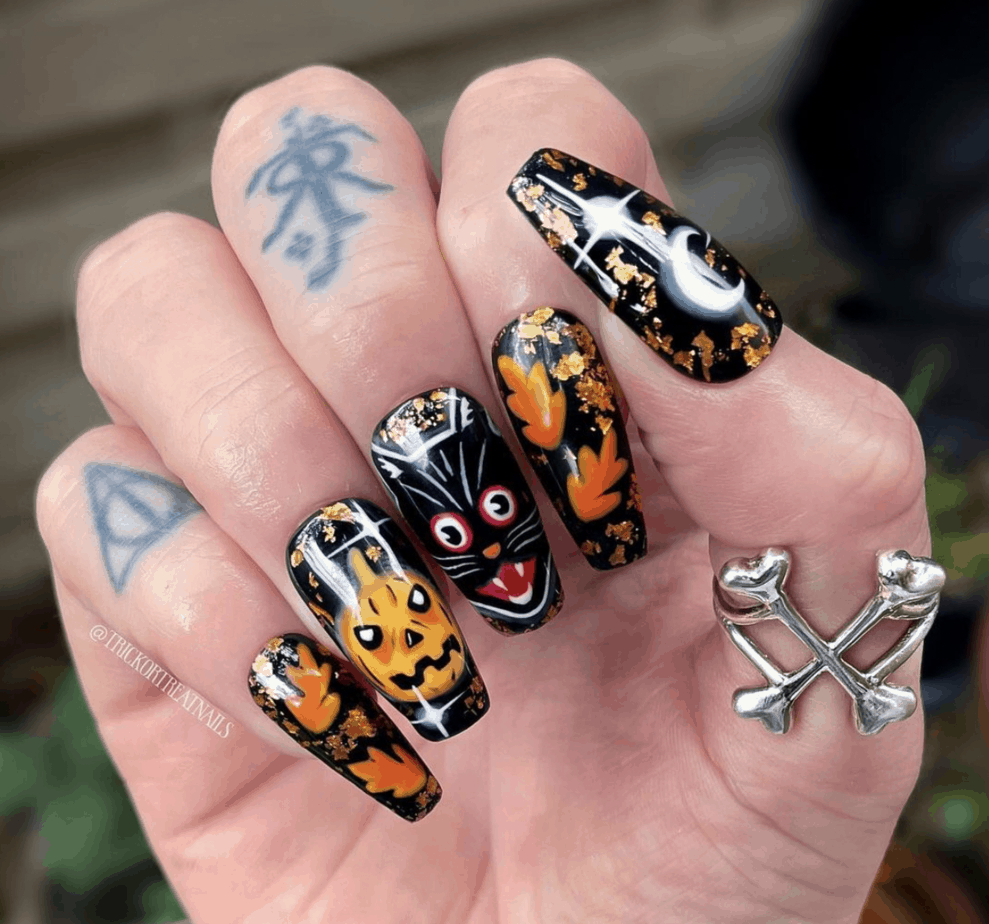 Hey the evil pumpkin is out this night so don't be a scary cat or else he will bite, this is such a perfect Halloween nail.
2. Bloody Ghost Nails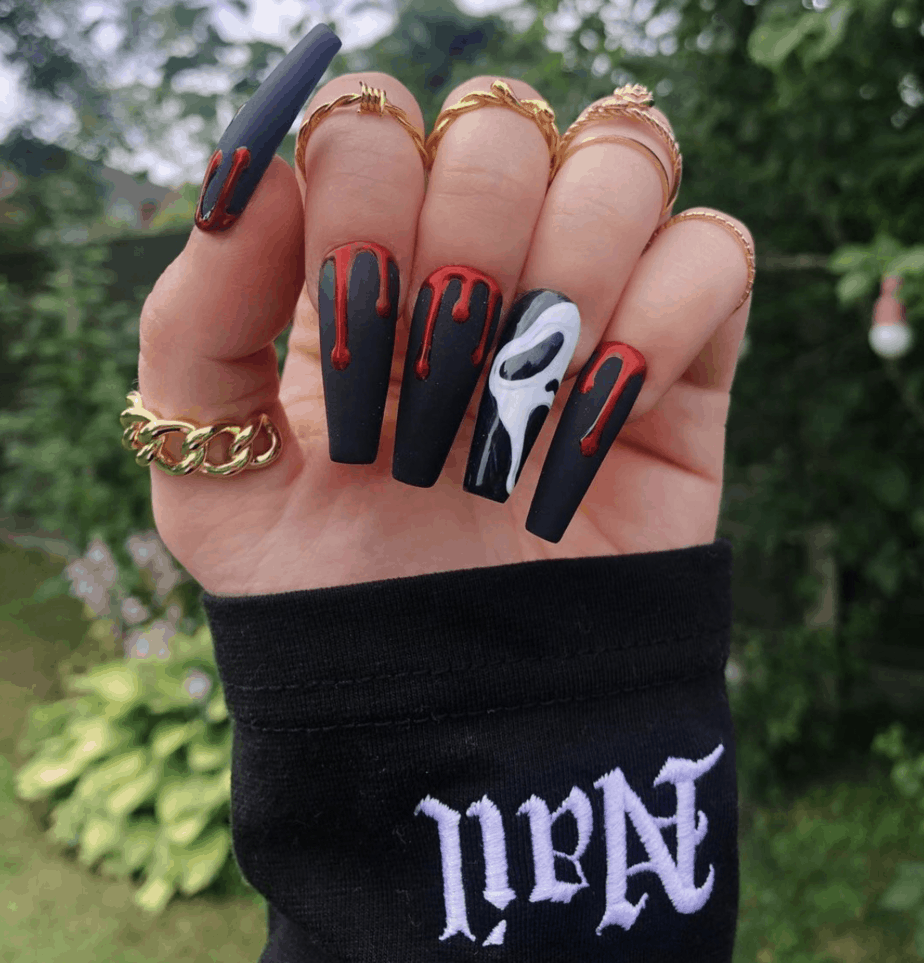 This ghost seeks blood so you better run for your life, I love how creepy these nails look.
3. Hot Pink Spiders Nails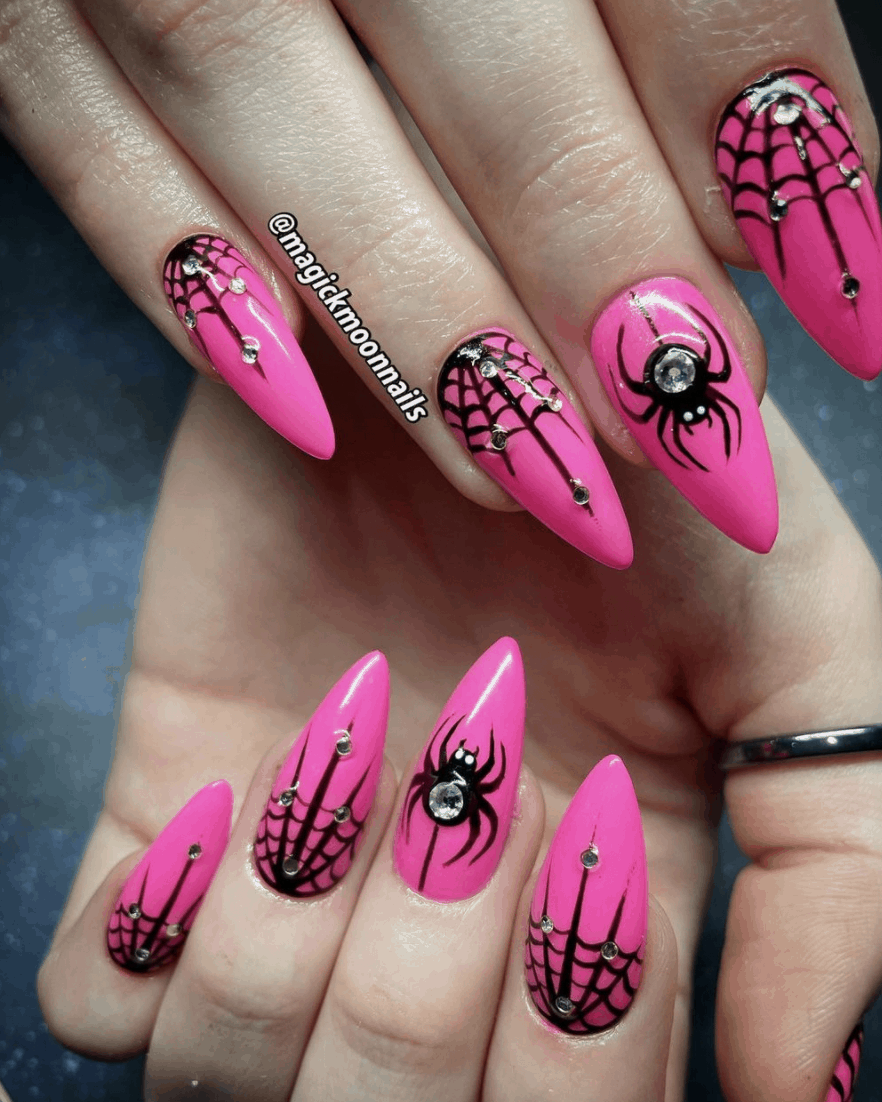 I can already feel the spiders creeping out of their webs with this nail.
4. Pink Witch Nails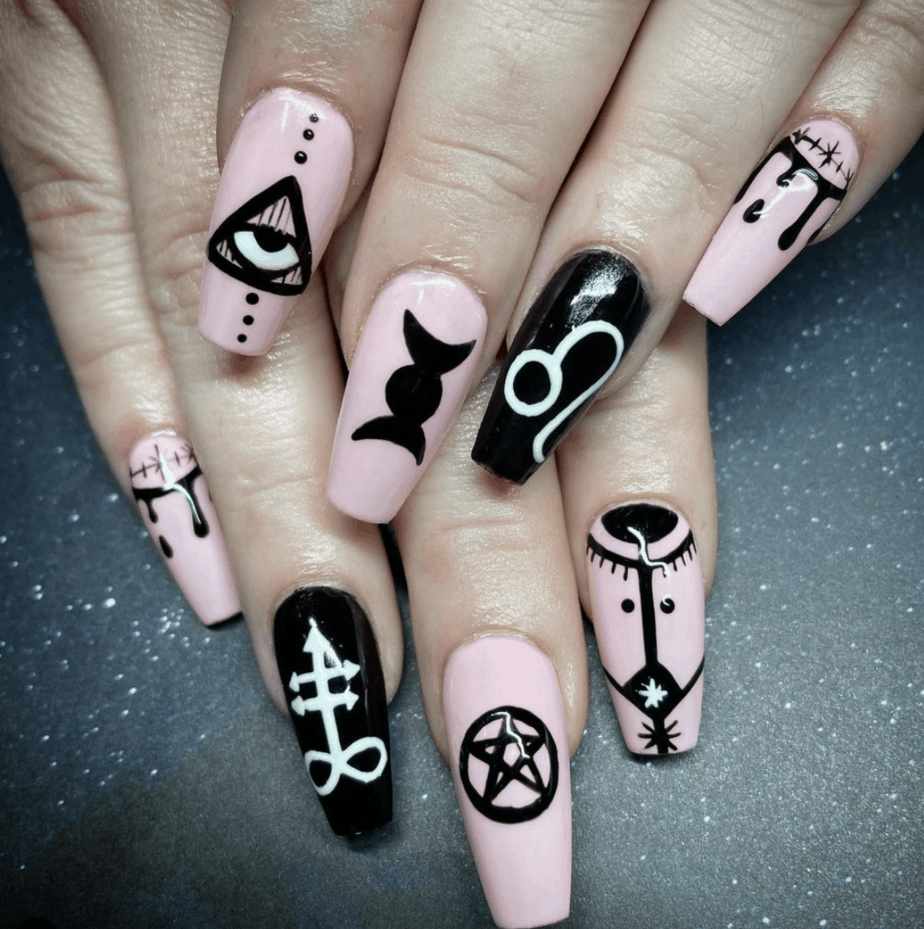 If you will be dressing as a witch, this nail design will be so perfect for you.
5. Purple Eye Nails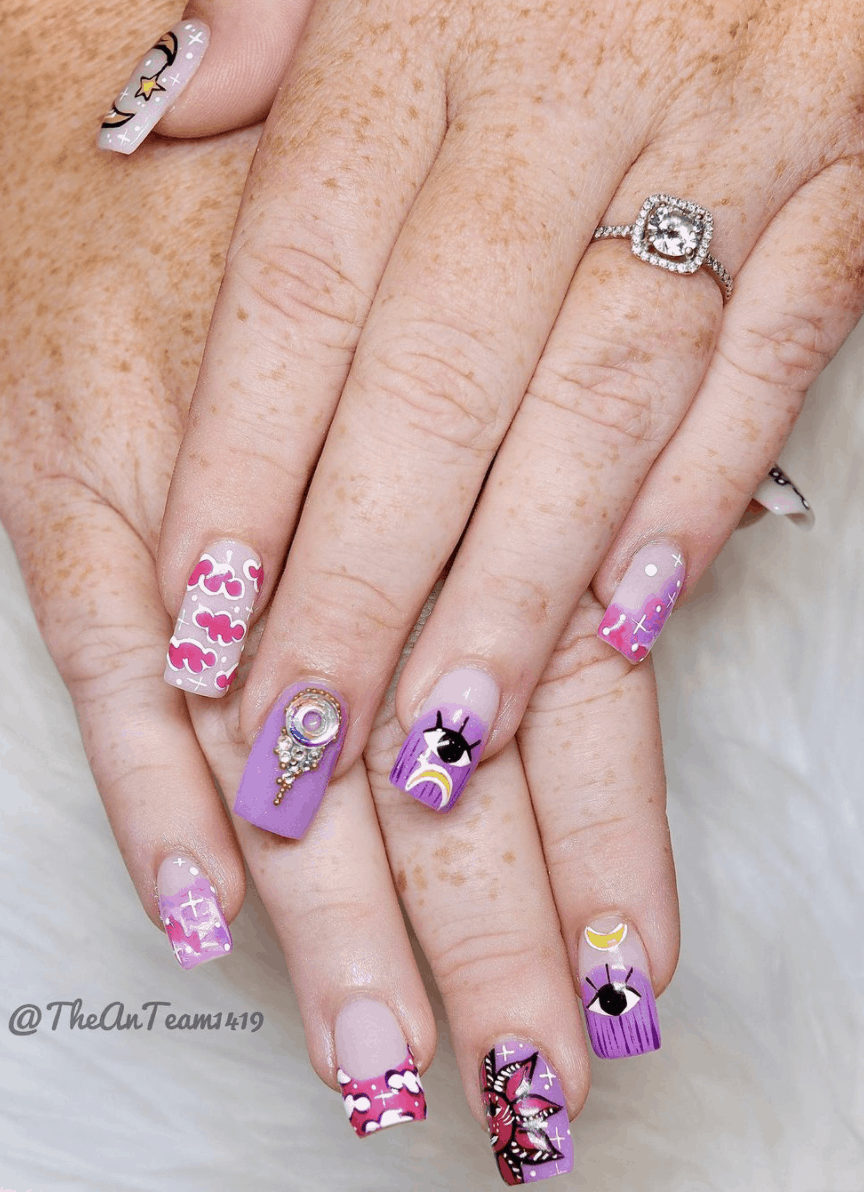 I love this nail because of the colors, it does not feel like the normal dark and spooky Halloween nails. This feels a bit playful like a playful palm reader.
6. Gold Star Nails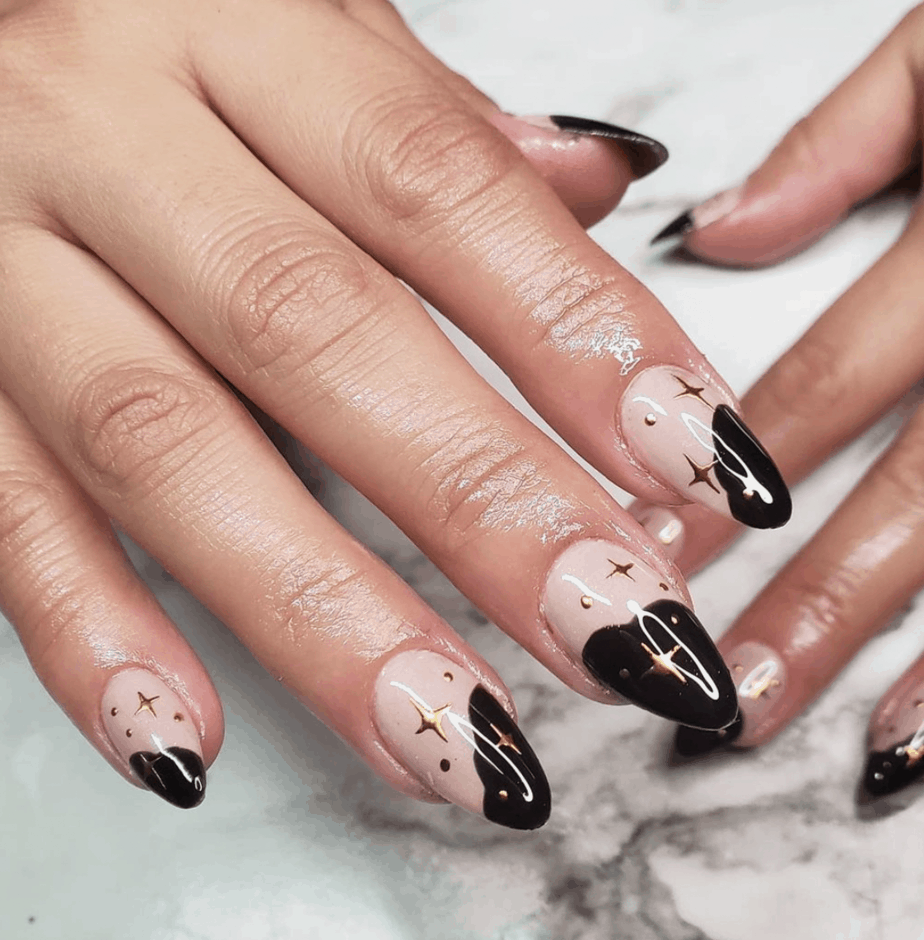 This is a very simple Halloween nail art idea that I love, it is very easy to do and it still looks cute, you can rock these nails after Halloween.
7. Witch Spell Nails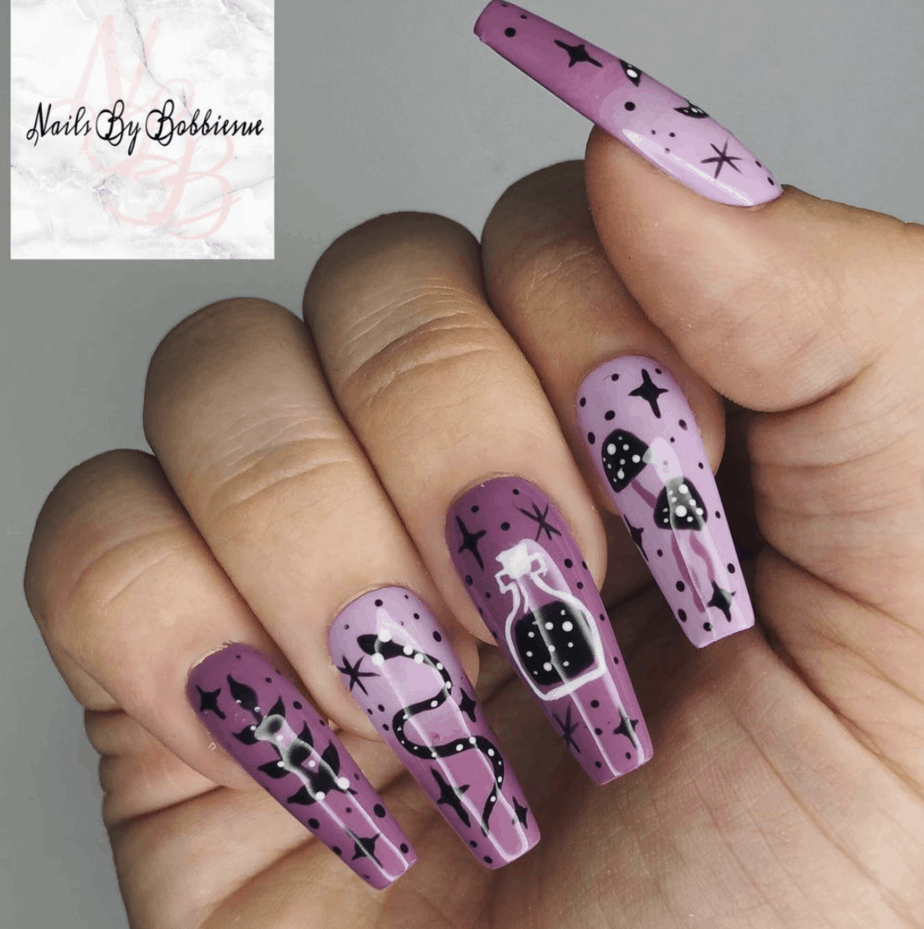 It is time to cook up a spell so that everyone will sleep and I will steal all the candies and drinks, I wish. This nail is beautiful
8. Ghostly Ghost Nails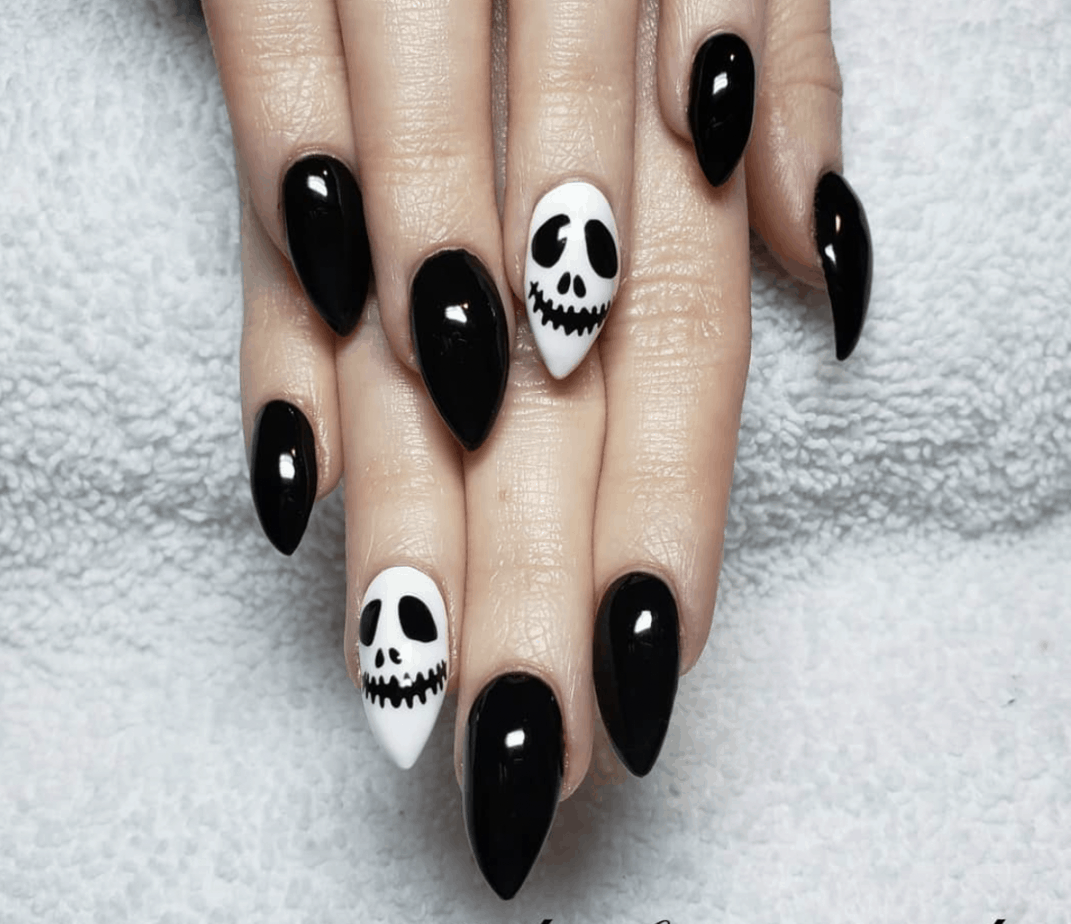 A simple but spooky Halloween nail you should try doing, I like this one.
9. Multi Eyes Nails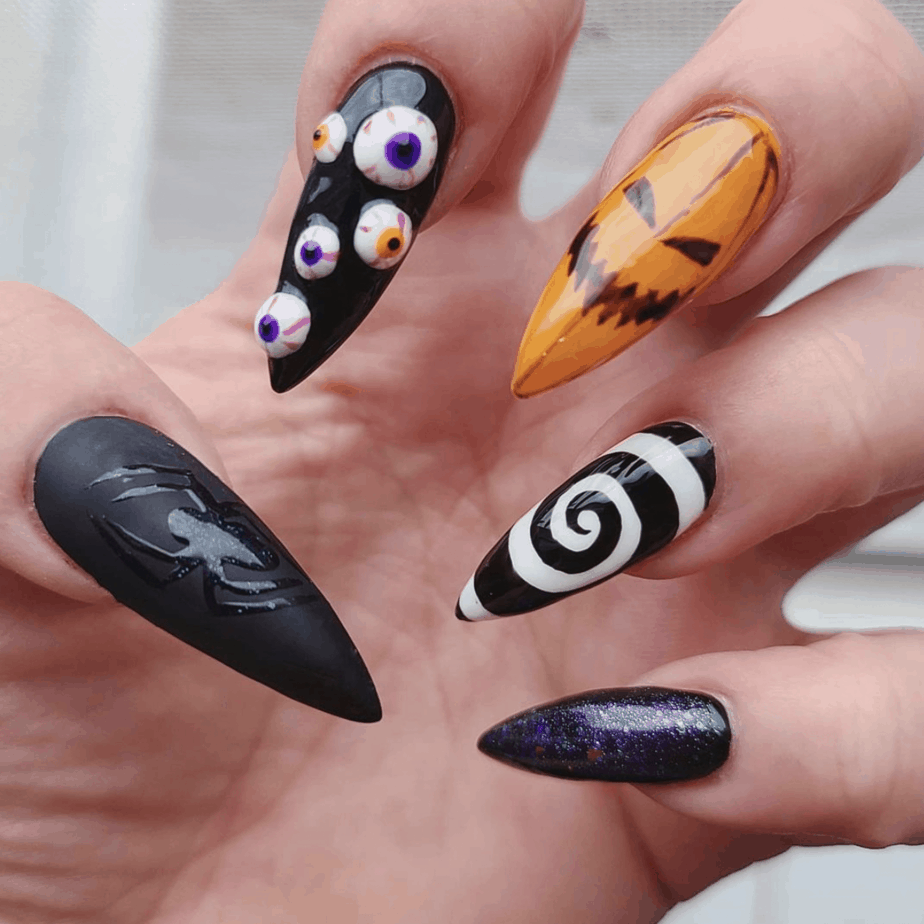 This nail is so Halloween inspired, the evil pumpkin and multi eyes make it pretty.
10. Ghoustly Bat Nails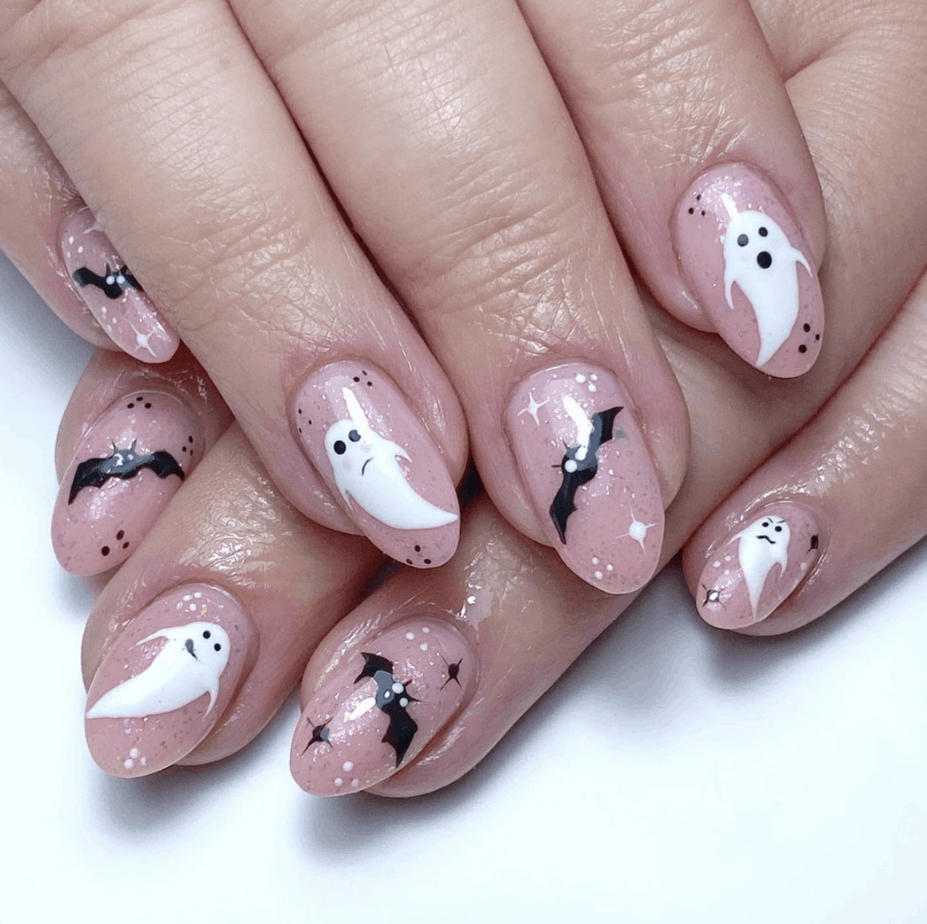 Another pretty one with the ghosts and bats.
11. Floral Skeleton Nails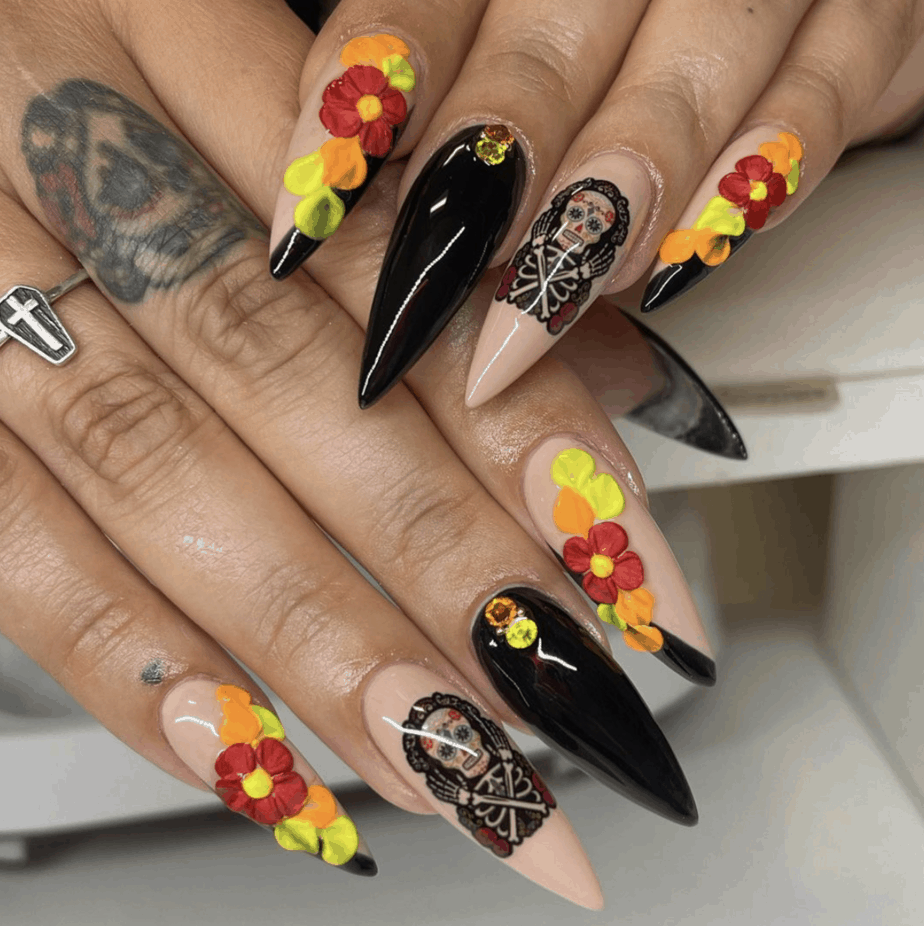 The skeleton lady with fall color petals is so beautiful.
12. Barbed Wire Heart Nails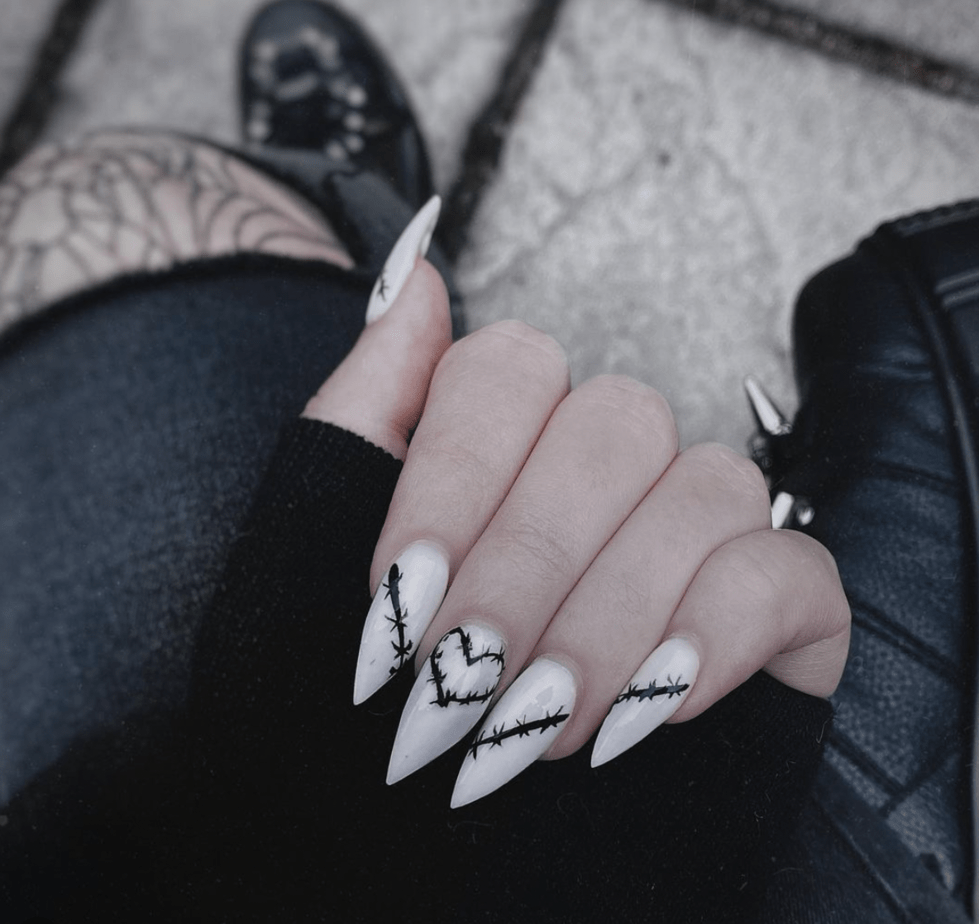 I love how easy and simple this nail is, you can even DIY it.
13. Wheels of Time Nails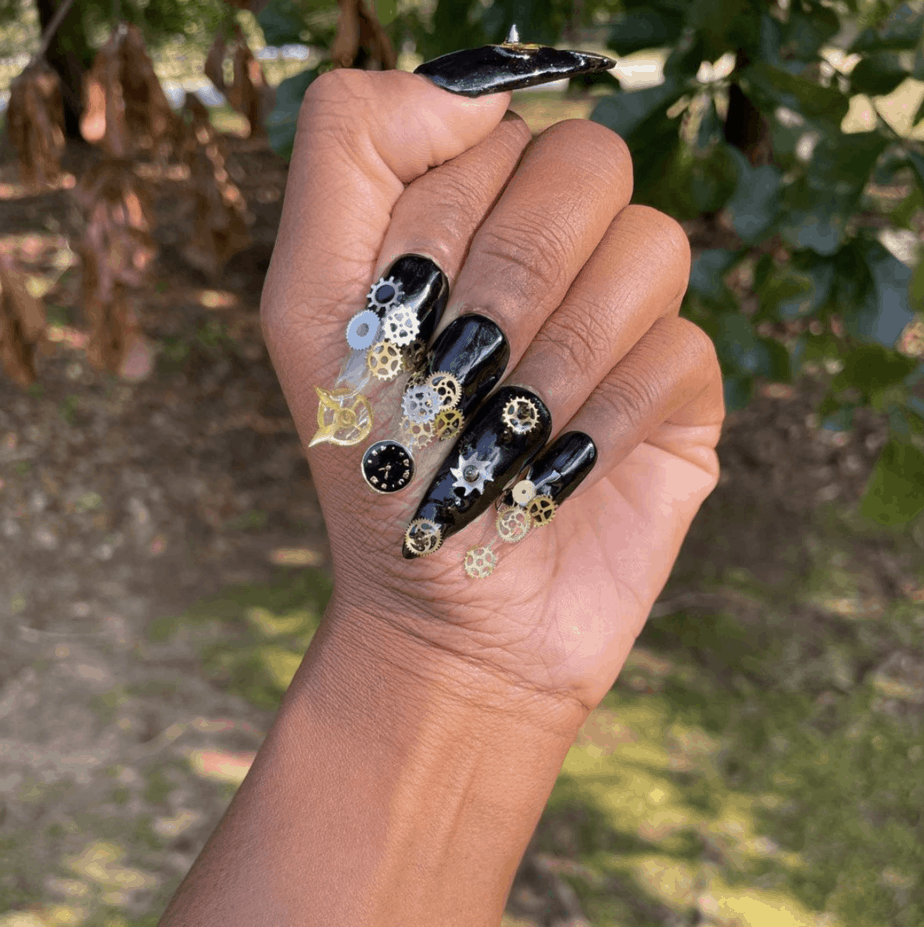 If you will be dressing like a scientist or an inventor this is a perfect nail idea.
14. The Monster Nails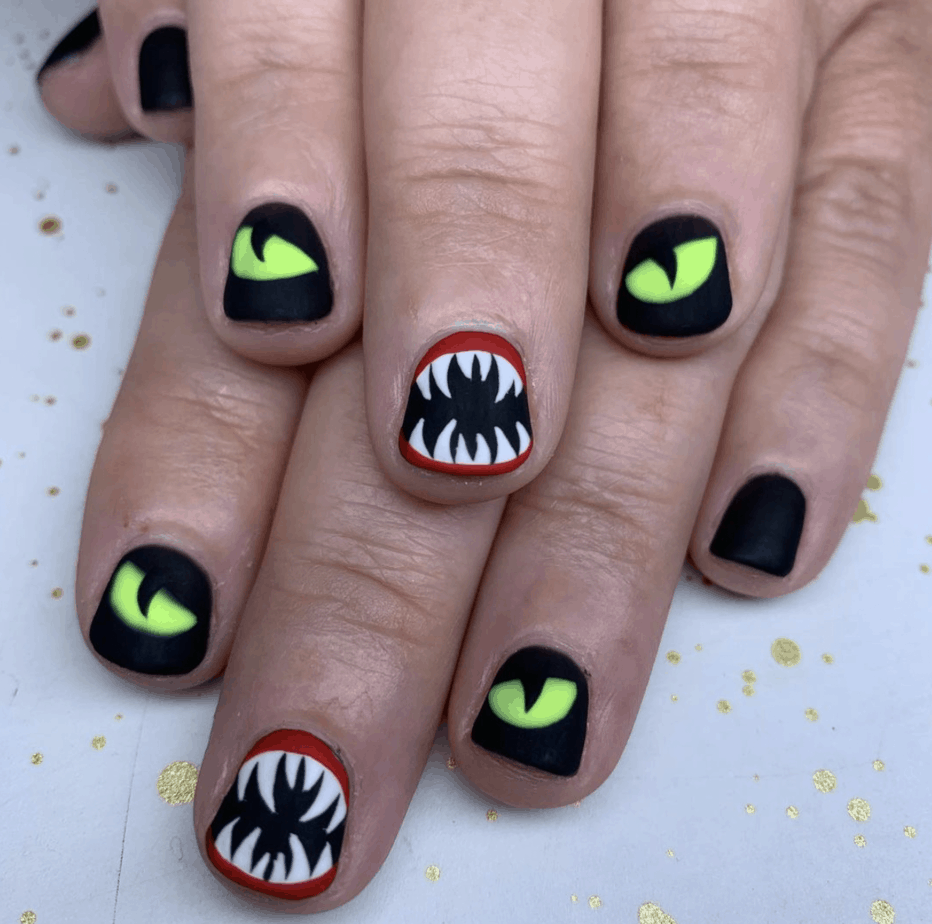 Scare people with this Halloween nail design, I like how scary it looks.
15. Maleficent Nails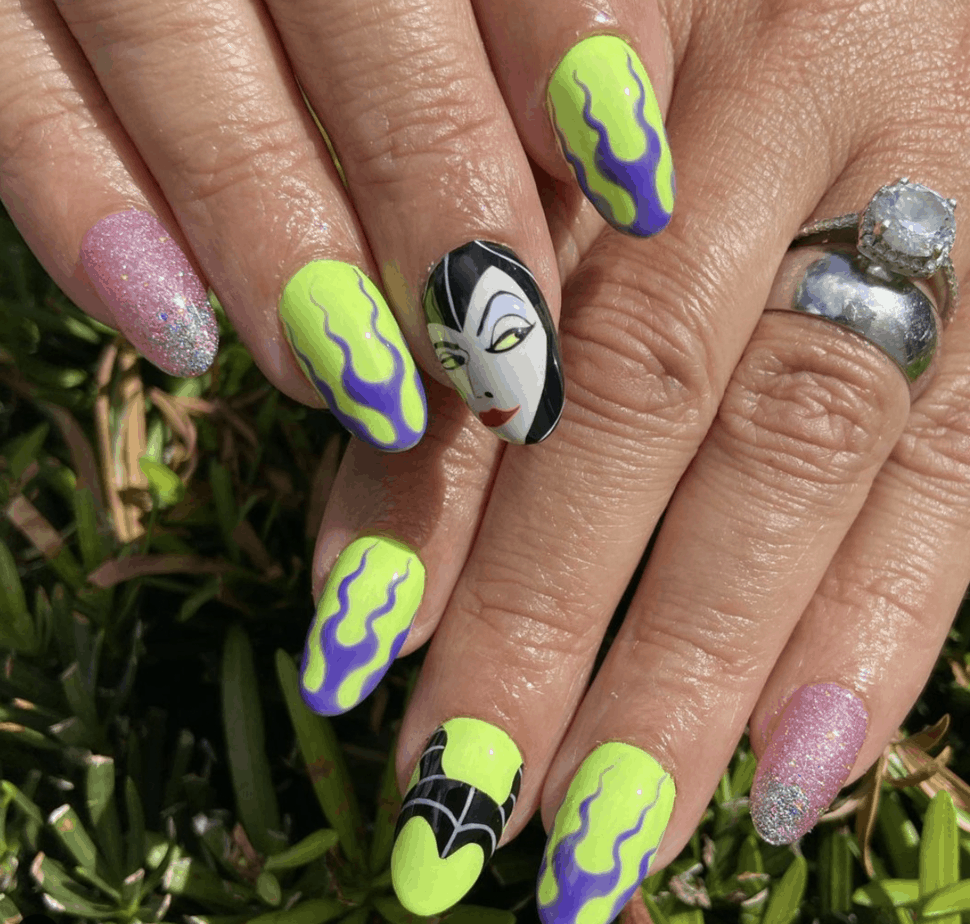 Are you a lover of the movie or you will be dressing as this evil woman, this is the perfect Halloween nail art idea?
16. Dark Berry Nails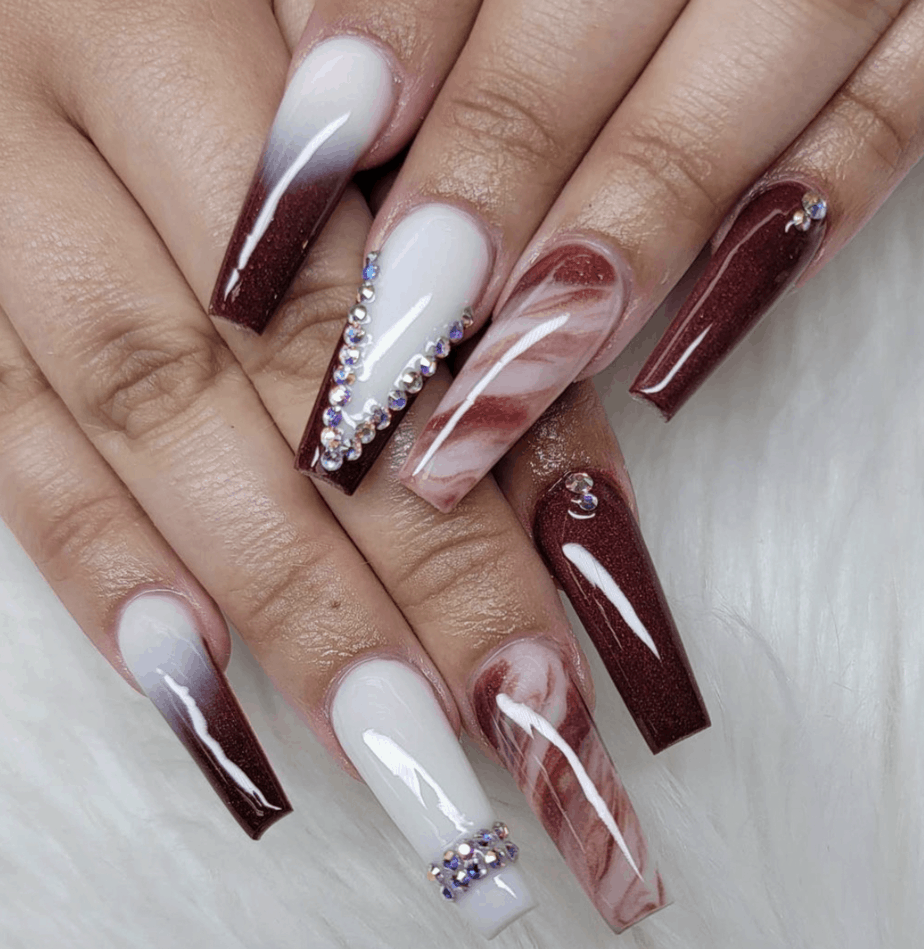 This nail is no so Halloween but I love the dark berry tone of the nail, so if you don't want to do any specific Halloween nail this will be a good idea.
17. Halloween But Not Halloween Nails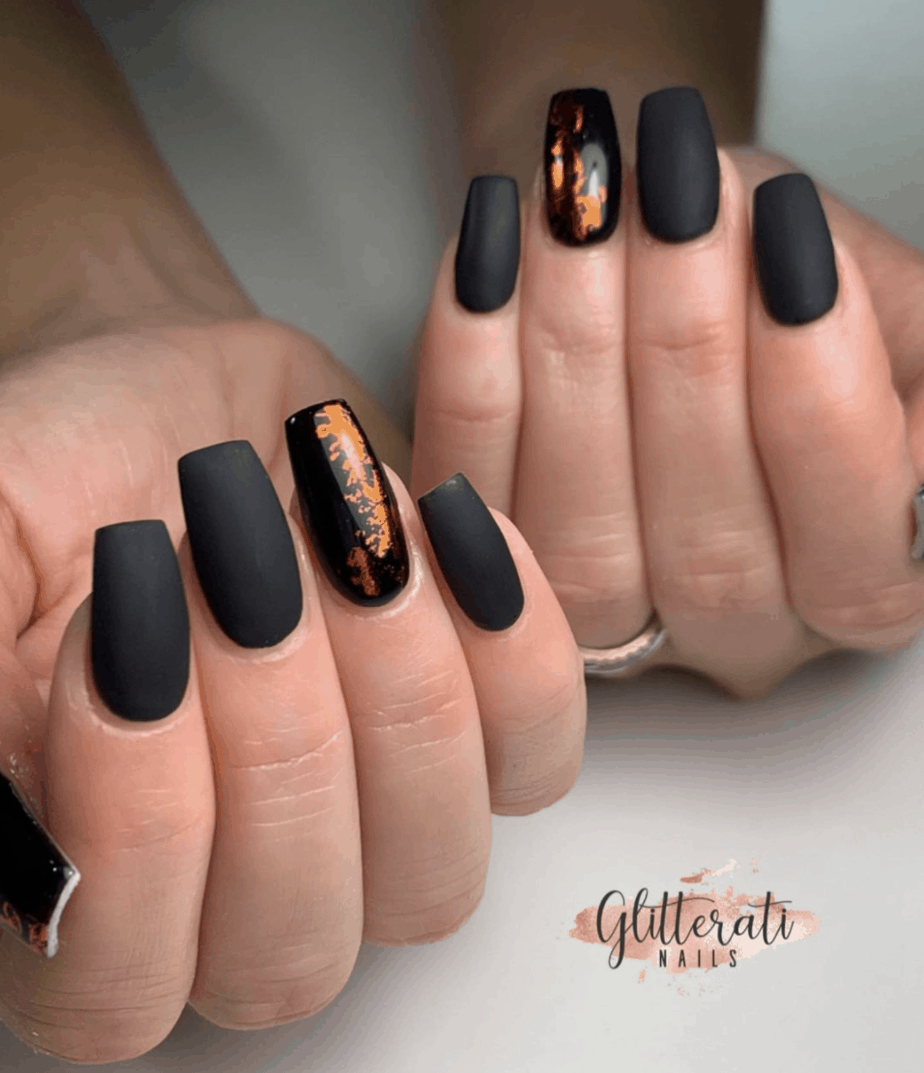 Another perfect nail for when you want to do Halloween nails but you don't also want Halloween nails.
18. Purple Graveyard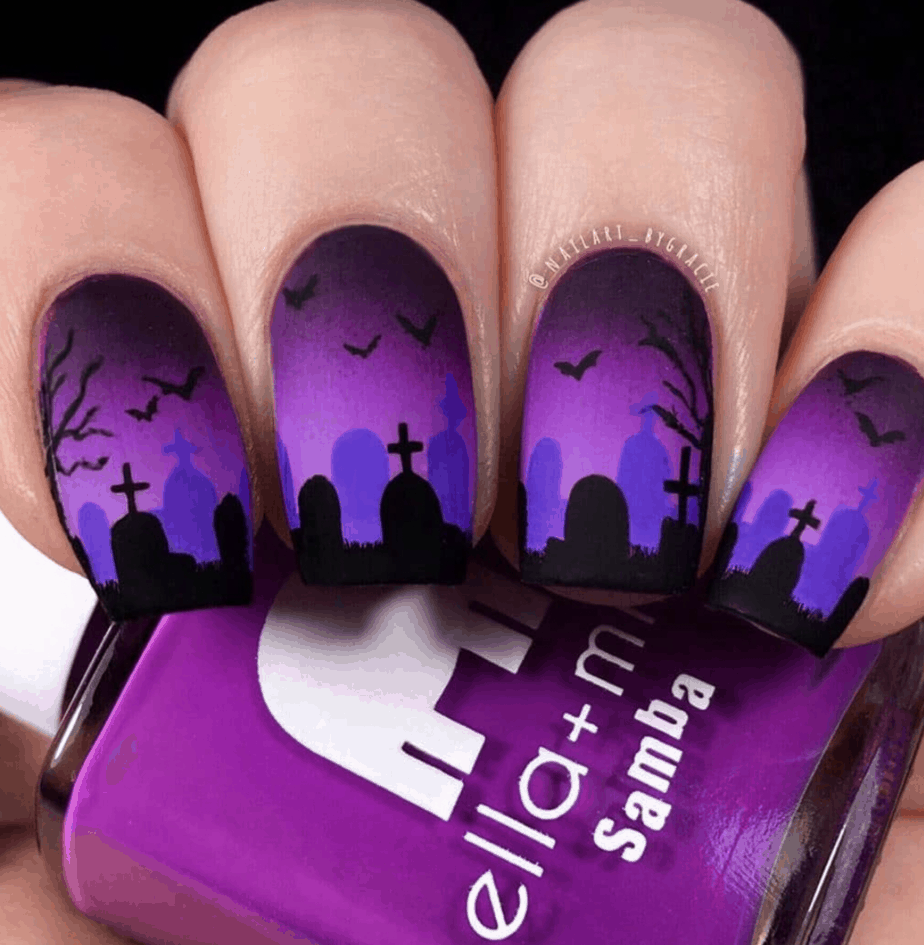 Hope you are home hiding in your closet where no one can see you because the zombies are leaving their graves.
19. Galaxy Nails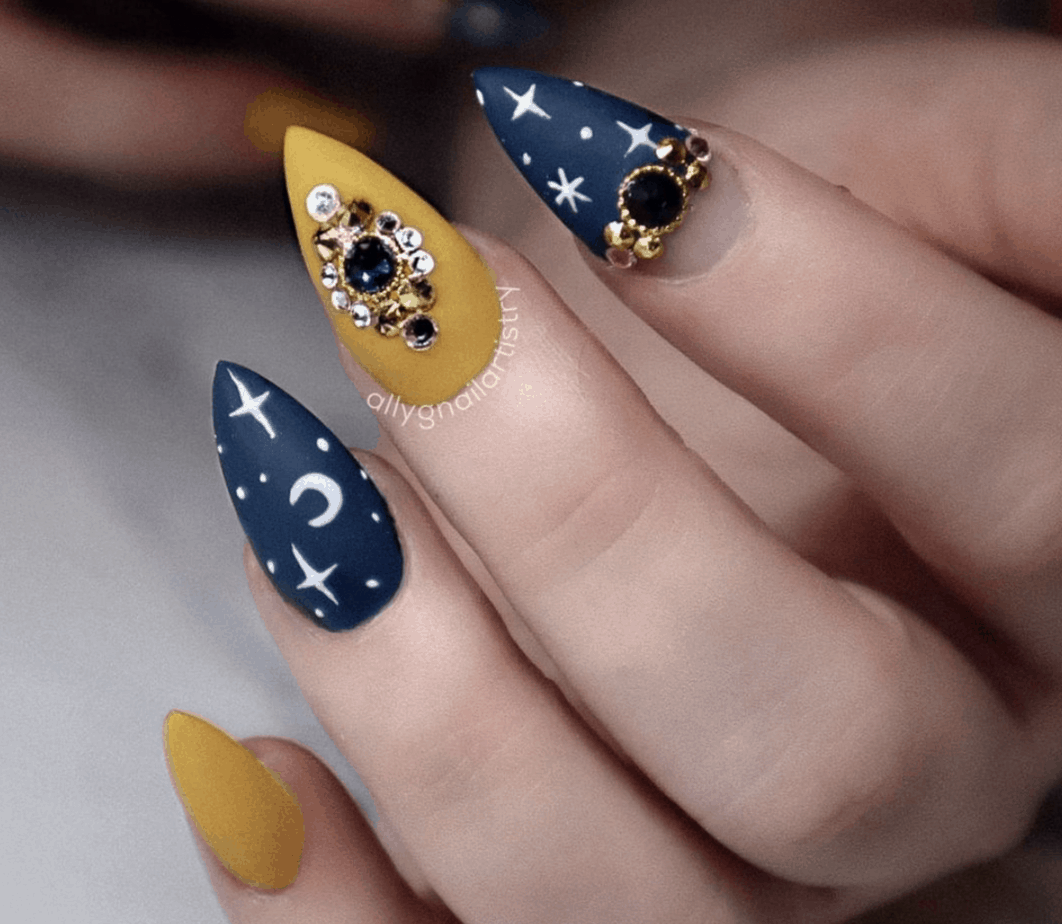 This is another not so Halloween nail but you can still rock it.
20. Hate Words Nails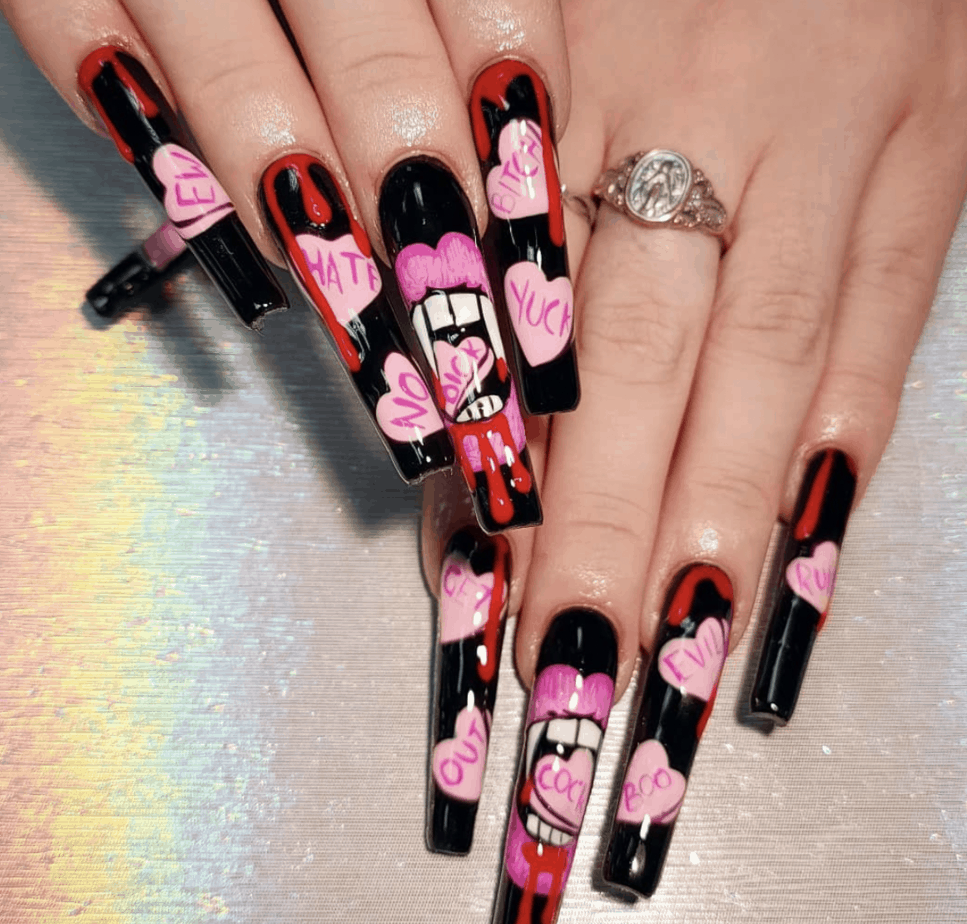 All about hate and evil words, not a fan of the length but still a good nail idea.
21. Colorful Monsters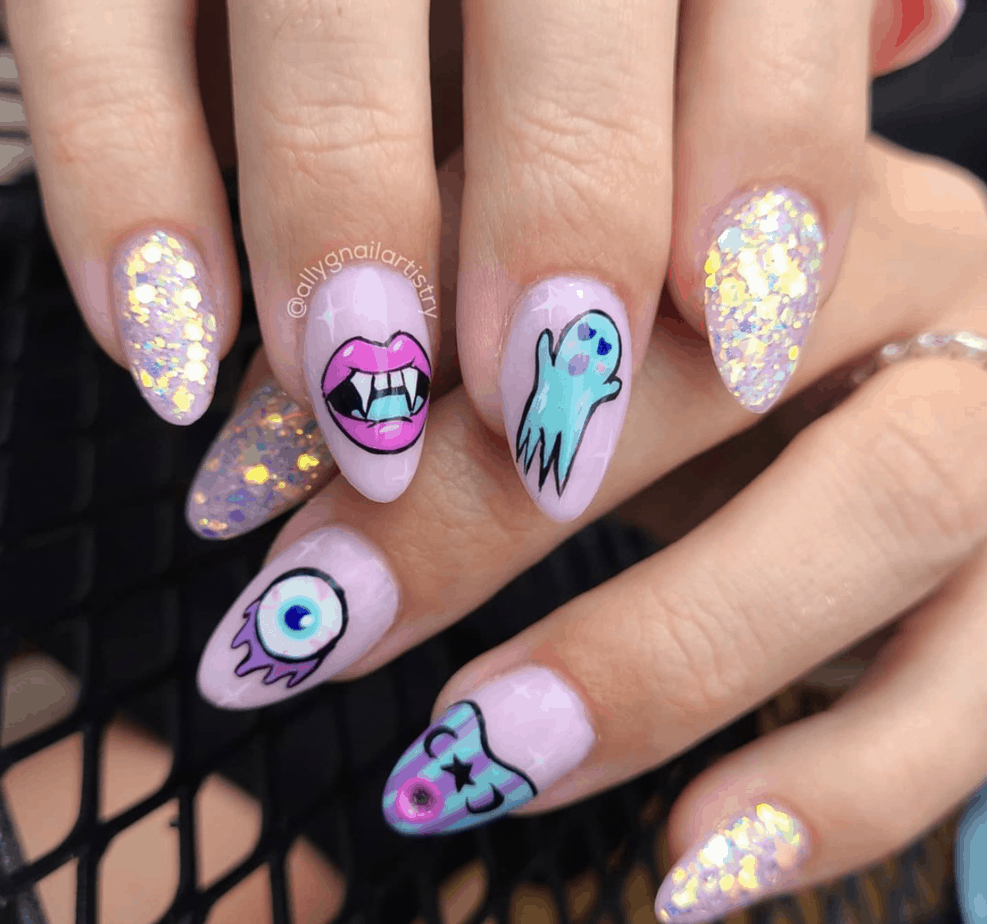 Maybe because I am a sucker for colors, especially pastel colors but this Halloween nail art is one of my favorites.
22. The Blue Eye Nails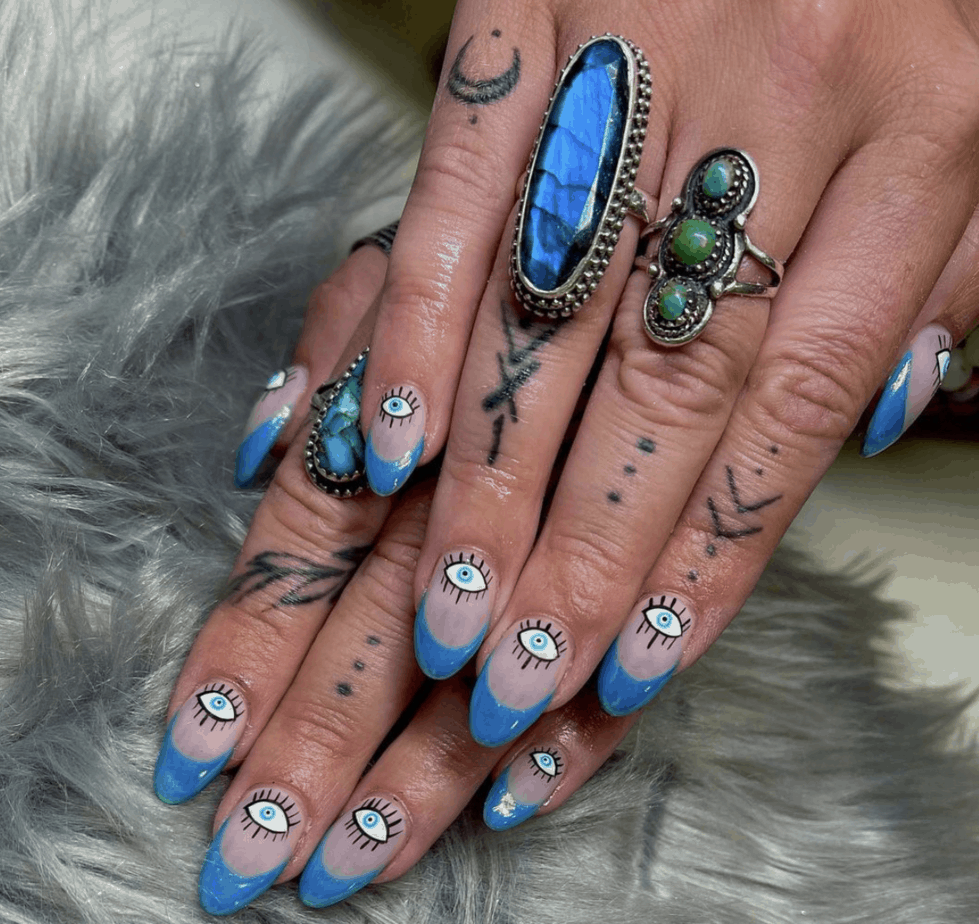 If you are into mystical things you must have heard about the blue eye or evil eye, so this nail is inspired by it.
23. All Black Nails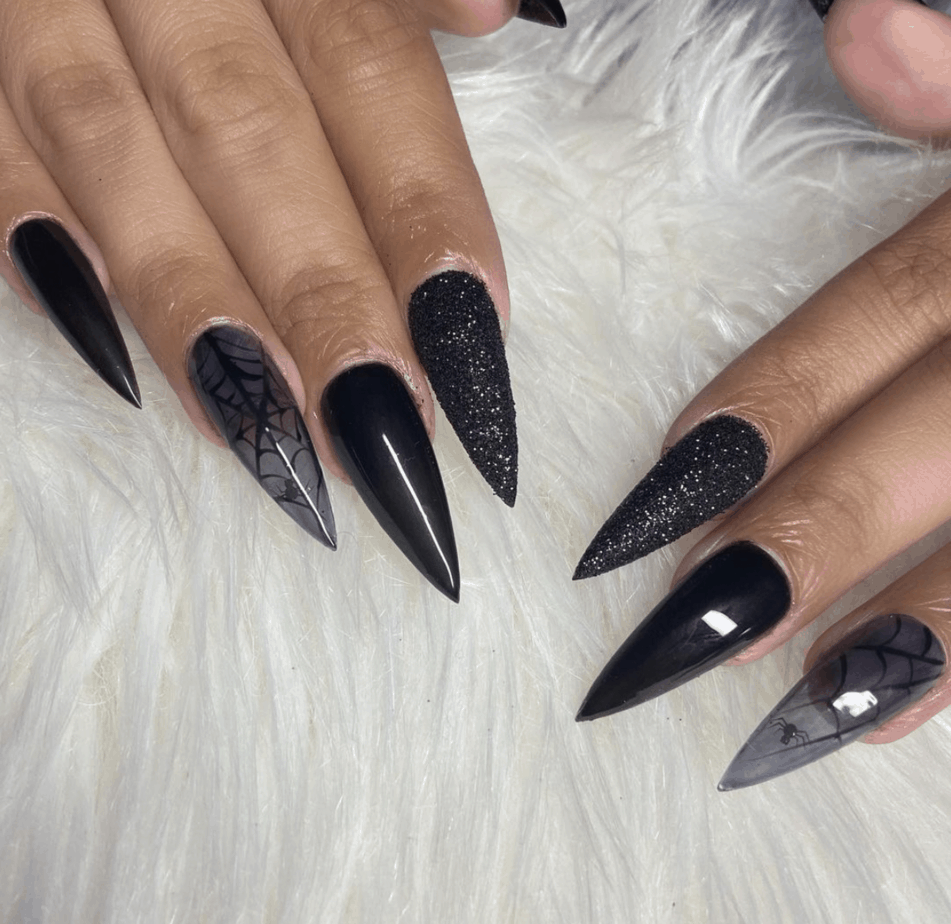 Another simple but cute Halloween nail design.
24. The Alien Nails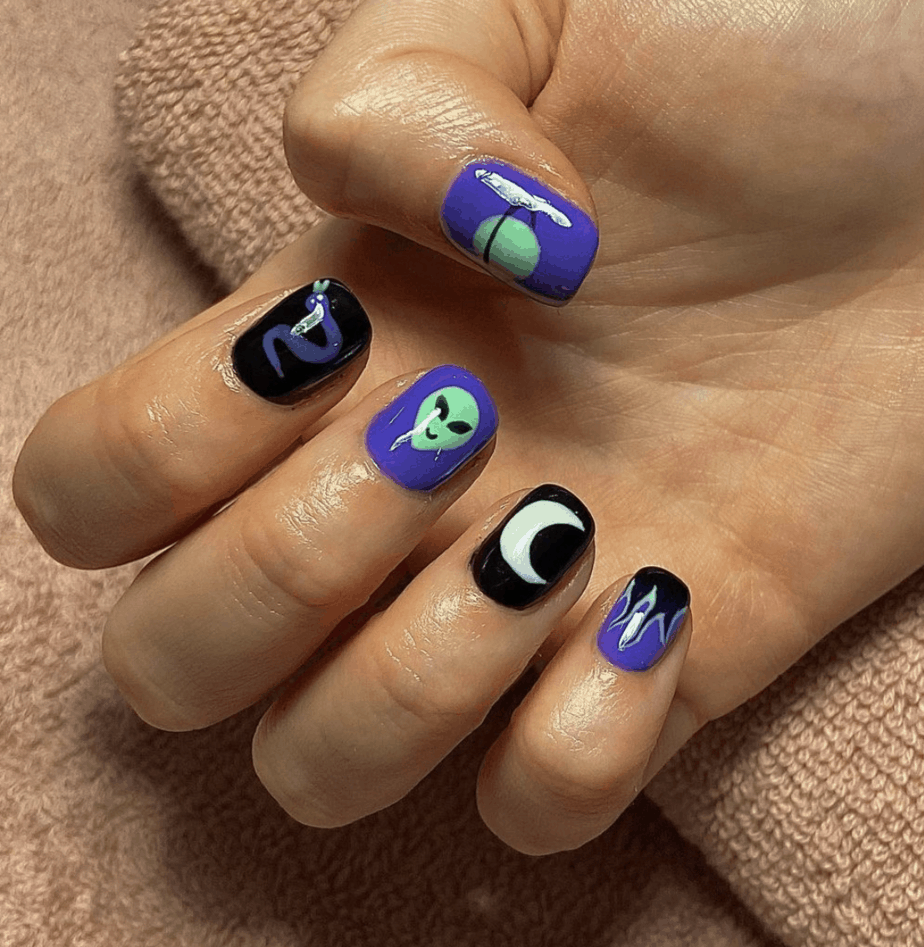 The aliens are coming to take over the earth on Halloween night, so make this nail so they know you are with them.
25. Ghostly Sprinkles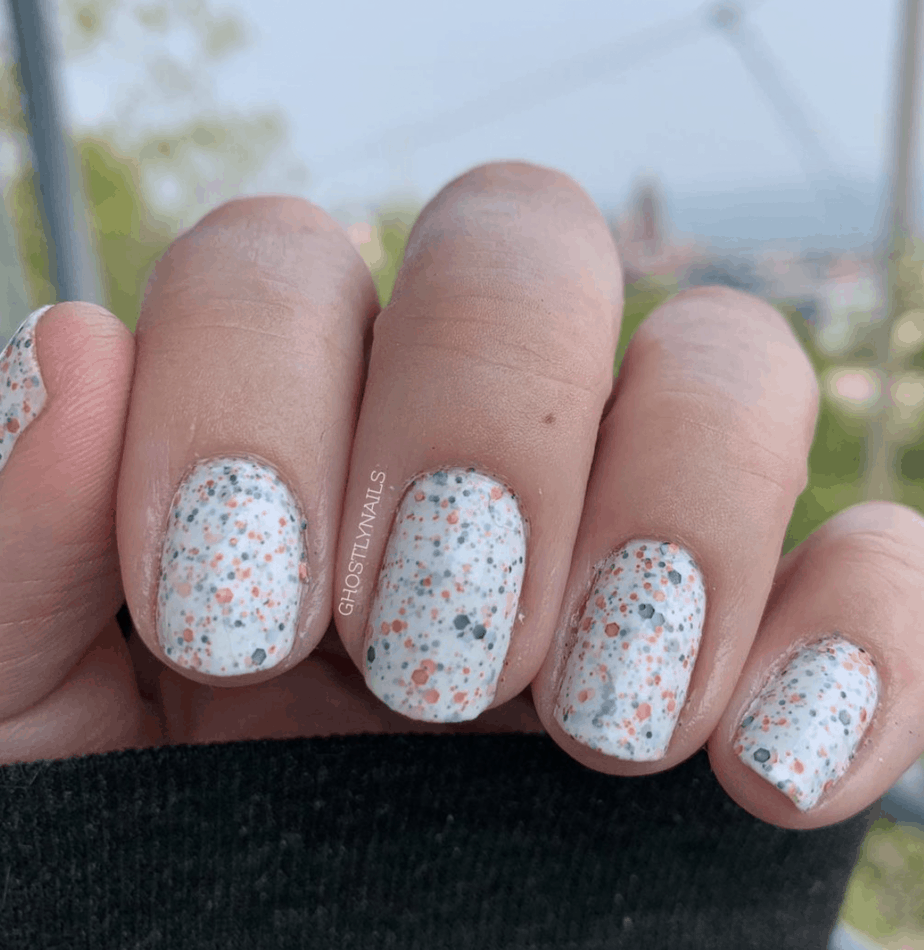 I love how simple these nails are just get the nail polish and you can do it yourself at home. It feels as though the ghost sprinkled their essence as they passed the houses.
26. Little Mermaid Nails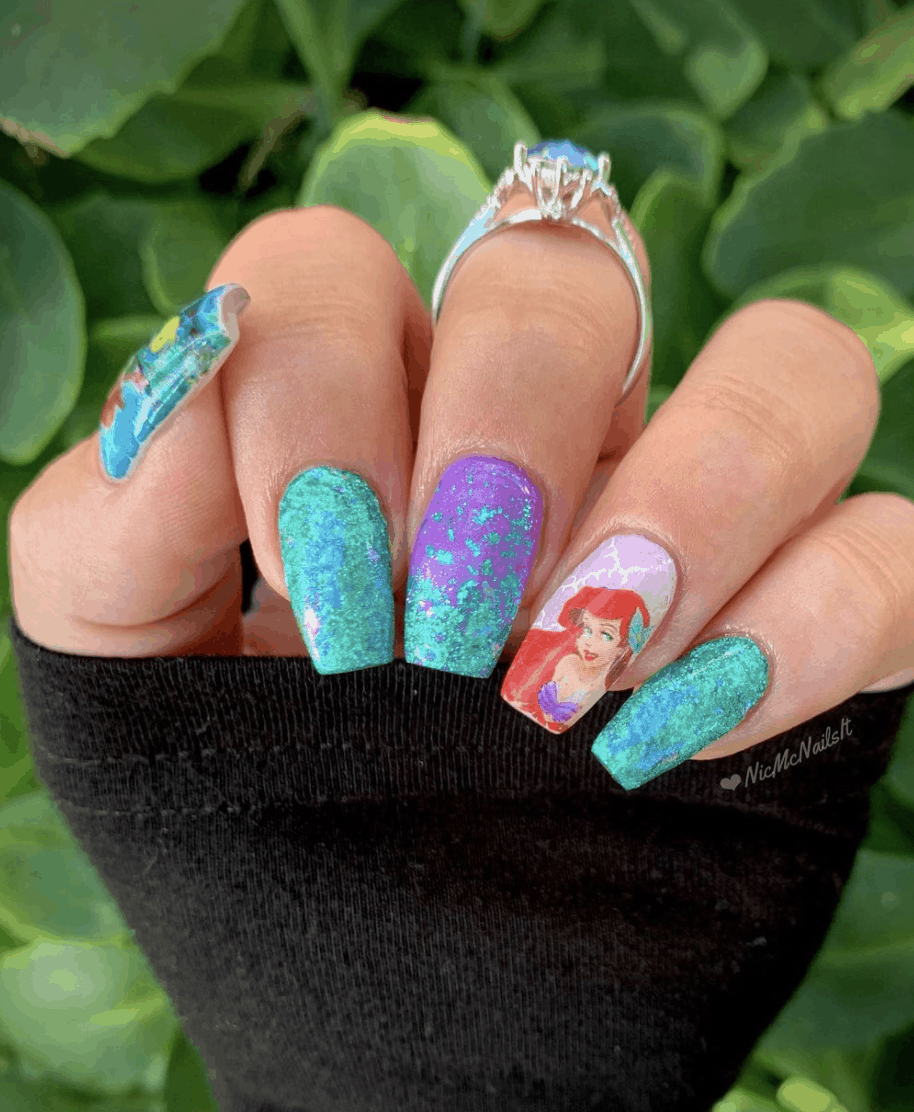 Dress up as a mermaid and fix this nail to complete your look.
27. Megan Thee Skeleton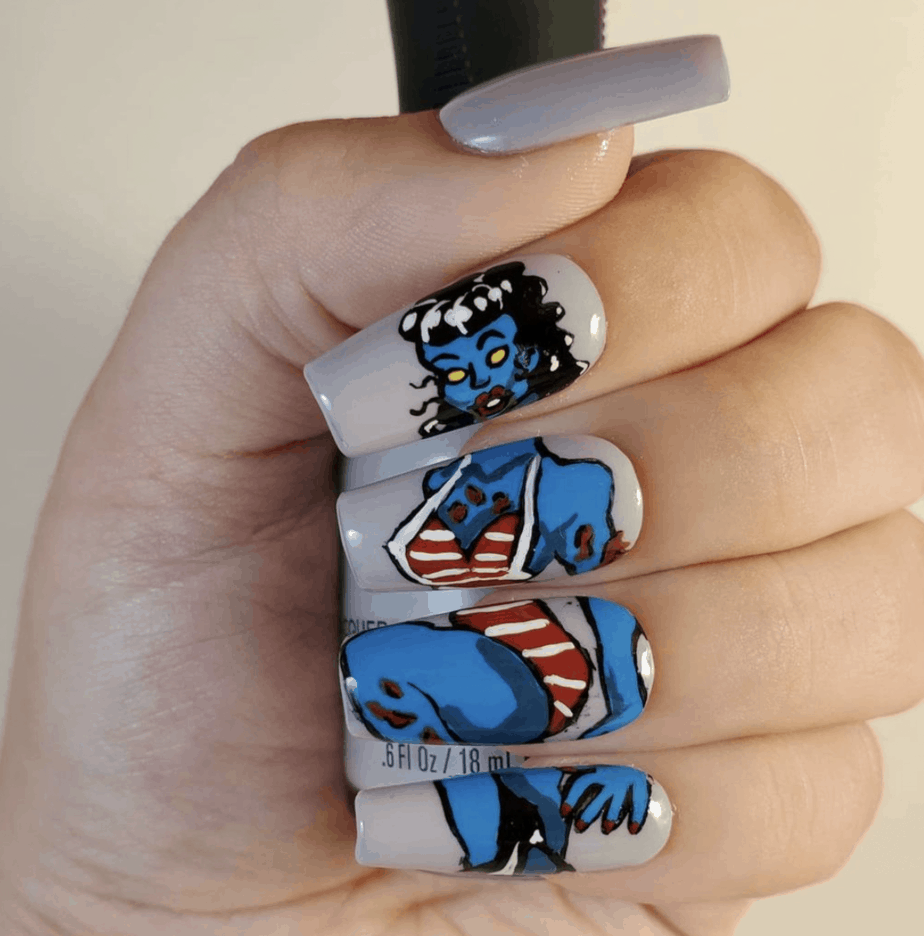 Be Megan thee stallion in a sexy but creepy way.
28. Joker Eyes Nails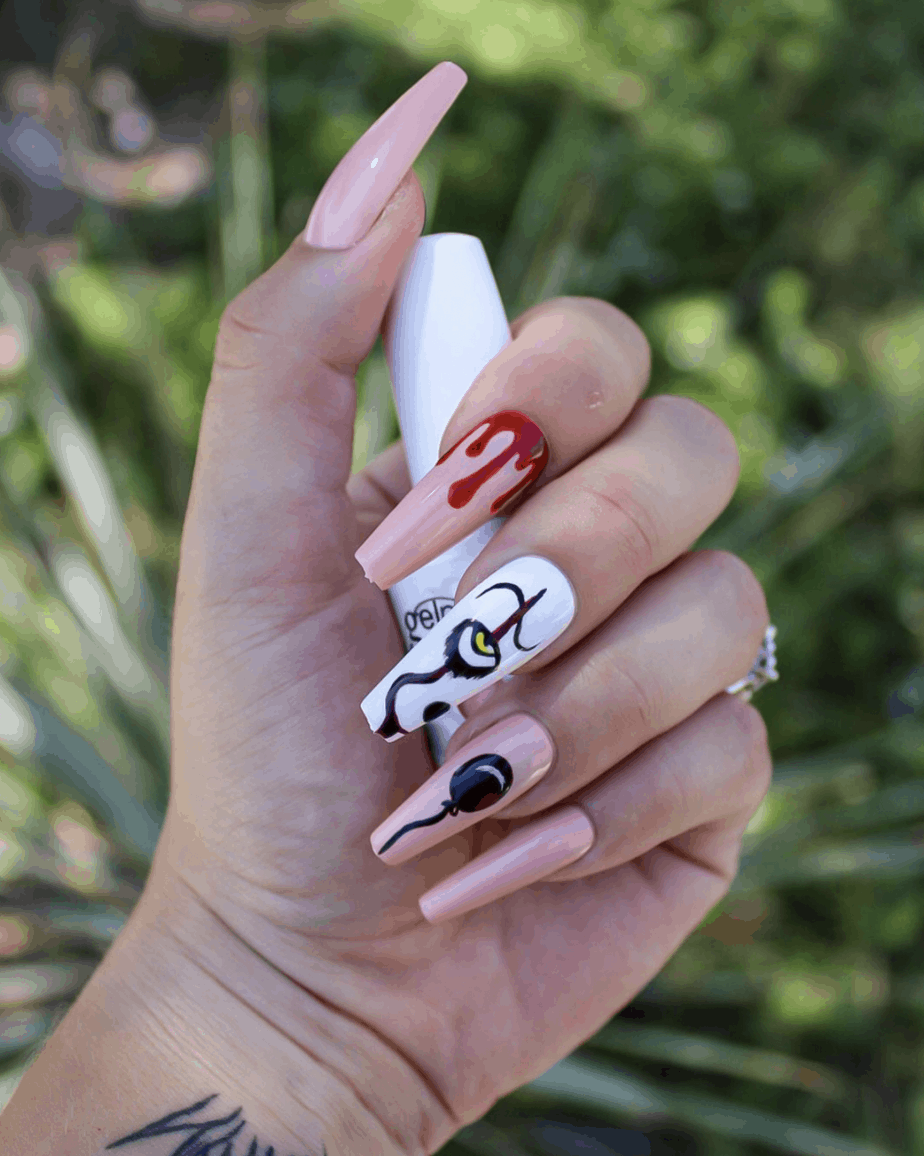 Dress up like Harley Quinn and have an art of your husband with you.
29. Bloody Nails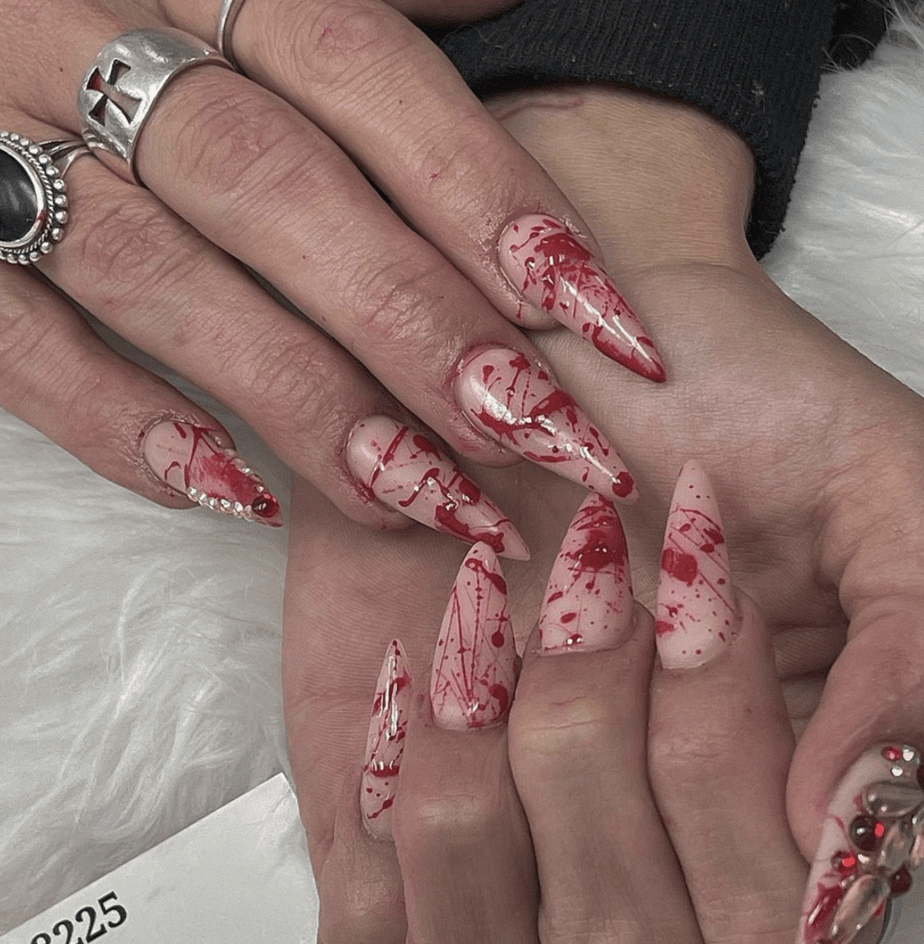 This is a classic Halloween nail design so I had to add it to this list.
30. Coloured Nails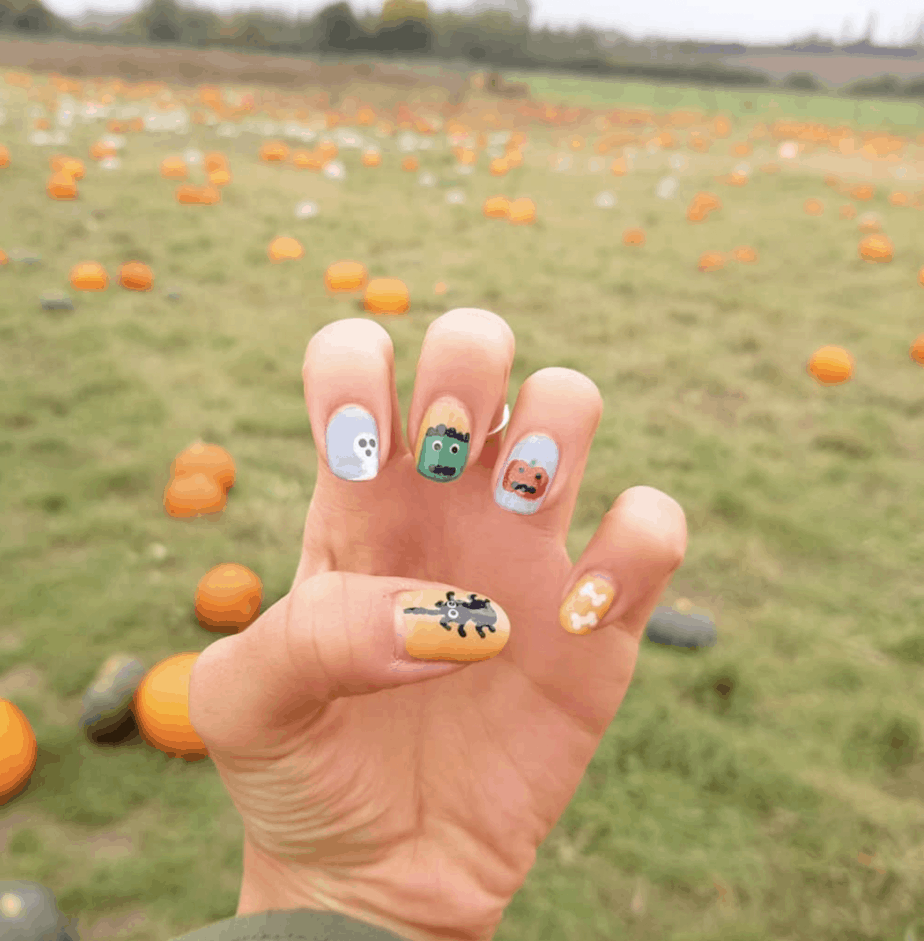 I just love how colored these nails look.
31. Skeleton Lady Nails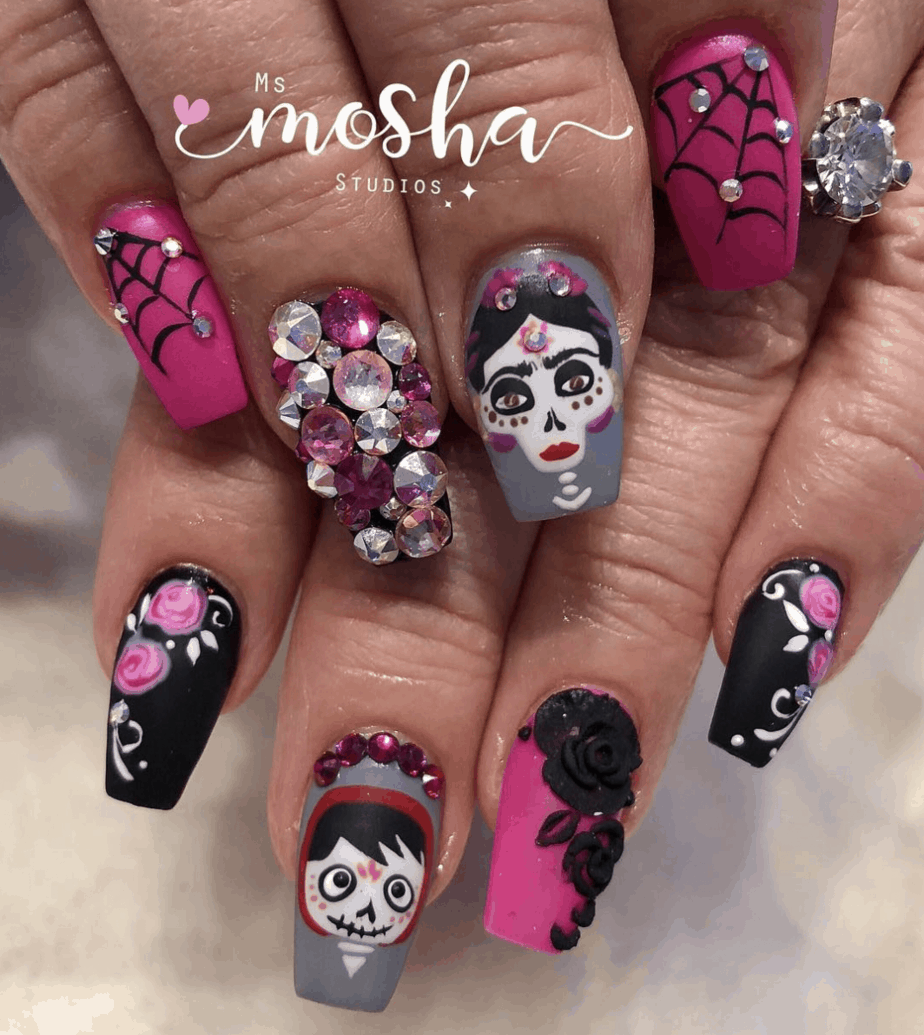 32. The Witch Nails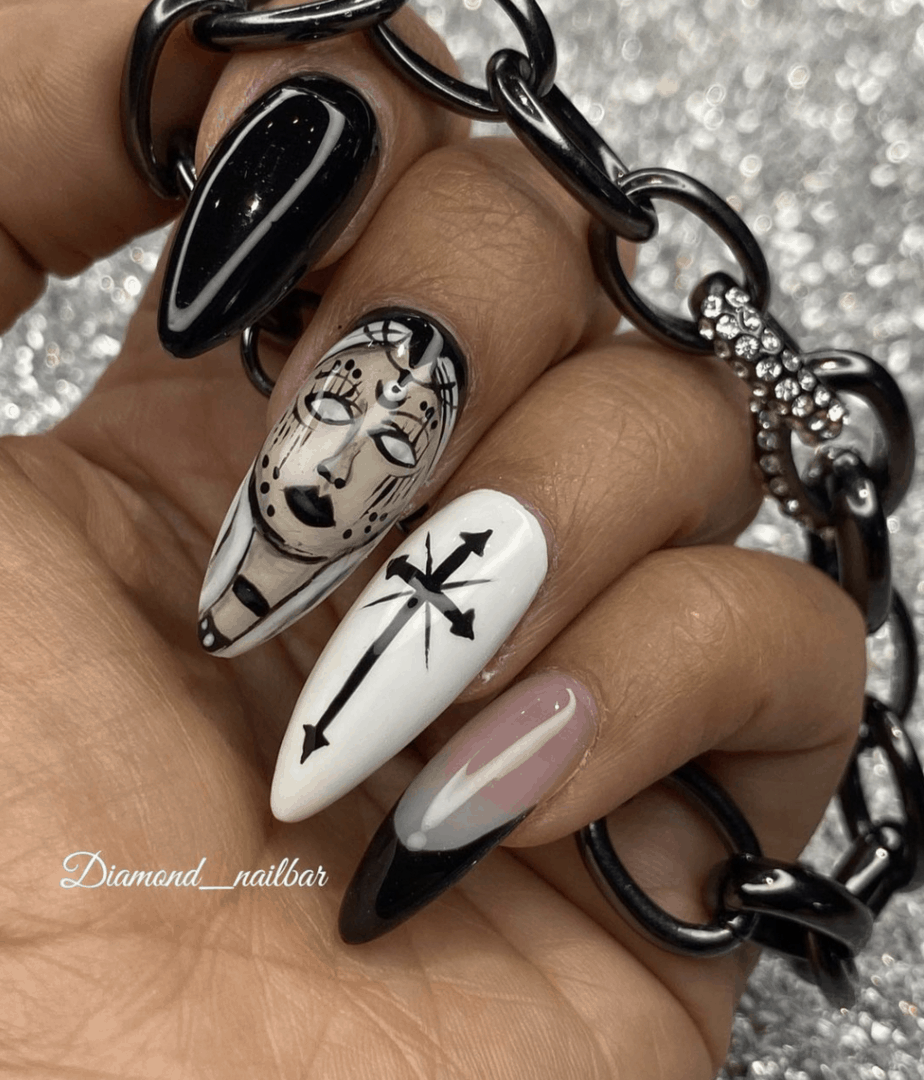 33. Mariposa Nails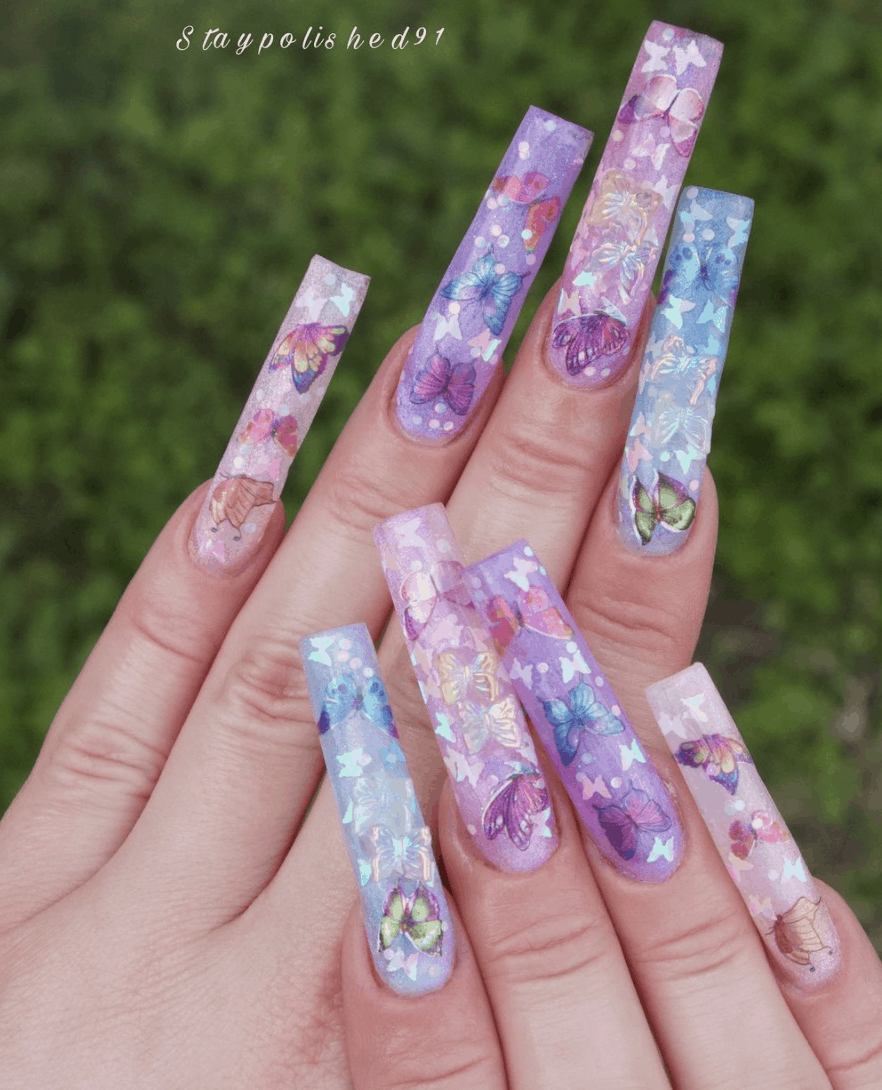 If you are a lover of mariposa, this is a beautiful nail design to try out.
34. Hello Kitty Nails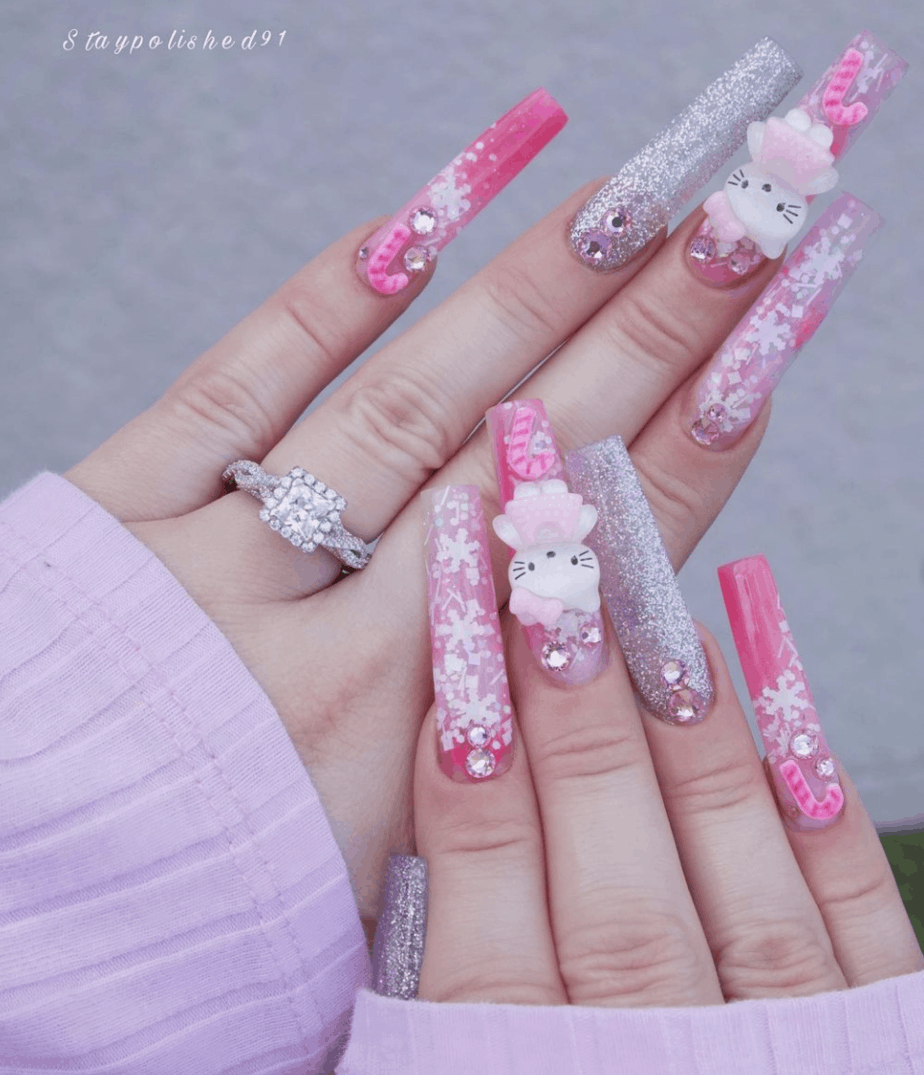 35. The Mummy Nails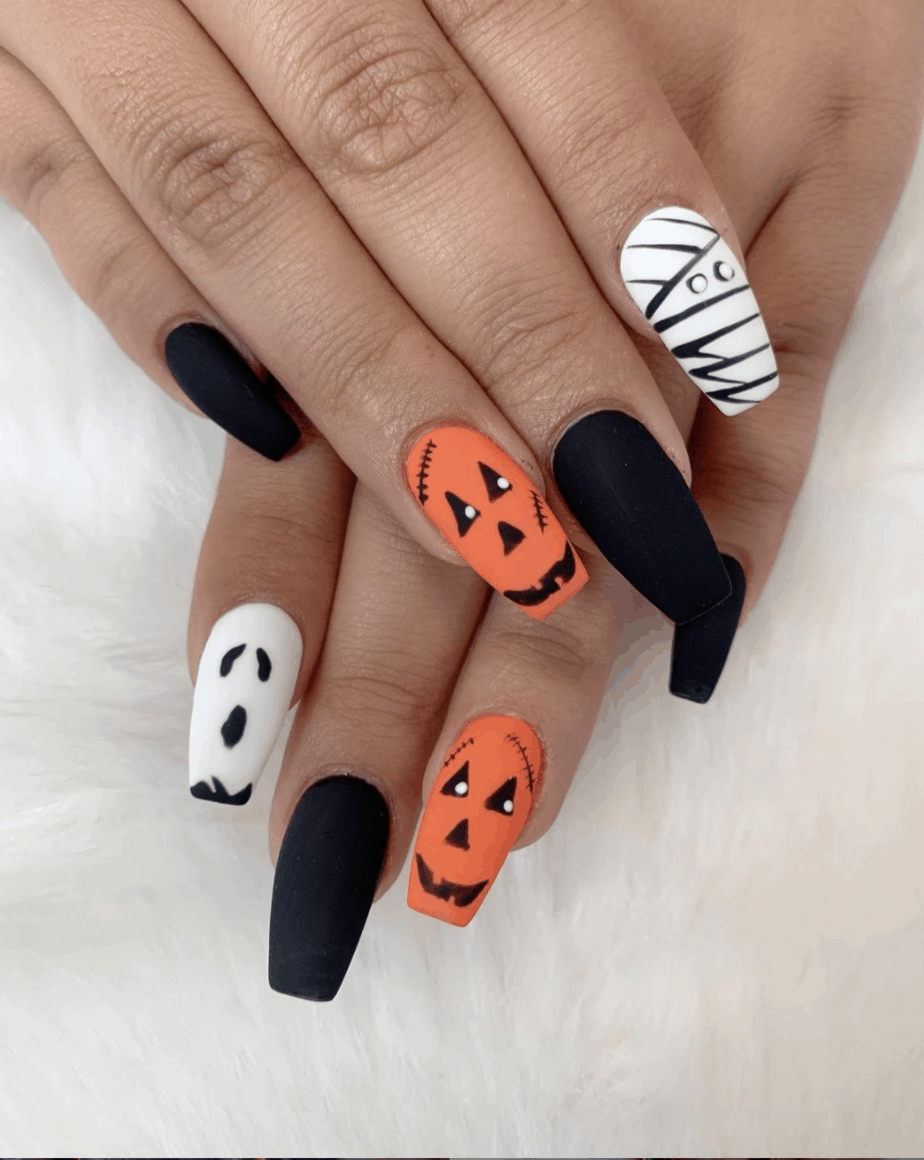 There you go 30+ Halloween nails designs ideas you can copy from, so tell me the ones you love.
Related Posts