Fall colours are just so beautiful, the mixed blend of burnt orange, red, brown and even yellow. So as the leaves are changing colours and getting ready to fall, I guess it is time to change your nail colours too. Here are 35 fall nails designs that are cute and super trendy you will love this season.
There are a lot of beautiful fall nails designs you can choose from, don't forget thanksgiving is in fall. So, if you need some inspiration let's dive into it.
WHAT ARE THE BEST FALL NAIL COLOUR?
We know fall colours are deep and rich so here is some great fall nail colour finds.
35 Fall Nails Designs That Are Cute And Trendy You Will Love
1. Chocolate Lines Nails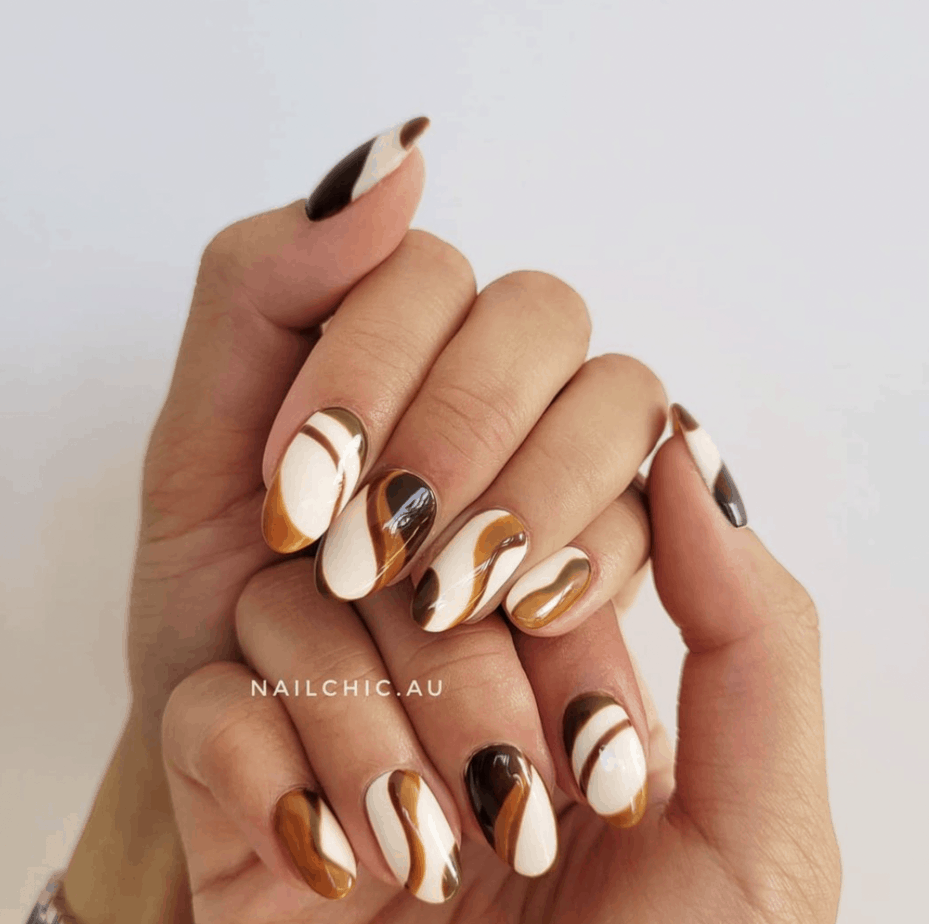 Seeing these nails and all I can think about is ice cream, so like chocolate with caramel and vanilla. It is a beautiful nail and perfect for fall, the length is also a win for me.
2. The Green Foil Nails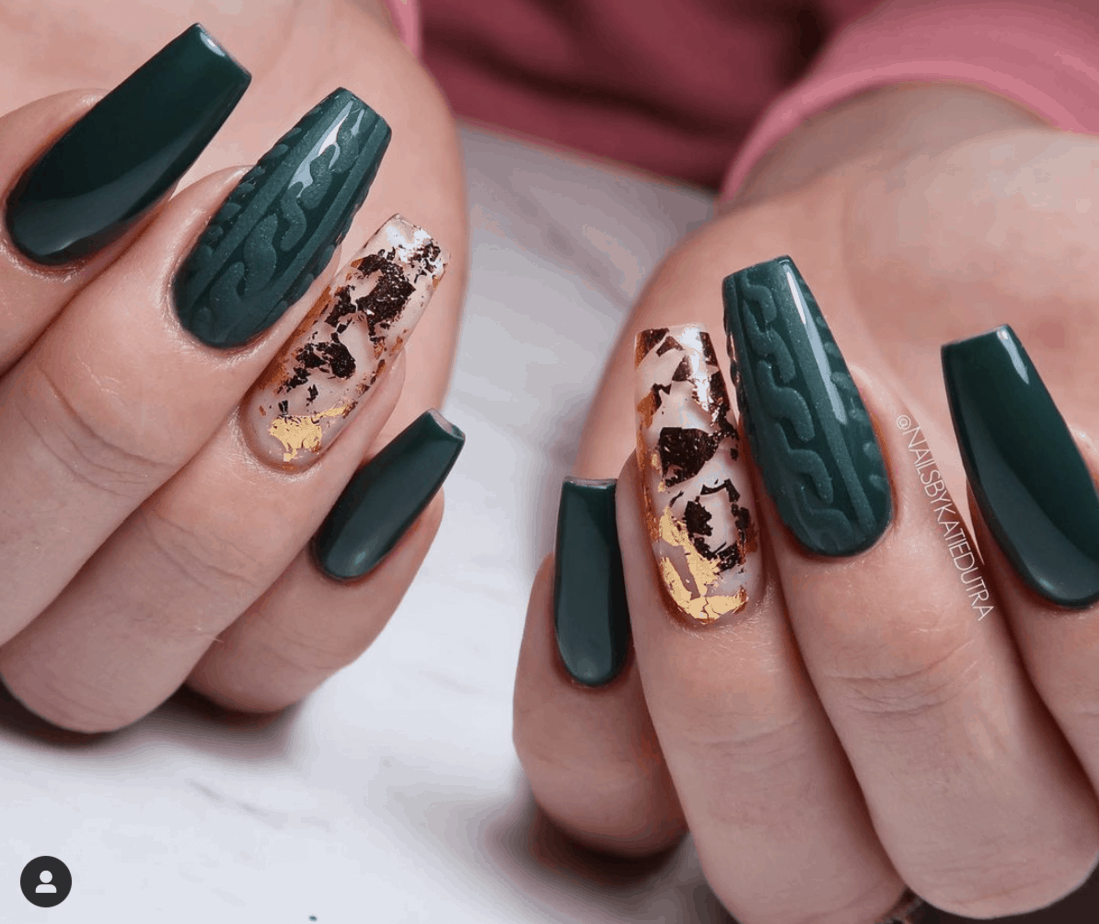 Everything about this nail is just beautiful, the length is so perfect. I love the shade of green and the foil design just ties everything together making it look chic and classy.

3. Orange Foil Nails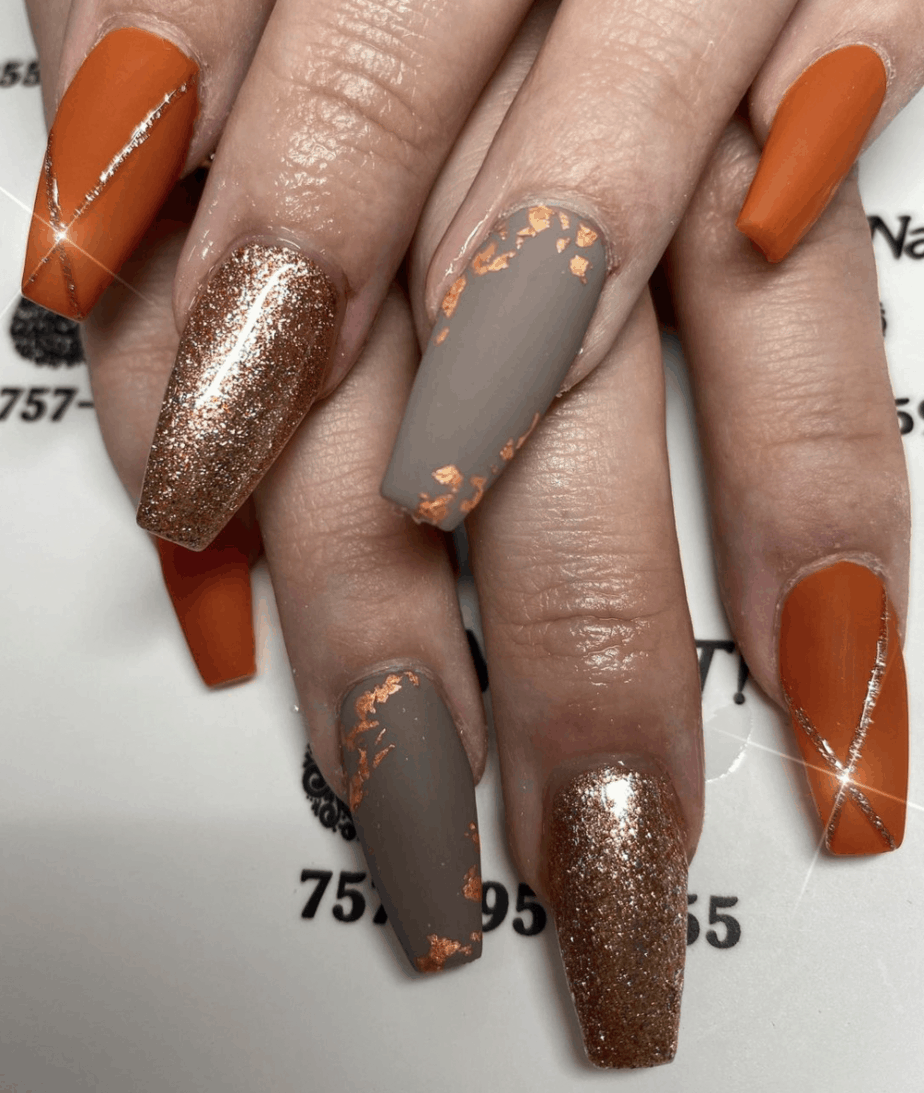 This nail is so fall-inspired with the beautiful colours, the gold glitters and orange foil design makes it even better.
4. Tortoise Stilettos Nails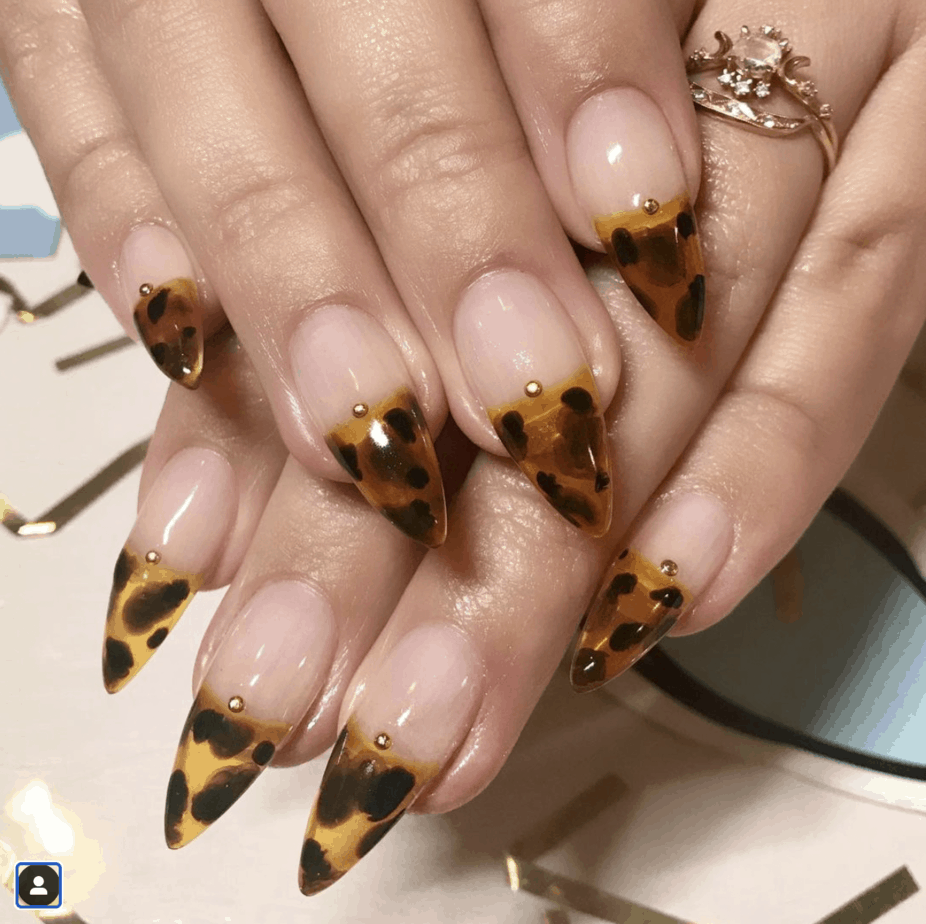 Tortoise nails colours are so fall-inspired, I do like this design. Stilettos nails are one of my favourite nail designs and that little gold rhinestone detail really makes it cute.
5. Orange Petals Nails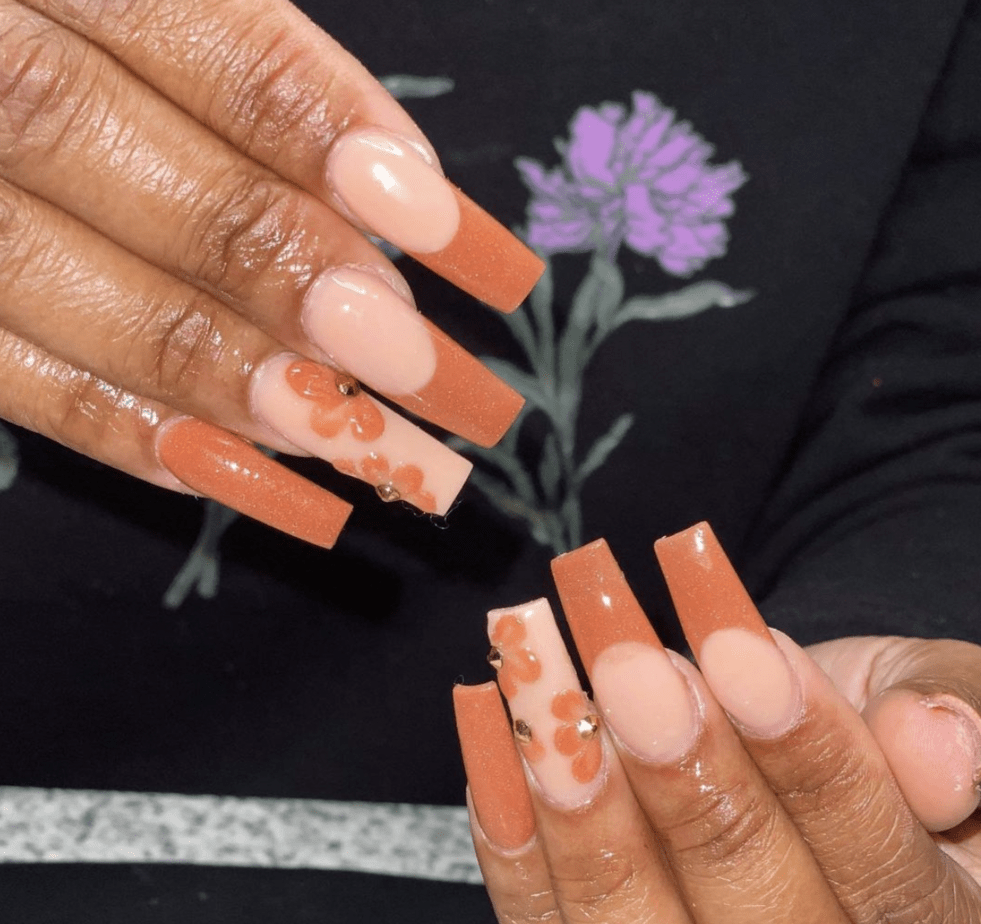 Simple but cute nails do it for me and this is not an exception. This is another lovely nail and the petals with the gold rhinestone make it even cuter, however, the length is a bit too long for me. But if you wear long nails that you should try doing this nail this fall.
6. The Cactus Nails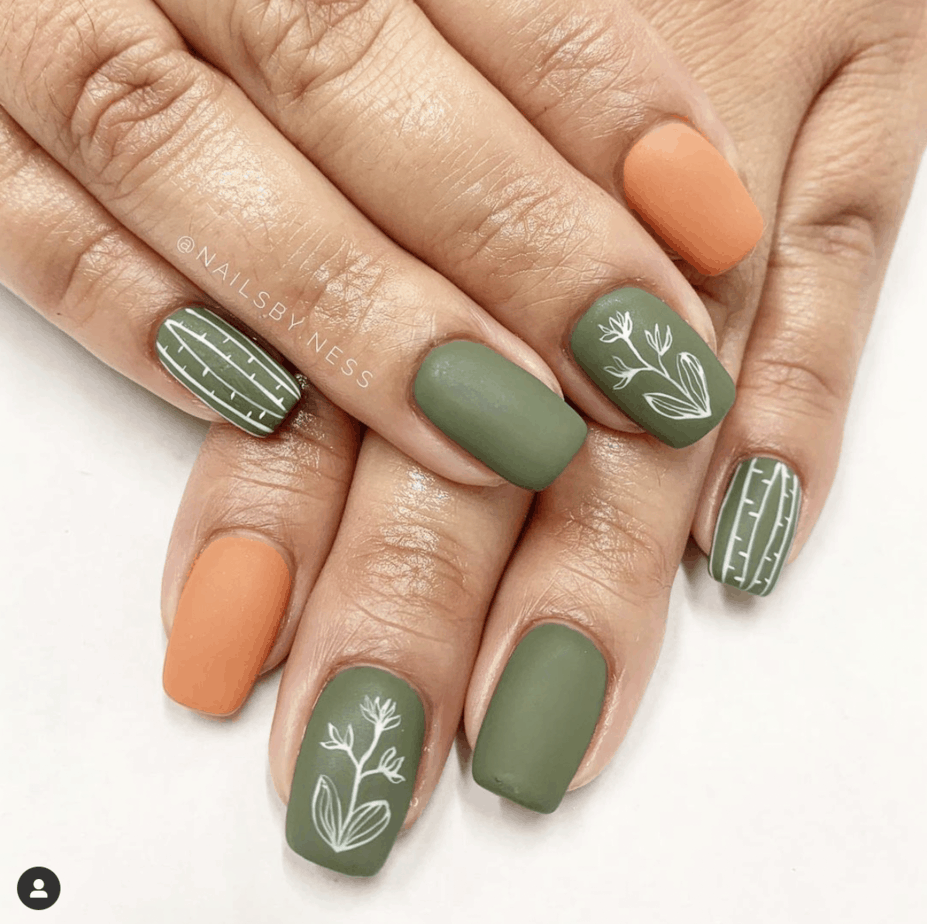 A cactus inspired nail, the colours are so fall and beautiful. I feel like if you are good at drawing you can do this yourself at home.
7. Lines Autumn Leaves Nails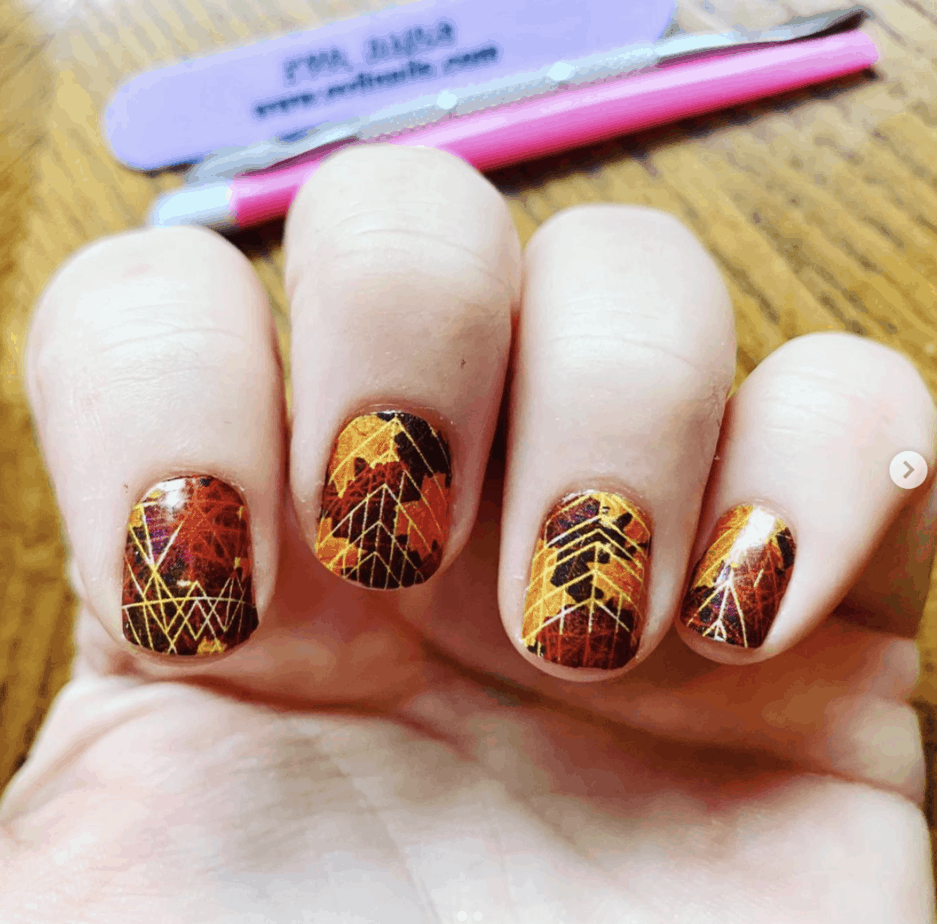 This fall nails just screams hey autumn/fall is here. They are really cute, I feel as though these nail designs are stickers. Honestly, if they are I will even love it more because I don't have to stay hours in the nail salon to achieve this kind of beauty.
8. Glitters Fall Leaves Nails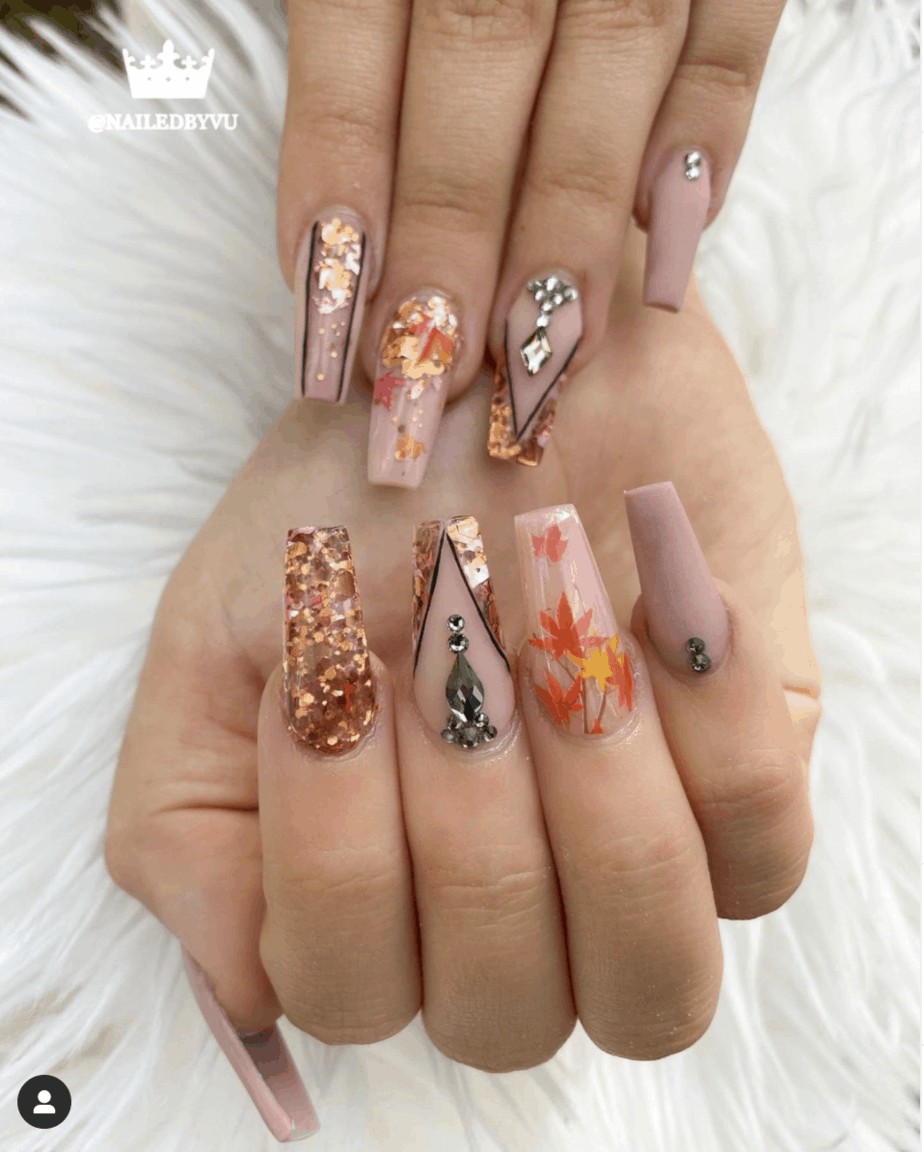 So this is another autumn/ fall leaves inspired nail, but this looks chicer. The colour is toned down compared to the one above, also they used just a few fall leaves, then the glitters and rhinestone elevate the design.
9. Fall Colurs Nails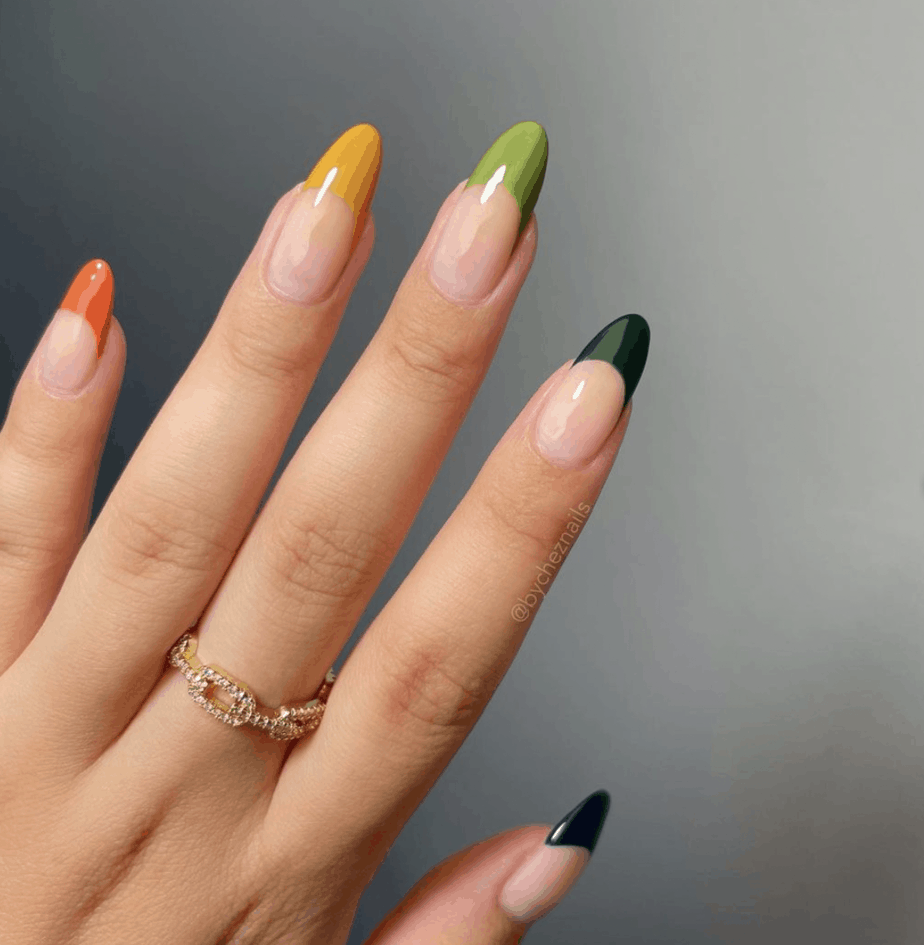 Now, this is a beautiful nail design with all the major fall colours, this fall nail design is so easy to achieve and I think you should try it.
10. Check Pumpkin Nails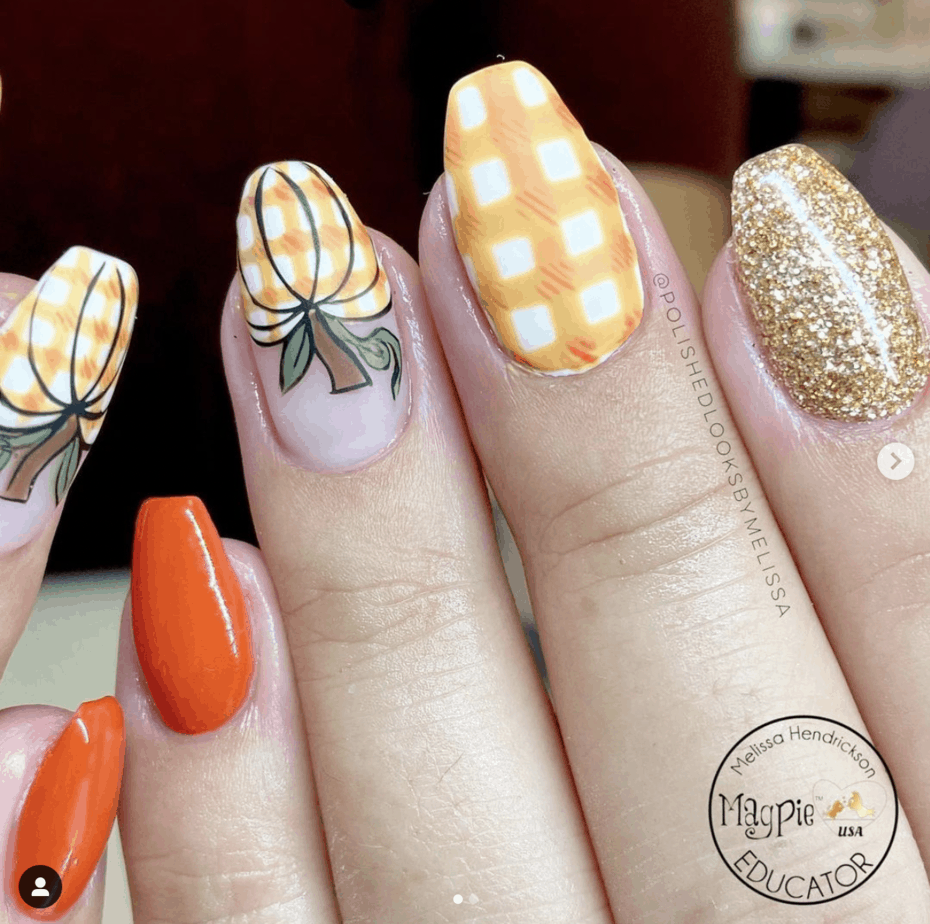 Lets us go to the pumpkin patch with these nails because that is all I think about with these nails. These nails are really cute, the colours and that pumpkin design killed it.
11. Black Detail Nails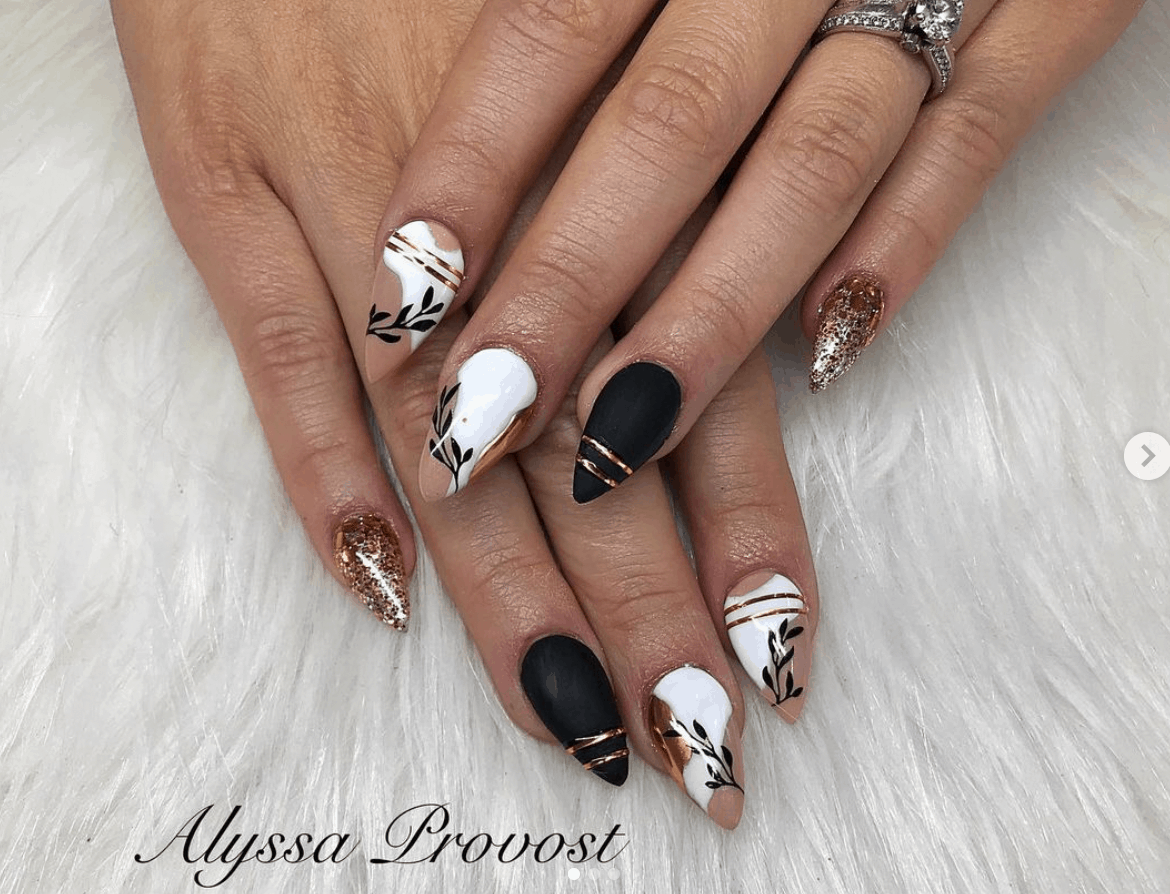 Honestly, this is one nail I can wear all year round, OMG! Everything about these nails screams class to me. With the mixture of the blacks with chrome, glitters and also the white, please call your nail technician right away to book an appointment for these nails.
12. Warm Colur Nails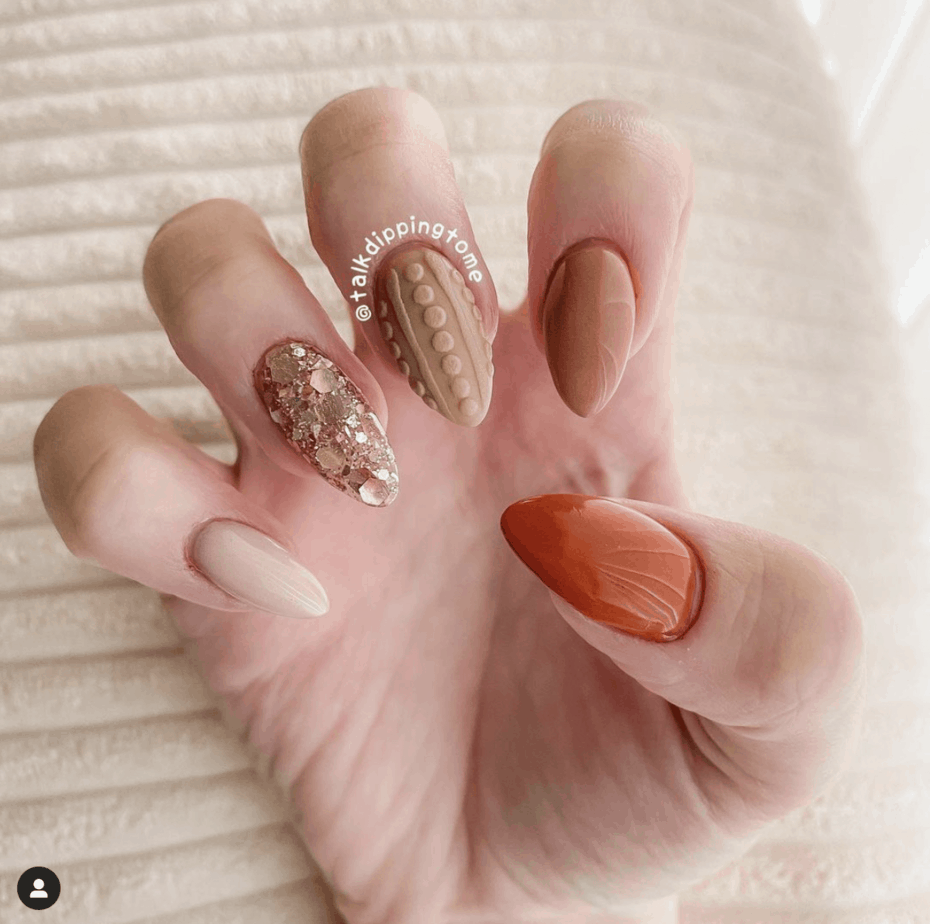 For someone that doesn't like bold colours, this is your perfect fall nail design. It has the fall colours but the brown shades and it looks so pretty. I love the fact that the nails with texture and glitters are present, it is so cute and simple.
13. Cute Rhinestone Nails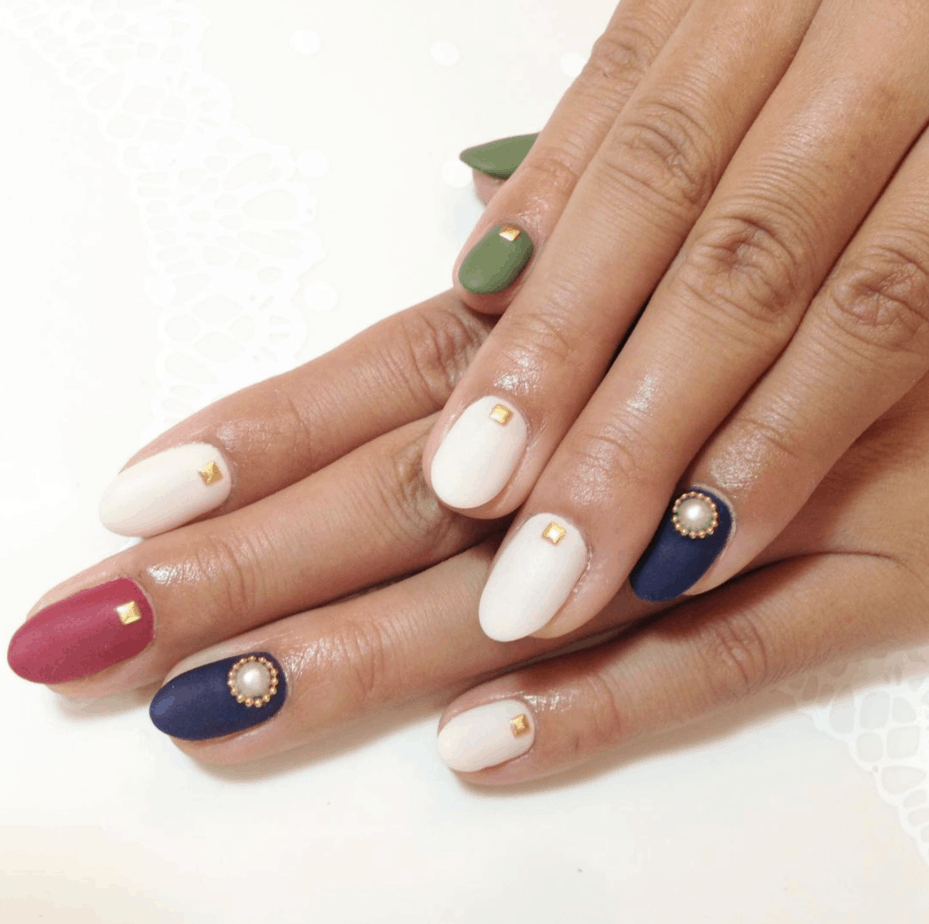 Whenever you don't have any nail design in mind, putting rhinestones makes your nails look like you actually put in a lot of effort.
14. Green Chrome Nails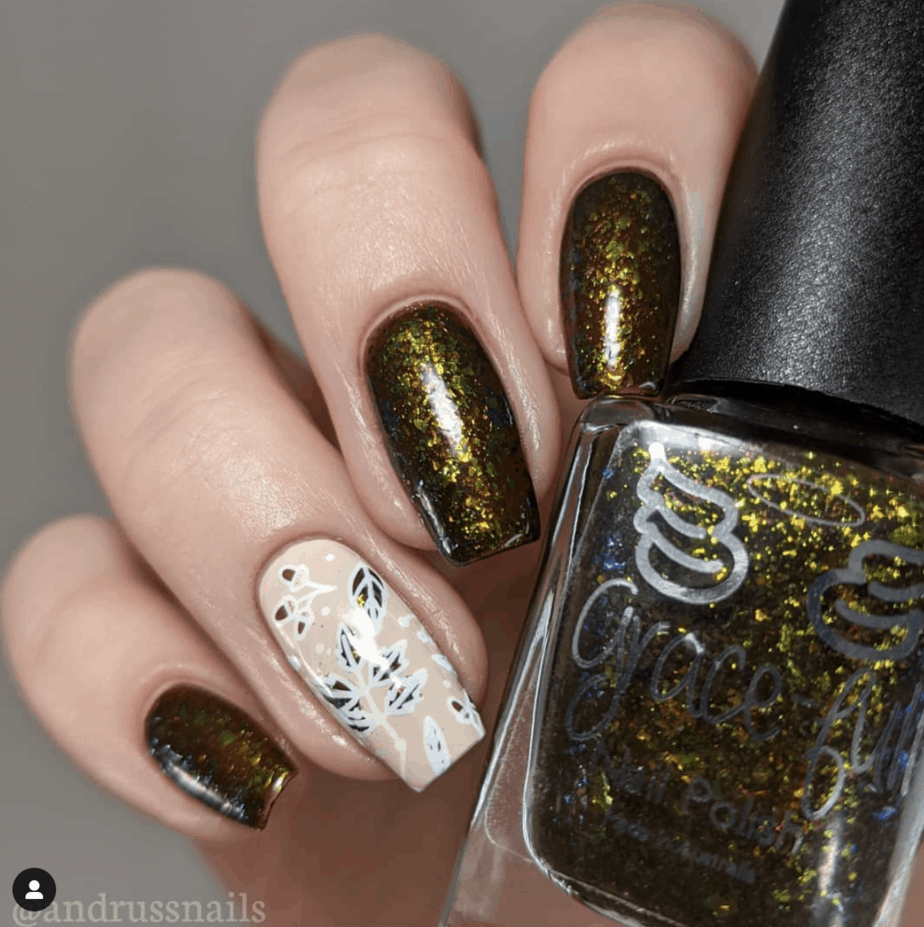 The nail polish makes a statement for me and I just love the colour. It looks like all the autumn leaves were blended and mixed with clear nail polish.
15. Nude Check Nails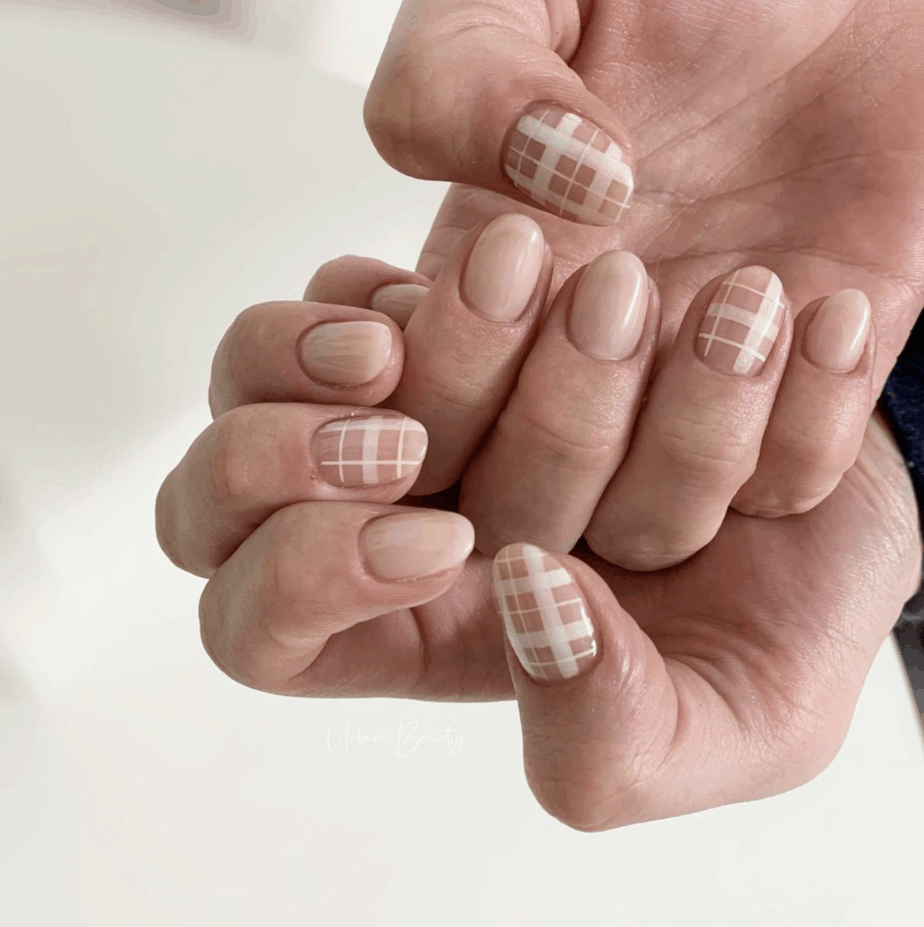 A simple but yet cute nail you can try all year round.
16. Dreamy Blue Nails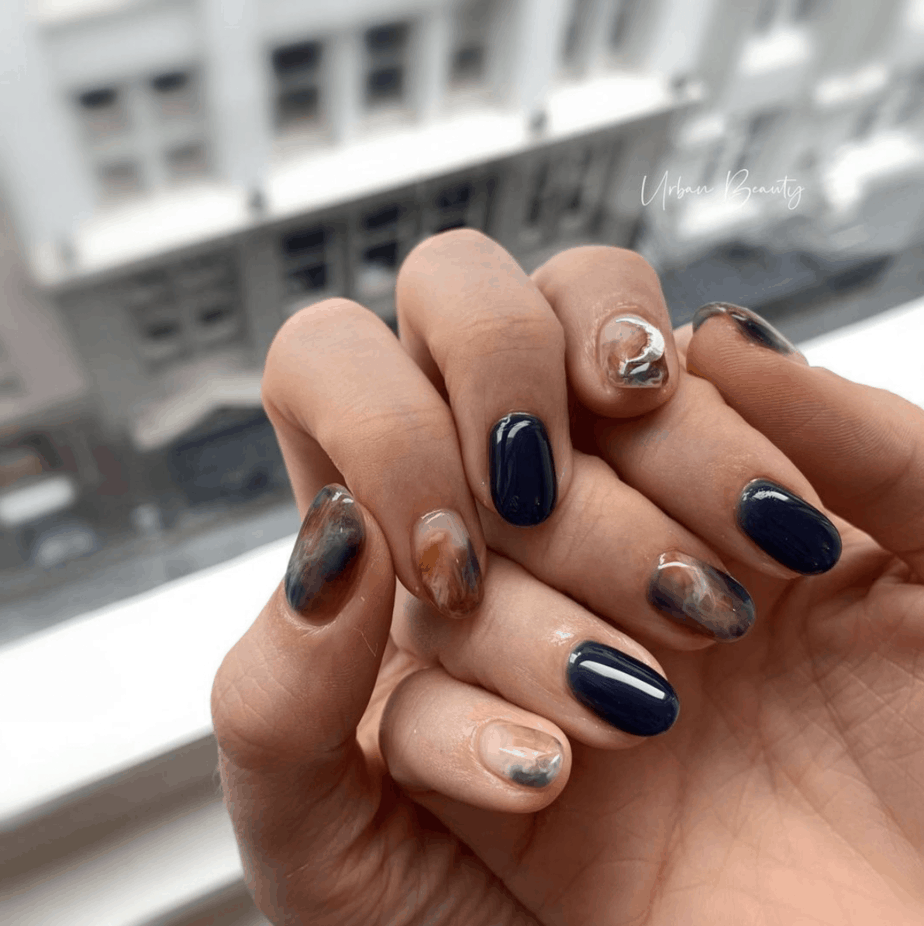 These nails just feel so dreamy, I really love the design
17. The Stars Nails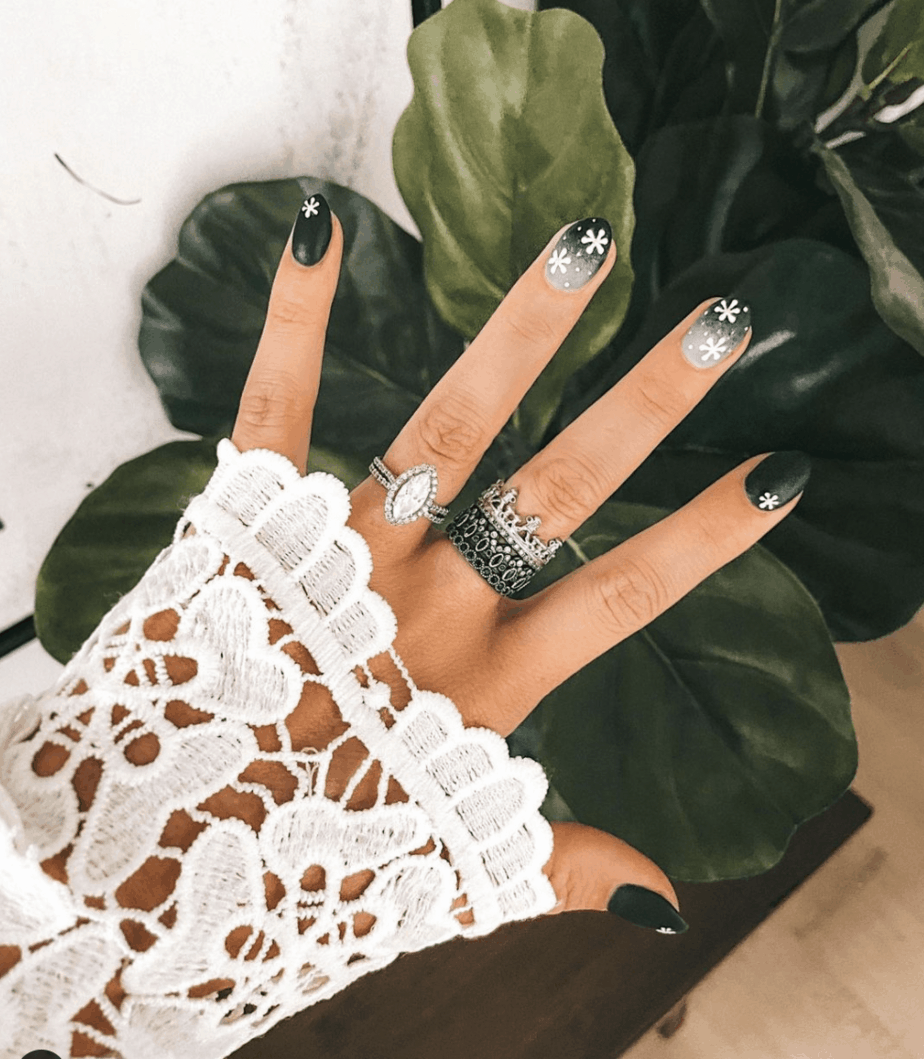 It feels like we are looking at the sky on a fall night and all I can see are the stars.
18. Colourblock Nails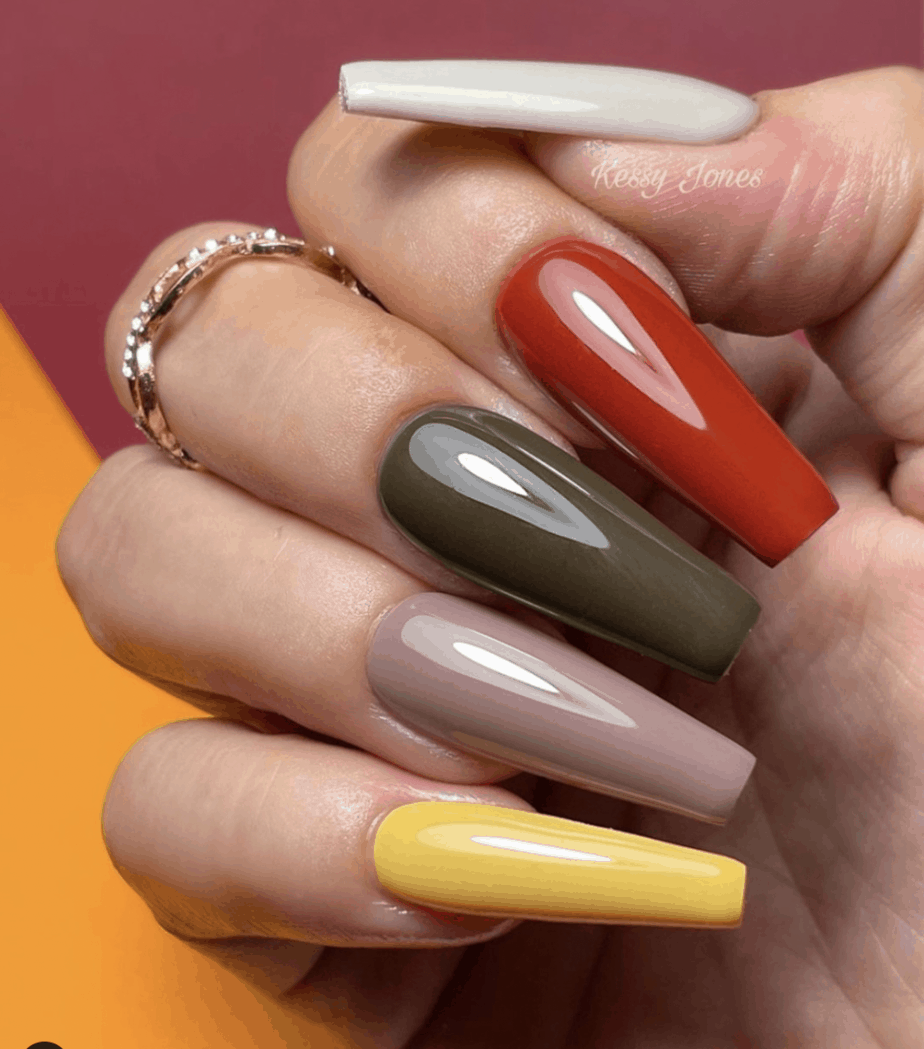 A simple colour block nails with fall colours.
19. Deep Red and Gold Spiral Nails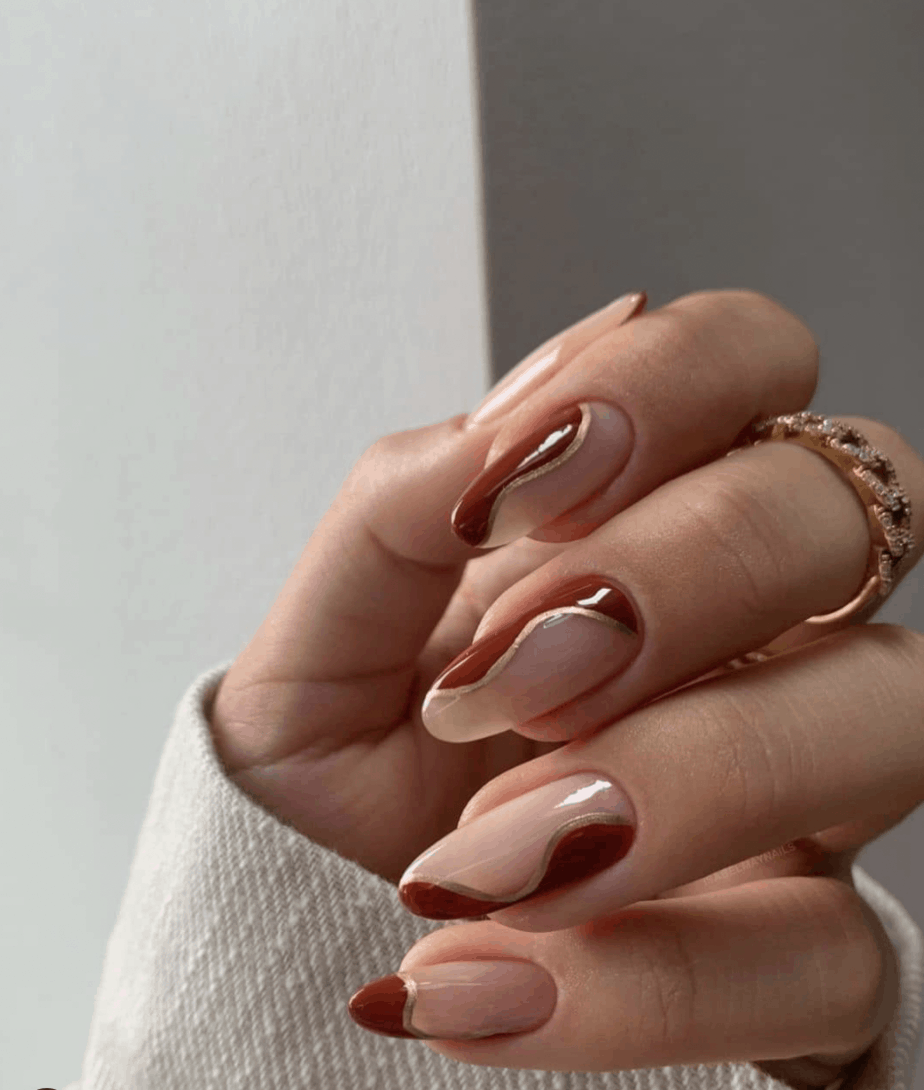 This is another beautiful nail, I just love the colours.
20. Gold Glitters Nails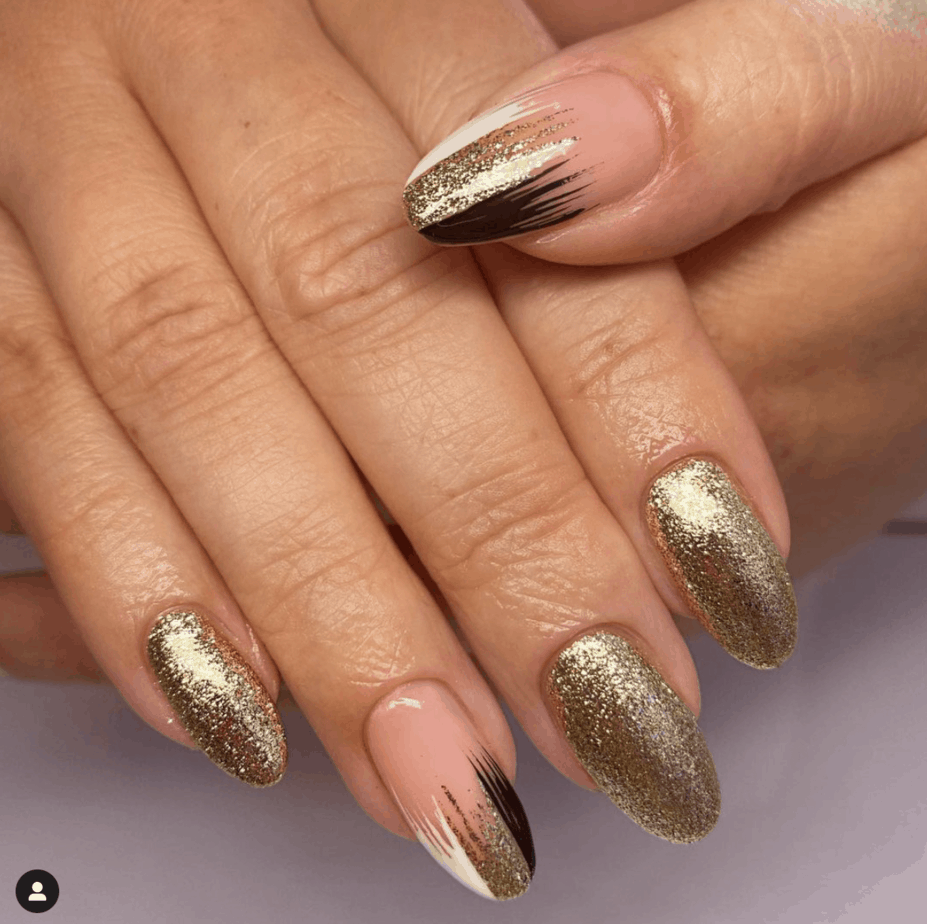 Such cute fall nail, I don't know but I just have a thing for glitters in nails, this is just lovely and I feel you can DIY it.
21. The Fall Butterfly Nails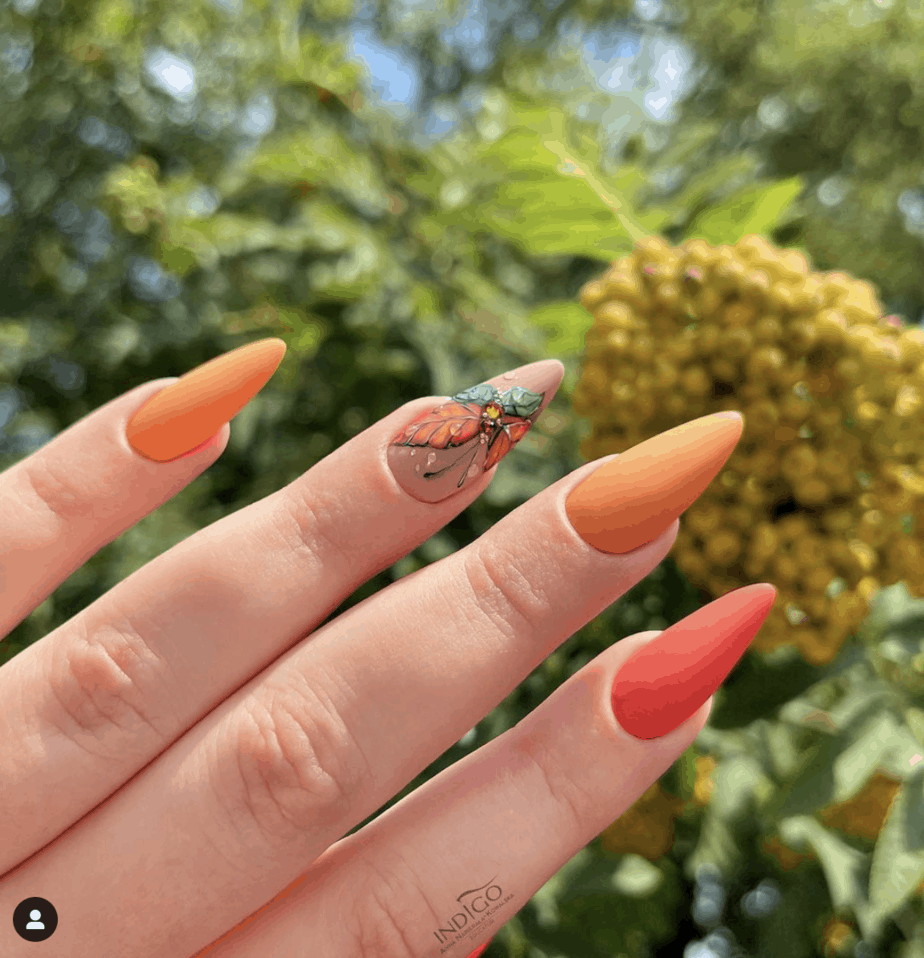 Fall butterfly nails, this is the perfect name to describe this nail design, it is so pretty and the butterfly design made it prettier. This is a big yes for me.
22. Half Cheetah Print Nails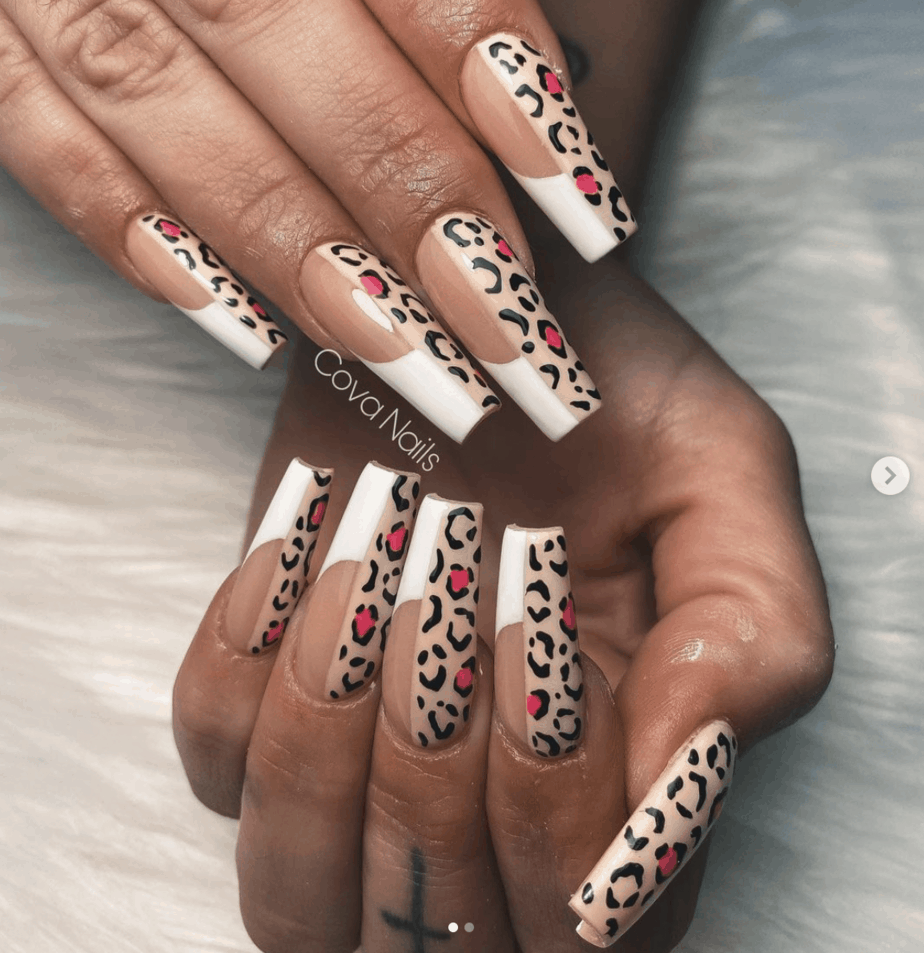 Just like tortoise prints, I feel like cheetah prints are also fall trends, this nail design should be on your list of nails to do. I love the half and half with the red spots that help to pop the nails.
23. Coloured Fall Nails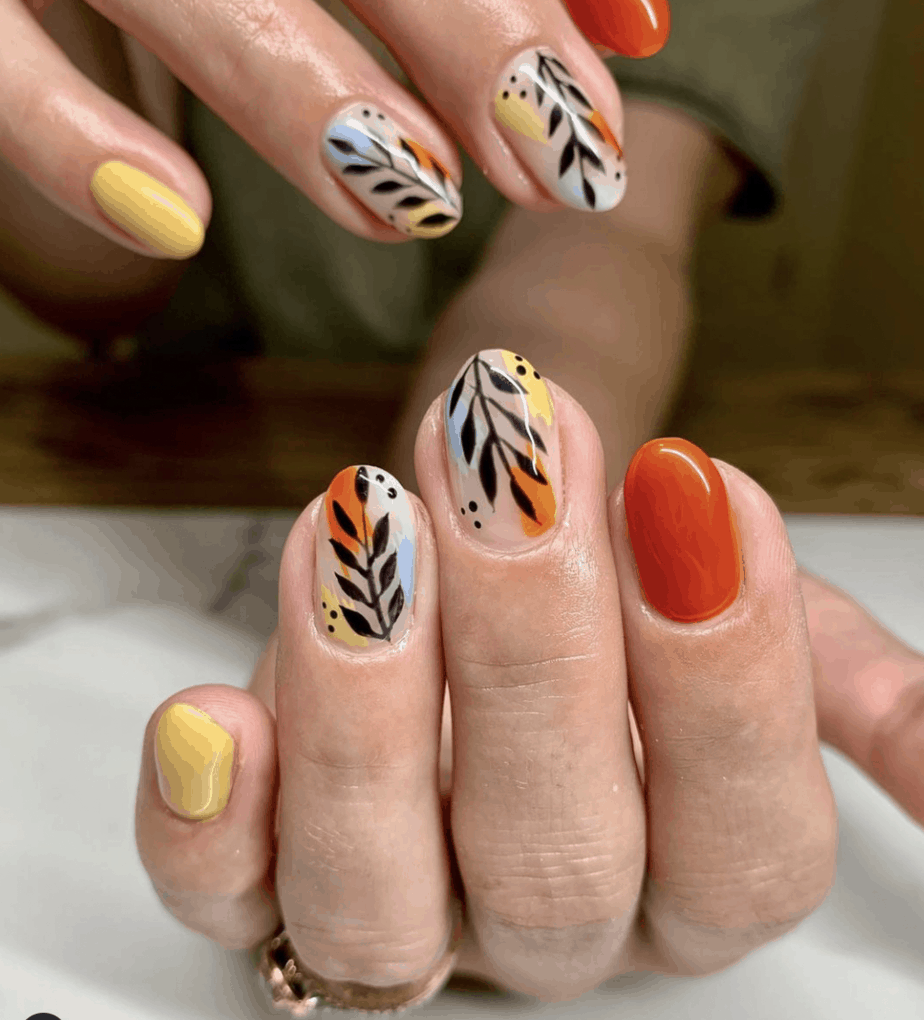 I 100% love these nails, the colours are beautiful and that little blue colour just makes everything pop, also the length is fine.
24. Plum Autumn Leaves Nails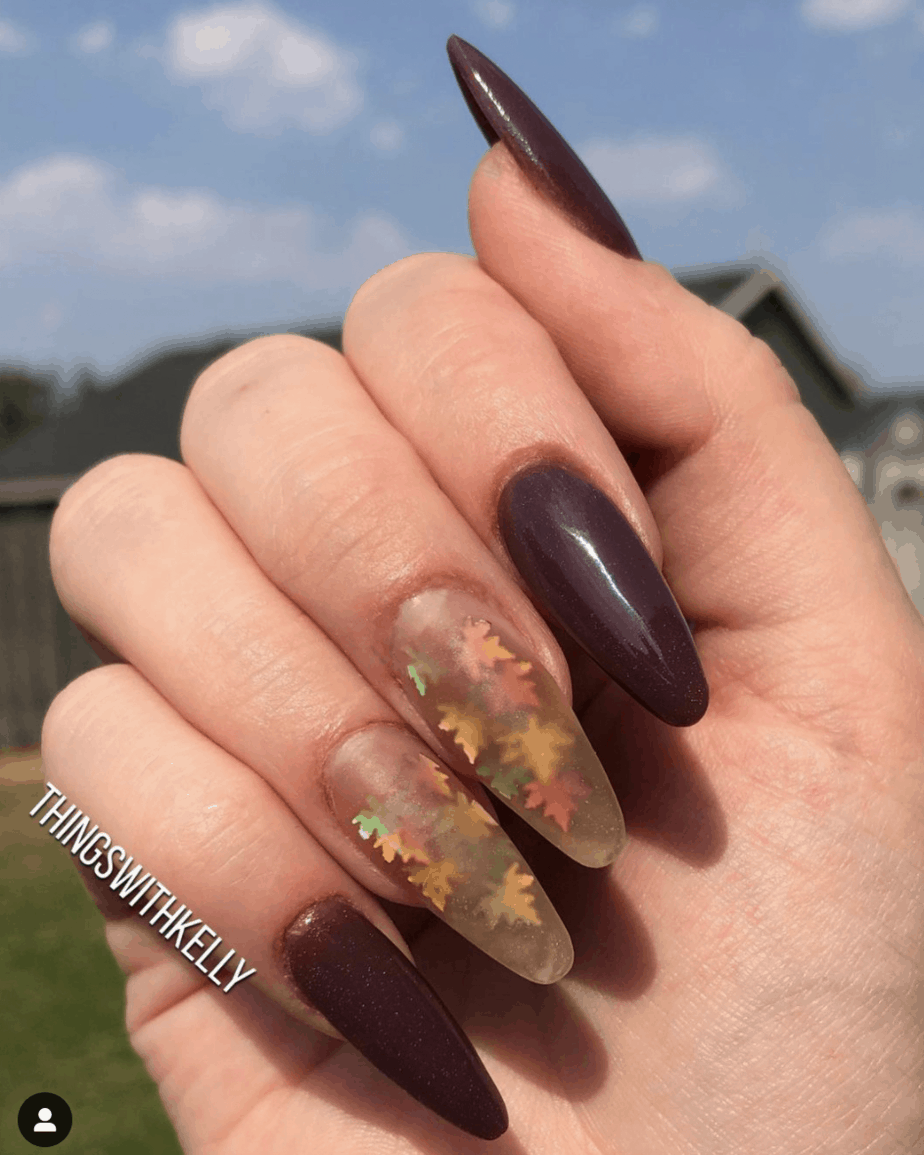 Another fall leaves design but with the plum colour, this is lovely.
25.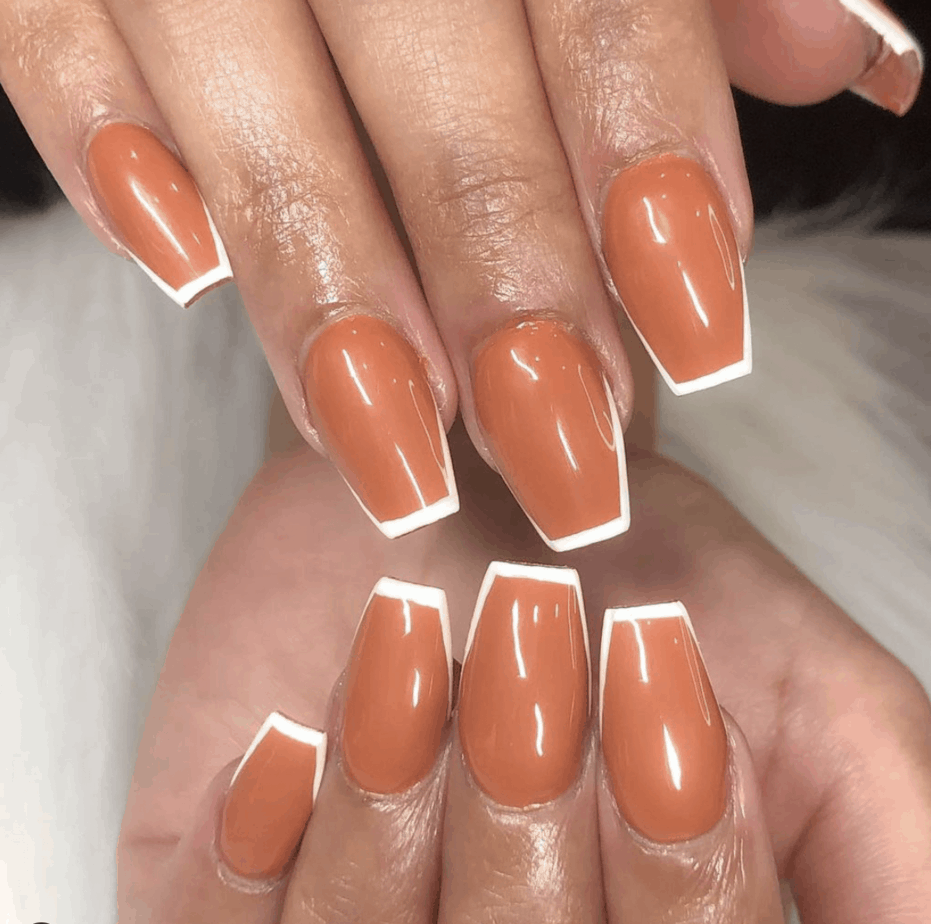 We are halfway through the 35 fall nails designs and I hope you have seen a very style that you love?
26. Brownish Red Nails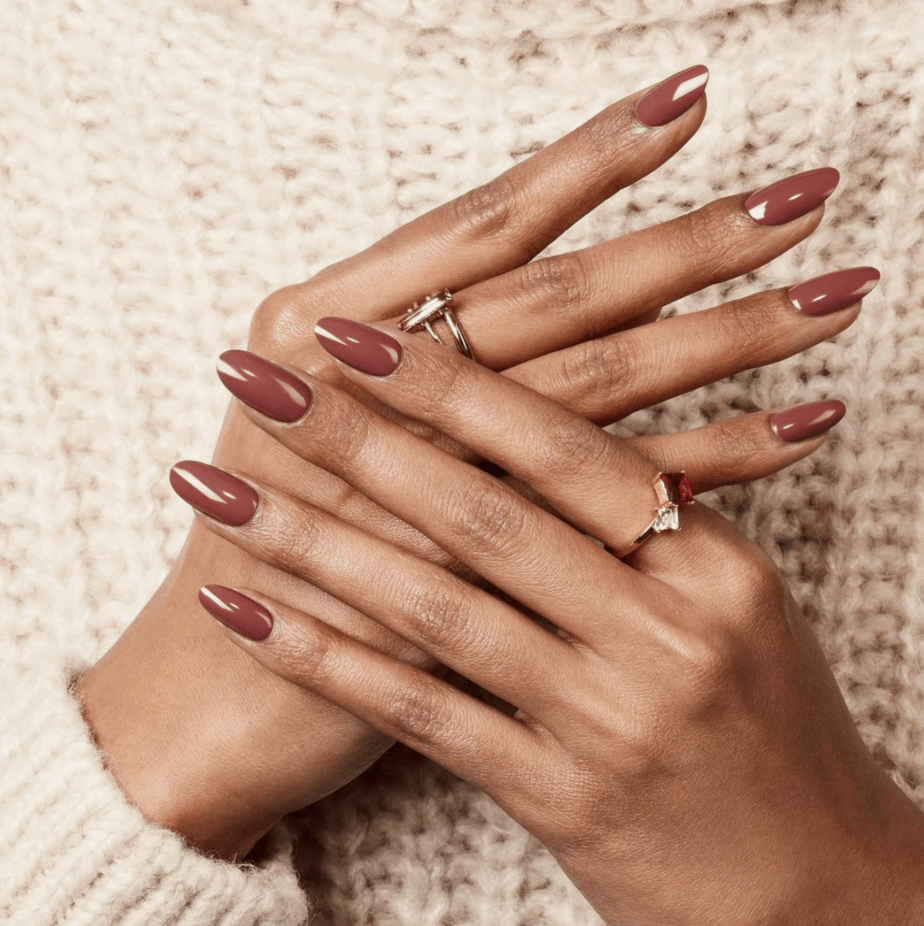 You can never go wrong with solid colours and this is an example, so simple, cute and pretty.
27. Berry Glitters Nails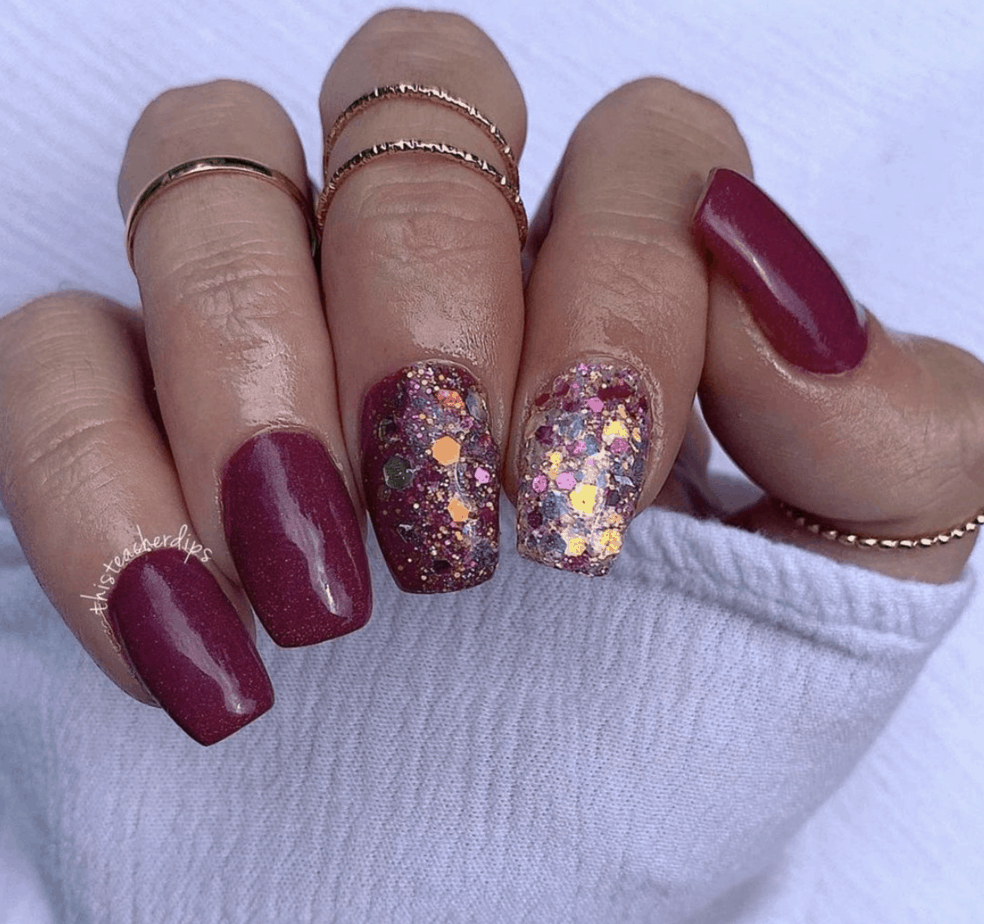 28. Plain Mustard Nails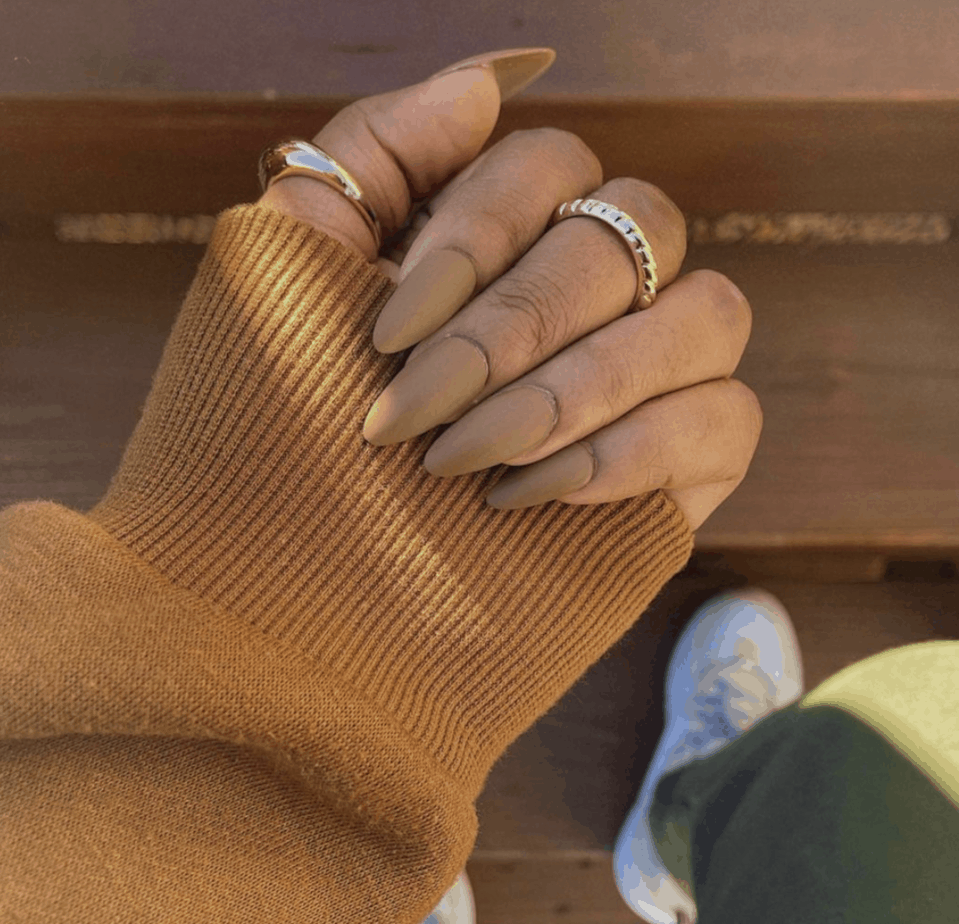 Like these nails made me speechless, the colour is so pretty, you would expect plain colour nails to look boring but this doesn't at all, I love it.
29. Solid Grey Nails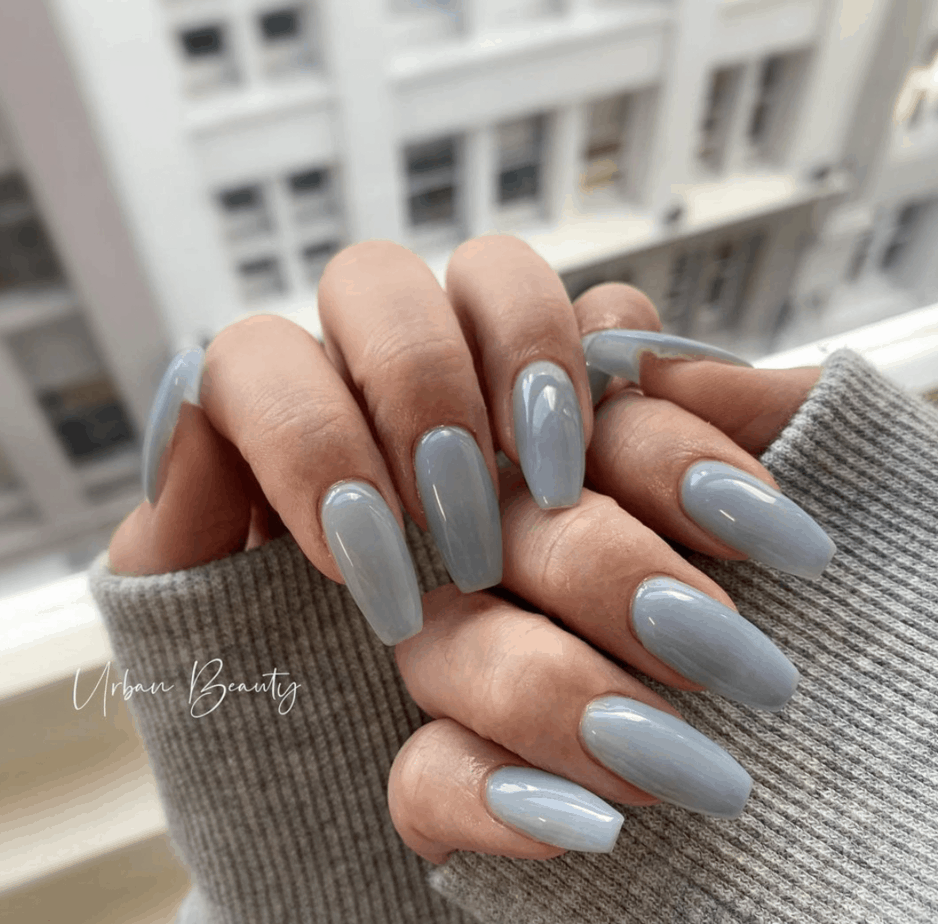 I feel like these solid colour nails are doing it for me, they just look very beautiful without all those designs.
30. Neutral Fall Nails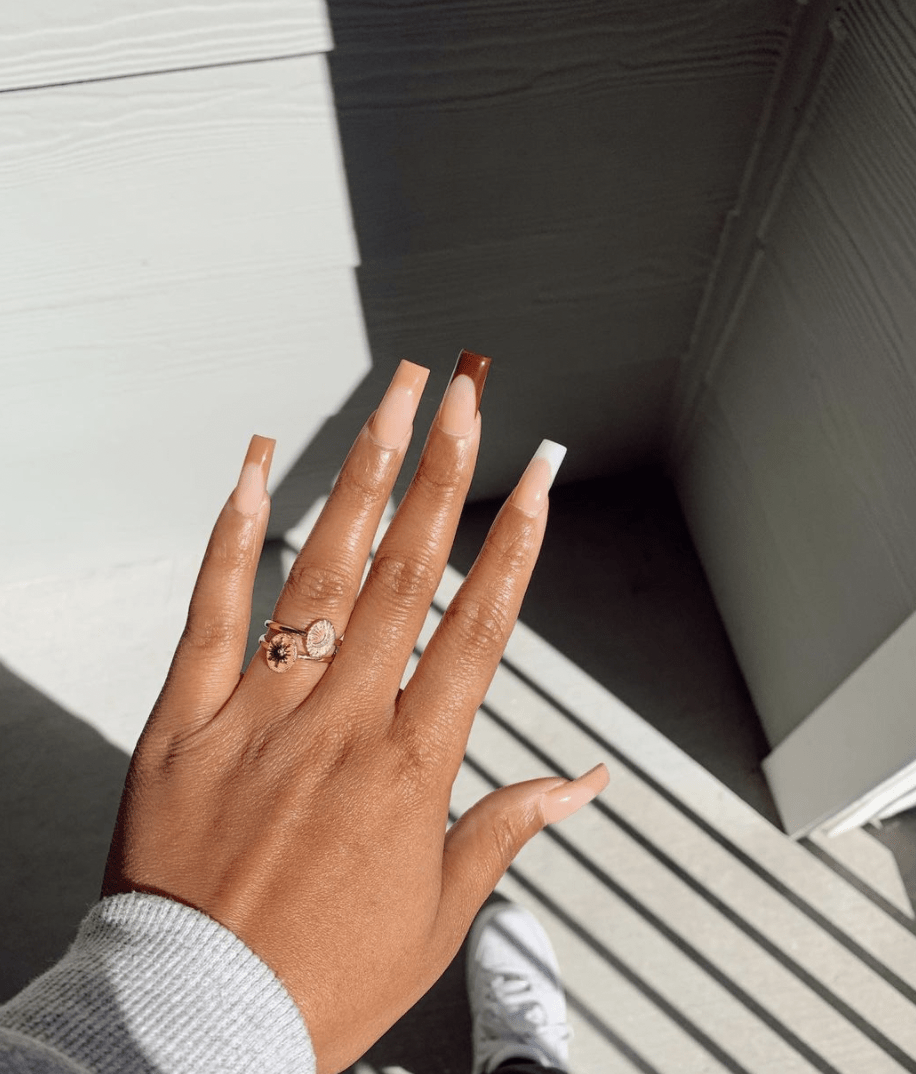 My heart melted when I saw these nails, they are too pretty I tell you, if you like browns and nudes this is perfect. However, I feel you can still rock this nail all year round.
31. Marble Chrome Nails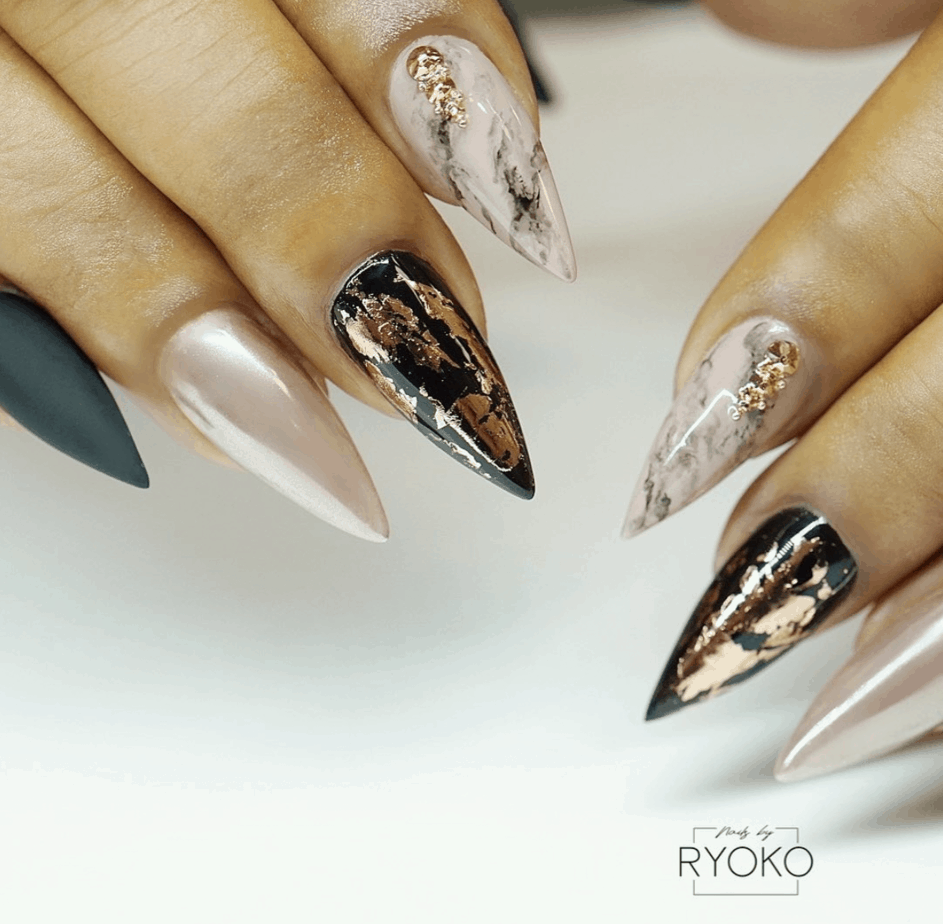 This nail is giving me rich aunty vibes like I have all the money in the money so don't talk to me anyhow, there is just something about the black, marble and gold chrome that just speaks wealth. You should definitely try these nails.
32. Fall Forest Nails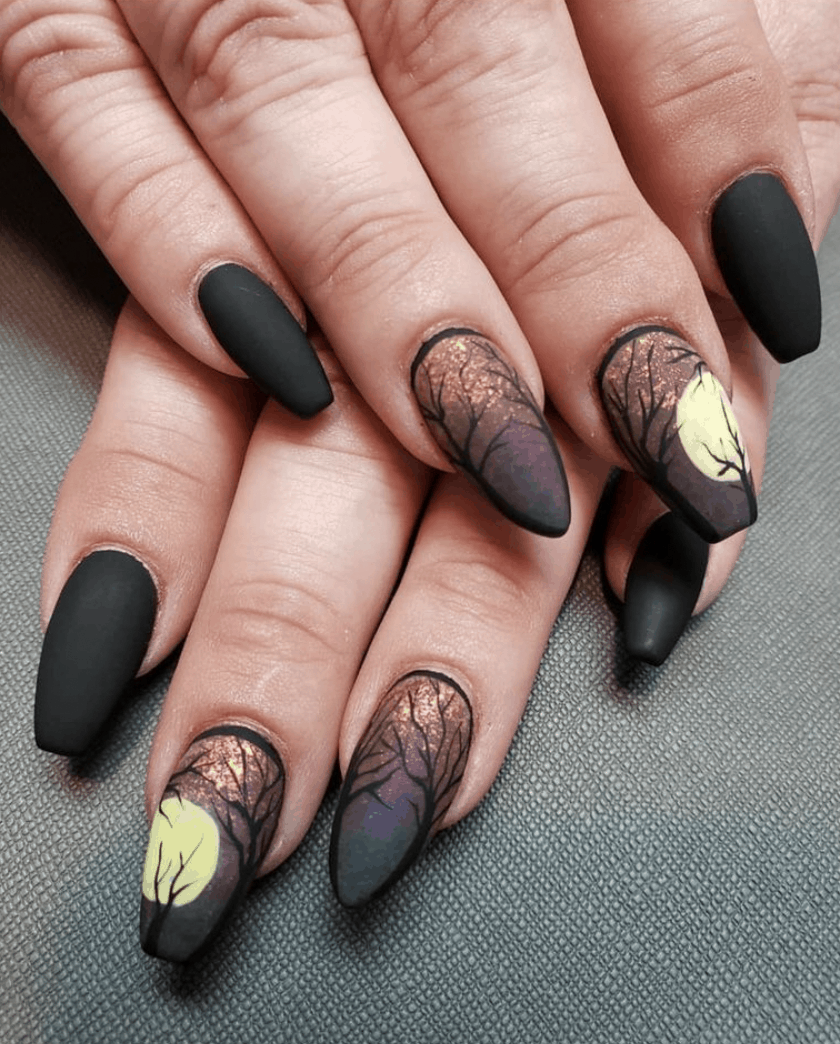 Can we go into the woods when it is sunset this fall because that is the vibe I am getting from these nails? It feels like the wolves will soon be coming out.
33. Nude Spot Nails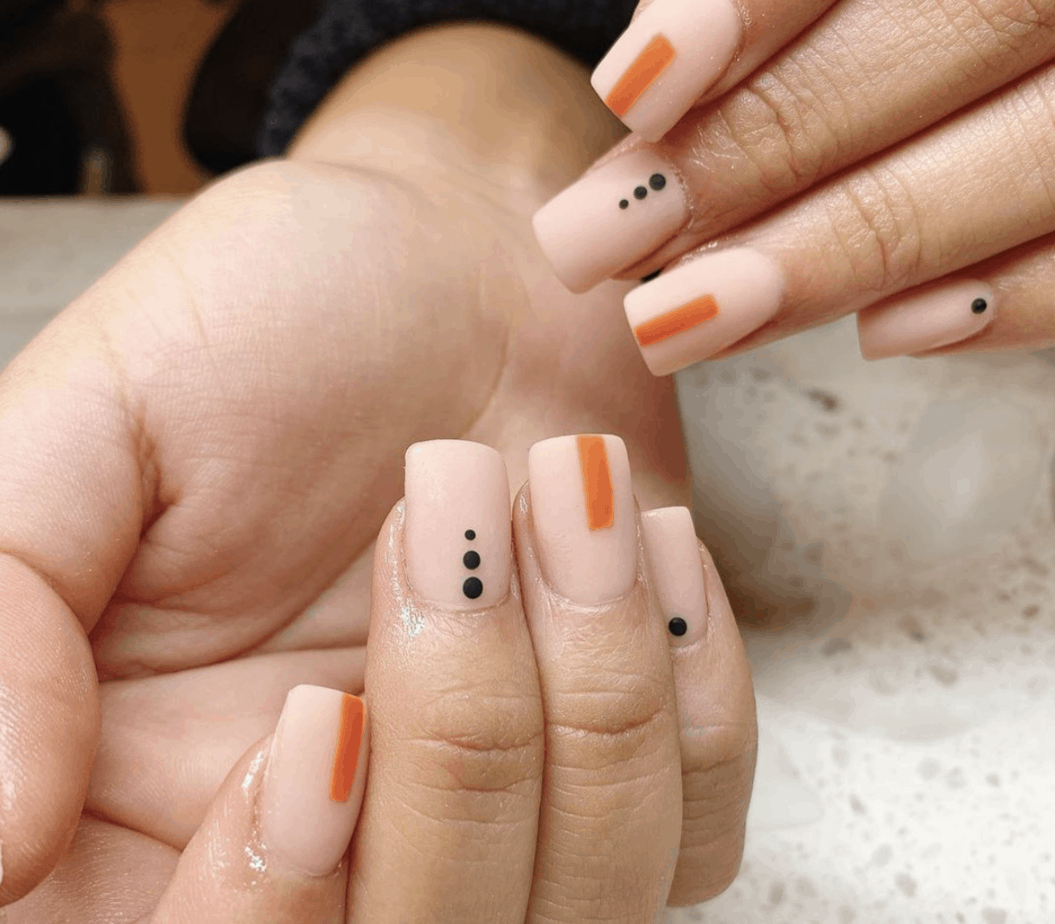 These are the perfect DIY fall nail, very easy and also cute.
34. Olive Metallic Nails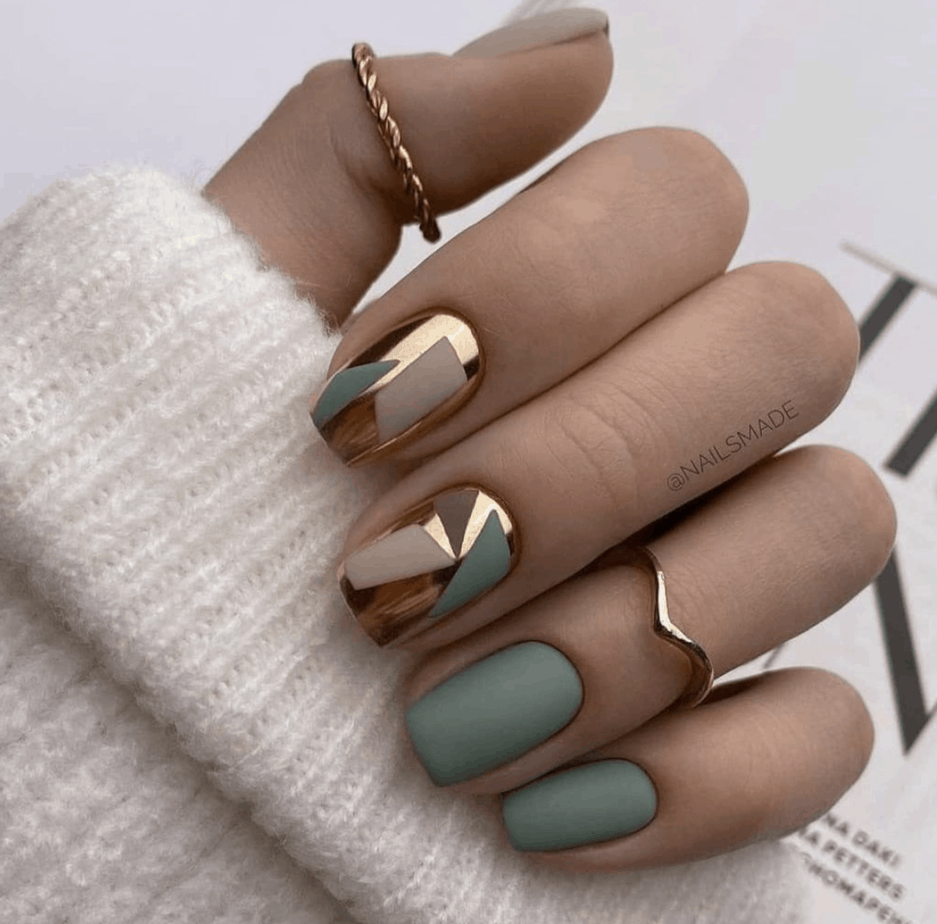 Metallic colours always make nail designs look better and so has this one done, it is so beautiful.
35. Chuncky Rhinestone Nails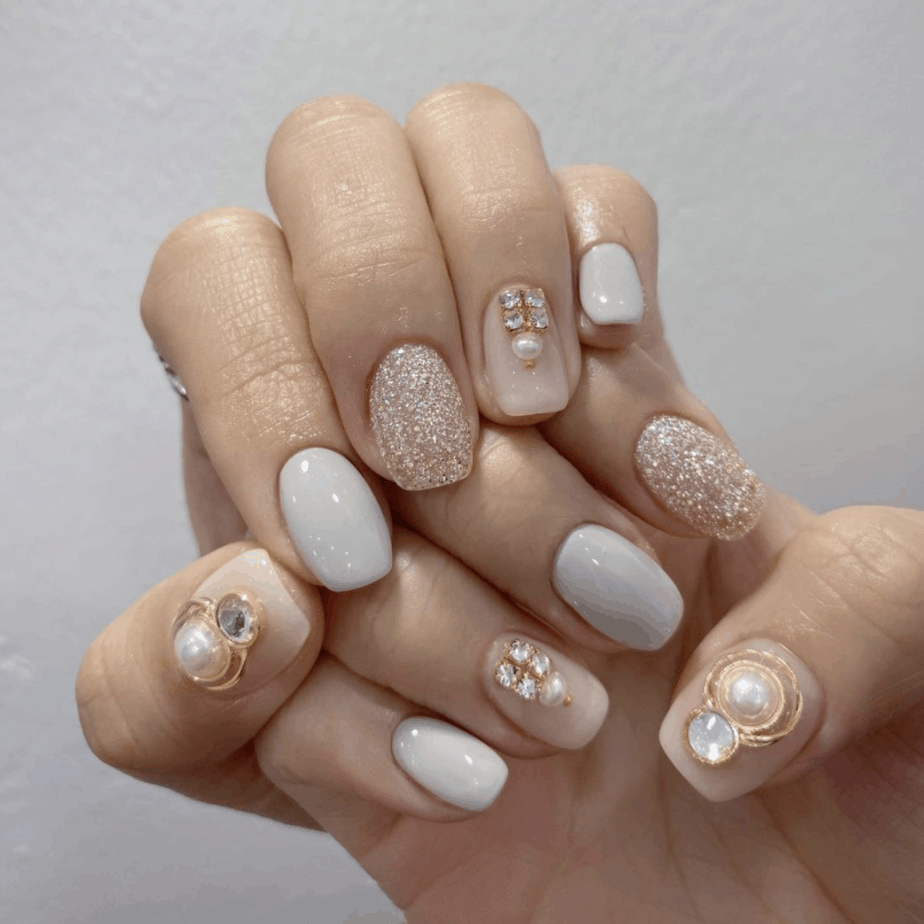 An everyday nail, I love the colours, length and design.
Wow there you go 35 cute fall nails designs you can copy this year and look fabulous, so tell me which fall nails design is your favourite.
Related Fall posts